Posted October 22nd, 2020 by Emily Burkinshaw & filed under , Case Study, General, Project Focus.
With people forced to spend more time at home than ever this year, its no surprise that there's a rise in spending on property improvements. We're living through challenging times, holidays are a sparse and socialising is at an all time low, why not treat yourself to a little bit of luxury and really make your house a home?
Pro Display's popular Mirrorvision® range is already a firm favourite for both commercial and residential applications, but with the demand for home improvement through the roof, we're offering some new and exciting solutions tailored to bring innovative technology to the home.
We recently completed a stunning project for a home in West Yorkshire, UK, manufacturing a custom Mirrorvision® solution as a centrepiece in the busiest room of the house. This striking feature was completely bespoke for the customer, working with our sales team directly to choose the right mirror tint and screen size to create the exact look they had imagined. To create this feature wall we used three pieces of our 'Standard' mirror tint with an integrated 65" 4K Smart TV. Taking into account the size of the wall, we opted for an oversized Mirrorvision® glass layout which meant that rather than filling the majority of the space with the TV, the mirror glass created an eye-catching frame around the screen that blended into the fireplace surround. To create this unique shape, the customer also opted for two additional pieces of 'Standard' mirror glass to place either side of the fire for a seamless, minimalist look and feel,  appearing attached to the Mirror TV Overlay.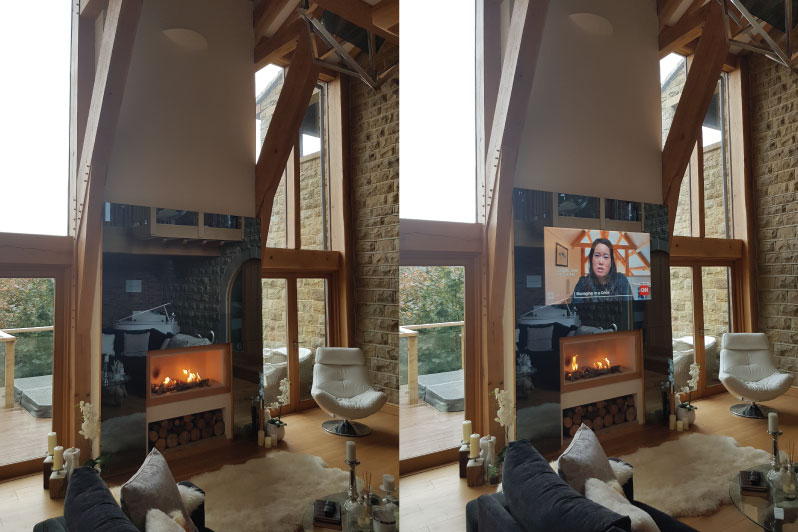 As the location of the Mirrorvision® TV was in the main living area of the house, the screen quality was of optimum importance. By opting for our 'Standard' reflective coating, the customer achieved an incredibly high-quality image from the screen allowing them to use it as normal with no disruptions. When switched off the result is a mirror effect that is slightly darker in comparison to a conventional mirror but far more elegant and sophisticated.
For applications that require an effect closer to a conventional mirror, we also offer 'High Reflective' and 'Ultra High Reflective' reflective coatings tailored to more cosmetic applications. Our new Full Length Mirror with integrated Smart TV is the perfect addition to any bedroom or dressing room, manufactured with an oversized panel of our 'Ultra High Reflective' Glass and an integrated 43" 4K Smart TV. These specialist mirror TV's easily pass for a luxurious floor standing mirror, but not only are they on trend whilst turned off, they still produce a high-quality image when in use. For the best of both worlds we offer our popular 'High Reflective' Tint, providing a middle ground between the other offerings for applications where screen use and cosmetic need are equal.
Not only do our Mirrorvision® products create a focal point in any room, they're also an ideal space saving solution. Usually TV's come with the burden of hiding wires which can be done with a cabinet or unit and a sacrifice of floor or wall space which could be better used elsewhere. Online interior design powerhouse Houzz asked its users 'how many mirrors are there in your home' and over 75% confirmed they owned 5 or more, with so many mirrors and often so little space it makes sense to combine the two into something completely bespoke to you. By choosing a Mirror TV you can do away with unsightly wires and the stress of keeping them hidden, these oversized options are simply plug and play with all the mechanics cleverly concealed.
As well as our 'stress free' full Mirror TV solutions, we also offer retrofit options for existing TV setups. Our Mirror TV Overlay kit is the perfect DIY project with our sales team working with your existing measurements to provide you with a solution that integrates perfectly into your existing décor.
Our Mirror TV's have even been featured on ITV's 60 Minute Makeover! We provided them with a finishing touch for the project, with their team opting for an eye-catching ornate gold frame to make their new living room all the more special. Pro Display is no stranger to the world of home improvement TV, with our Switchable Glass solutions featuring on Grand Designs, George Clarke's Amazing Space and Extreme Makeover: Home Edition.