Posted May 12th, 2022 by Emily Burkinshaw & filed under , General.
After navigating a global pandemic whilst continuing to supply our innovative solutions for projects all over the globe, Pro Display have finally launched their new website!
We've created a site that caters to AV professionals whilst also providing conceptual inspiration for the use of our technology across a wide range of market sectors. With a heavy focus around the many prestigious projects we've worked on over the years, our goal is to inspire visitors to unlock the full potential of their projects with the use of digital and interactive displays.
Showcasing unique solutions like Transparent Touch Screens and Holographic Effect Projection Screens our range of products are designed to create more memorable experiences. Each product page features an 'As seen in' section, offering everything from 'How To' articles to case studies on some of our most prestigious projects as well as quickfire FAQ's for instant information.
For industry specific inspiration, visit our Market Sectors pages where we recommend the best AV technologies for use in tailored environments, showing examples of how our solutions have been used previously including everything from hotels & museums to TV & film!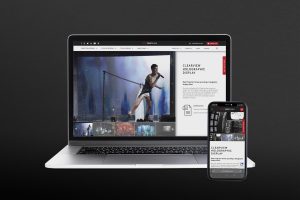 Our website marks the first step toward the new era of Pro Display, by signing up to our newsletter in the footer below you'll be the first to hear about new products, projects & events in the coming months. For regular updates keep in touch via our social media channels for all the behind the scenes information as well as informative videos and company updates.
Explore our new site and experience the magic of Pro Display from the comfort of your own device, whether it's choosing a new Mirror TV for your home or enquiring to become a reseller of our products. For more information about our solutions or to discuss working with us on your next project please get in touch using the contact us below or call us now on +44(0) 1226 361 306.