Posted September 26th, 2019 by Sean Brown & filed under , General, Inspiration, Technology.
Transparent OLED Screens (T-OLED) are a new development in digital signage that allows for a completely transparent screen without any backlight or backbox to contain it. These screens represent the future of digital signage, offering a hi-tech and visually impressive display that will certainly make viewer's heads turn. In this post, we are going to take a look at 5 key benefits of Transparent OLED Screen technology.
1. Self-Lighting
Unlike competing transparent display technologies, such as Transparent LCD Screens, a Transparent OLED Screen does not require an additional backlight to display an image. Transparent LCD Screens work on the same principal as standard LCD screens, requiring a light at the back of the screen (which is often an LED light these days) to enable the viewer to see the image. Despite improvements in LCD screen technology in recent years, LCD screens still require a 'backbox' or a backing unit of some kind in order to house the light and, in the case of Transparent LCD Screens, to provide depth behind to best showcase its transparency.
However, due to the way that Transparent OLED Screens work, they do not need this at all, being entirely self-lit in the screen itself. What makes this special is that as well as achieving this, the screen is also transparent, meaning the light source does not interfere with the picture. The capabilities for such a marvel are endless, offering a real and effective solution to self-lighting display needs.
Without the need for a backbox or lighting unit, Transparent OLED Screens have an incredibly compact and slim depth of screen with a thin bezel that stands on a base unit, without the need for a back or an additional support. This is a merchandiser's dream product, allowing them to build the base unit into a display to show the screen protrude from their own unit, creating incredible compact displays and making this one of the main benefits of Transparent OLED Screen technology.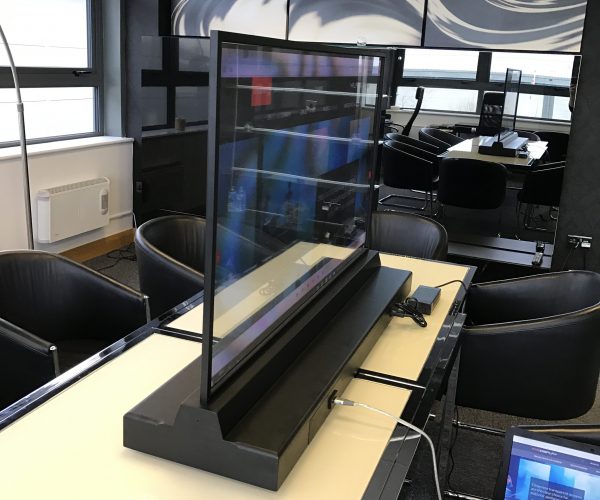 2. Visual Impact
Another one of the big benefits of Transparent OLED Screen technology is its visual impact, which is undeniably breath taking by delivering a stunning effect as an apparent 'impossible' screen. With the wide familiarity of LCD displays, people will question how this screen works, seemingly showing content on the screen without any electronics or backbox behind it to help.
Delivering a stunning FHD picture with a high contrast ratio that is viewing angle free, a Transparent OLED Screen is ideal for futuristic or hi-tech environments and even for creating incredible effects for media productions such as for TV or Films. The visual effect also lends itself well to a range of premium or luxury environments such as high-end retail stores, hair & beauty salons or hotels.
The visual effect created with Transparent OLED technology is ideal for digital signage as well as prop / visual effects, offering a striking and impactful display solution that can achieve such an effect that is not possible with other technologies.
3. Rare to See
One of the beauties of this emerging technology is just how unknown it currently is. Transparent OLED Screens are not very common at all, with very few businesses having adopted them. As a result, the technology retains a large degree of mystery, offering a display solution that is not only virtually impossible to replicate with other technology, but is also not used much elsewhere. In most cases, the wider public aren't even aware this technology exists anywhere other than in movies.
Because of this, a Transparent OLED Screen is sure to catch even the most sceptical of audiences by surprise, displaying what they believe to be an impossible image that is contrary to what they understand screen technology to be. The influence this impact may have on the audience can be incredibly powerful, potentially inspiring them to purchase and bringing the brand or company credibility.
4. The Screen Remains Transparent – Even When Off
Unlike Transparent LCD Screens, the screen of a Transparent OLED Display is completely see-through, even when switched off. A Transparent LCD Screen, which requires a backlight to display, switches to a blacked-out screen when there is no light source or power. This means that when the Transparent LCD unit is switched off, the image is not visible on the screen.
This is a very important factor, especially for merchandisers and designers and because of this, it allows Transparent OLED Screens to be used amazingly well for applications such as indoor window displays, events and exhibitions and retail applications.
These screens in such applications offer the best of both a display screen and a transparent fascia, meaning customers can see through the screen to the products behind it, as well as chosen content that is displayed over the top of it. However, when the screen is not switched on or you wish customers to have a completely clear view of the products behind the screen, the screen is completely transparent, allowing full visibility without using any energy to keep it see-through.
5. Optional Touch
When combined with a Pro Display Touch Overlay, these remarkable screens can be turned into an 'Interactive Transparent OLED Screen', delivering the ultimate memorable experience for customers and users. The effect created using this can be striking, offering an ultra-hi-tech engaging experience that leaves customers wowed after interacting with images or software that are floating on the screen.
The benefits of interactive technology are well documented and when combined with a visual marvel such as Transparent OLED Screens, the overall effect is spectacular, relinquishing the need for control inputs such as a keyboard or mouse to allow the screen to transform from a passive display solution to a fully interactive unit.