Posted January 30th, 2017 by & filed under , General, Inspiration, Press Release, Technology.
Product displays are important- even in the digital era
It may be tempting to think that the digital age has helped to slowly erode the value of your brick and mortar store. You may find that you are not pulling in the same levels of footfall as you enjoyed on previous years, and the savvier business owners may also have simultaneously seen growth in their online sales. This can result in many people assuming that there is a causal relationship at work here, and even cause them to question their investments in visual merchandising and digital signage. But do not be fooled- your displays are more important now than ever.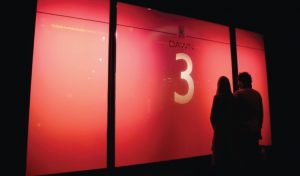 Whilst the advent of the internet saw many customers convert to buying things online increasingly often, it also brought other opportunities which were not possible previously. Social media and viral marketing has exploded in recent years, leaving merchandisers and marketers puzzling over how to make the most of it.
It is a known phenomenon that real-life photographs tend to be more engaging on social media than graphics, as photos usually bring in a human appeal that audiences relate with more, as well as giving you more credibility, saying 'I exist!'. This reassures your customers that should they have any issues with your products, there is somewhere for them to go and get it sorted. Graphics are useful in helping to form a branding theme or injecting some personality into your media- but it's your photos that help to sell your products. Customers taking photos of your displays are invaluable to your brand, that is, if your display is good, of course.
Giving your products some visual context can help to promote them far more effectively than if they were to be displayed on their own. Your brick and mortar store provides you with the unique opportunity to display products in groups to maximise certain features or appeal, rather than displaying them as a standalone product, which you regularly see when shopping online.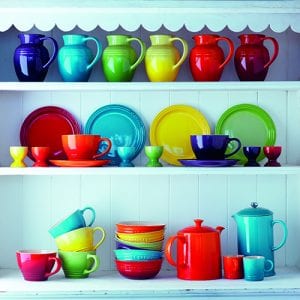 This is perfectly exemplified by the rainbow displays often seen from the likes of Le Creuset, which helps to bring out the visual benefits of the colours of these products far more effectively than if we were to see them individually. Like-wise, the awe-inspiring synchronicity of displays for products such as TVs, when all playing on the same channel, for example, are lost when viewing them individually. Without a display contextualising these products in an 'all things being equal' environment, there is little to assess its quality against, as and such, may put people off, especially at the higher end of the price scale.
Engagement is the key to good merchandising
Visual merchandising displays are the perfect opportunity to allow retailers and merchandisers to get their brand message to a wider audience- helping to establish their store as a top destination to visit. The more visually impressive your display is, the more likely it is to get people talking and posting their photographs online.
It's as simple as that.
By using state-of-the-art technology such as our Transparent LCD Screens or our Interactive Mirror Screens as part of your merchandising display, you are engaging audiences who are present, making them far more likely to purchase from you. In addition to this, if they were impressed by what they saw, they are more likely to spread the word to their friends and family, as well as posting online.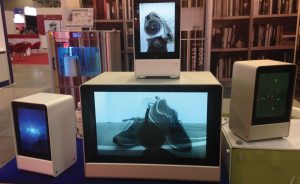 In the past, we have written an in-depth guide about some of our products which would help a store put together amazing displays that places them head and shoulders above their competition. Our unique and innovative range of display technology can help usher your business into the digital era, providing you with the means to wow your in-store and online audience with stunning displays they will want to see again or in real life.
When applied in the right context, many of our products are primed to maximise engagement from your audience. Our display innovations are fairly new technologies which people don't tend to see regularly, and often leaves intrigued onlookers wondering how they work. This element of mystery and awe can be a very powerful merchandising technique which you are missing out on by using traditional display solutions.
In fact, our digital signage and display technologies boast more benefits over traditional solutions than just the wow factor.  On flexibility alone our display products offer you a superior solution. Traditional displays can get stale very easily and very quickly. Once a customer has seen it and evaluated their purchase decision, it can be difficult to convince them to change their mind if they have decided against purchasing. In this case, your display has failed, and to get them to notice the product again may require you to change your display. This can be costly in both physical display solutions as well as your employee's time.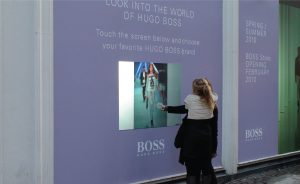 Using products such as digital signage as part of your display allows you to create new content for your audience, keeping it fresh and eye catching without a significant investment in finances or time. With traditional display signage, a simple typo or error can prove a costly waste, and when combined with the fact that it can age and fade, digital signage offers a superior solution in that it can simply be updated with new content. This saves you in the long term on shipping, printing, processing and labour costs.
One of the biggest benefits of using our innovative display products is that it grants you the ability to fine tune your displays. Updating your signage in real time allows you to experiment with your merchandising techniques to achieve optimal results. This also allows you to be responsive to changing situations instantly, everything from seasonal demand to fluctuating demand throughout the day.
Below is an outline of some of our products which would be perfect as part of your visual merchandising strategy-
Digital Glass
Whilst holding its own as a unique solution, Digital Glass is also a great alternative to video walls. Offering better value and a better solution, digital glass boasts no bezels or join lines for sizes up to a huge 8 x 3m. It can also be combined with infrared multi touch capability, creating an impressively large touch screen that will be sure to leave your customers wowed.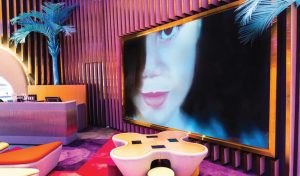 Transparent LCD screens
An impressive and versatile technology that can also be granted touch capability. Allowing you to integrate digital content with real-life objects behind the screen, this solution can have an extremely powerful effect. Transparent LCD Screens are a great way to help you regulate the prominence of your products against the visuals displayed on the screen, offering you more control over how and which products are displayed at any given time.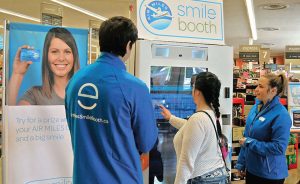 Mirror Screens & Interactive Mirrors
The ideal choice for retailers looking for digital signage with a difference, our Mirrorvision Display range comprises of mirrors that come to life. Great examples of uses of this technology involve placing them in fashion retail changing rooms, toilets or even in place of standard digital signage. This allows businesses to not only leave a lasting impression, but also make the most out of all the wasted space that standard mirrors take up.
Interactive Touch Kiosks

Our wide range of Touch Kiosks can meet a variety of requirements for display purposes. Most effective when used in areas that benefit from high-footfall, our kiosks are ideal for communicating information or providing entertainment in an innovative and engaging way. As this product is integrated with our infrared touch technology, a custom solution can allow it to be used for self-service applications, helping to improve efficiency and therefore, the productivity of your staff.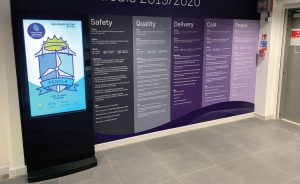 Interactive Touch Foils
A uniquely distinct technology that grants almost any glass or acrylic surface touch screen capability. Use our Interactive Touch Foils to turn those dull window displays into something people will be queuing up to engage with, bringing your store added publicity. You can even use touch foils to drastically improve efficiency by applying them to commerce and self-service applications.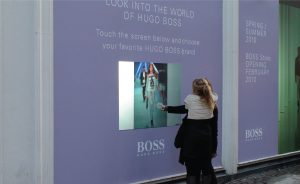 SunScreen Technology
This revolutionary Sun Readable Rear Projection technology has been specifically designed for applications in direct sunlight. Previous uses have seen our Sunscreen being involved in some really exciting displays that entice customers to come inside your store, making it invaluable on a crowded high street or in environments where competition is fierce.