Posted September 11th, 2012 by Sean Brown & filed under , Archive, General, Technology.
Pro Display's engineers have been designing and developing display products and solutions for over 20 years, working closely with a number of different screen technologies to provide some of the most innovative display products in the market today.
Our range of display products and solutions is vast covering most if not all industry applications. What ever your screen requirement or application we are confident that we are able to provide you with the right solution.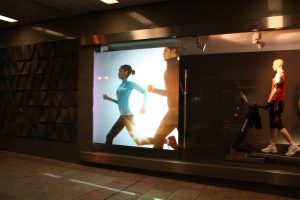 Whether you're looking for a small 7" LCD TFT screen with built in media player or a large format video advertising board for the side of a building, we are sure to deliver a cost effective solution.
Here we detail some two of our most popular LCD screen technologies and how they can be used to create eye-catching displays that are guaranteed to get you noticed.
Mirrored LCD Screens
We combine the functionality of a mirror with the features of a HD display screen in our Mirrorvision range, where your content magically appears on screen. Providing our mirror screen technology for the likes of Nike and TV's 60 Minute Makeover, we offer a range of solutions, each designed specifically to suit a certain environment. We can provide mirrored displays on both a small and large scale, with our Mirror Advertising Screens starting from 32″ and our Mirror Video Walls available in a huge 12 x 55″ format. We can supply as much or as little as you need, with our DIY Mirror TV Kits and mirror glass sheets for integration allowing you to take the lead and produce your own display.
We also offer interactive alternatives to many of the products in our Mirrorvision range including our Interactive Touch Screen Mirror's, ideal for retail environments and our Interactive Mirror Video Wall, popular in visitor attractions and hospitality applications.
Transparent LCD Displays
One of our mot exciting technologies is our Transparent LCD Displays, available from a tiny 9.7″ to 98″. Lit using a bright backlight, these screens display white shades on screen as clear, allowing you to see through to the other side of the display. Available as single screens or a full display case solution, these screens require a powerful backlight to produce the best quality images and often work best when fitted into a complete surround. We've recently seen Nike bend the rules with Transparent LCD technology, with us supplying nine Interactive TLCD Screens for their newest house of innovation, that worked using an oversized backlight and saw the screens sitting completely away from the wall with no surrounding housing.
These Transparent LCD touch screens are also incredibly popular with museums and visitor attractions, as they mimic sought after sci-fi movie technology that doesn't yet exist. Our display cases also offer suitable housing for delicate and aging artefacts, with the backlight being LED causing significantly less damage overtime than standard UV based lighting.
For more information about the different products and technologies we have to offer please take time to browse the website, or feel free to get in touch.