Posted June 3rd, 2021 by Emily Burkinshaw & filed under , General, Technology.
At Pro Display we are constantly working to improve and expand our range of innovative display technologies, from introducing the first full colour LED screens into Europe in the 1990s to offering projection screens that perform in even direct sunlight. We strive to ensure that the products on offer are the best they can be, recently inspiring us to upgrade our Clearview and Pro Diffusion Rear Projection Screens.
These new and improved acrylic screens are hand cast with the same advanced optical substrate but are now double the thickness! At 6mm thick, these screens offer a more rigid and robust solution and are available in sizes up to 3m x 2m, manufactured to withstand the wear and tear of being installed in high traffic areas. Appropriately named, our Clearview XL and Pro Diffusion XL displays are available in a range of standard screen sizes and can even be cut to custom shapes to suit unique projects. We've seen the original projection screen technologies cut to mimic a silhouette, which are then projected on to imitate the appearance of a person, with our new improved and more rigid XL technology even better suited to this kind of application.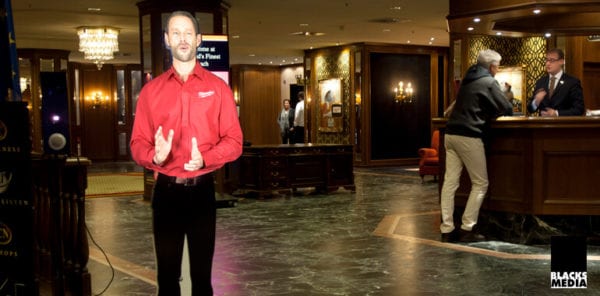 Our Pro Diffusion XL screens feature a matt fascia that acts as an anti-glare projection display that can be used with UST projection to produce HD/4K images on screen without creating hot spots. These screens are manufactured to diffuse light at all angles, resulting in content that is 10 times the brightness with perfect image uniformity and is an ideal choice for all video and advertising applications. Our Pro Diffusion range is the only diffusion screen technology that provides true 180°degree visibility, making it the perfect solution for use on television sets like ITV's 'The X Factor', performing at its best from all angles in the studio translating the show perfectly onto the camera.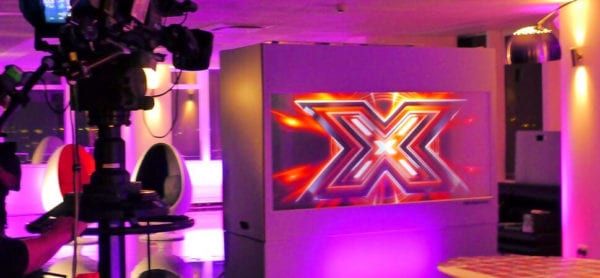 Not only did our Pro Diffusion Rear Projection Screen provide a stunning display it was granted touch screen capability, allowing the judges to interact with the content on screen creating a collaborative experience for both themselves and the viewer. Both our Pro Diffusion XL and Clearview XL screens can be combined with our Interactive Touch Frames allowing viewers to interact with your display with up to 32 touch points. Our touch frames are available in a range of standard screen sizes up to 10m x 3m and can be used alongside multiple rear projection screens to create huge interactive displays.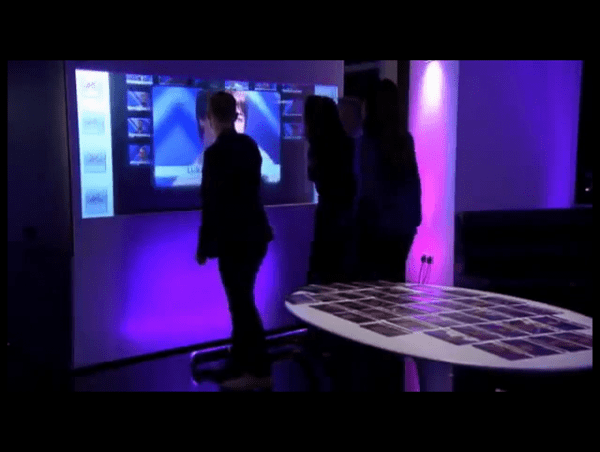 Our Clearview XL screens offer a more robust alternative to their predecessor, with the 6mm thick surface acting as a sturdier display solution creating the same high-quality HD/4K images and also clarity when the projection screen is not in use. Our XL rear projection screens can also be joined to create huge, large format projection displays with barely noticeable join lines, just like in the set at the 83rd annual Oscar celebrations. This award-winning project used 38 of our Clearview Rear Projection Holographic screens, allowing the designers to create a versatile, layered set design that let viewers to appreciate the scale and beauty of the venue as well as displaying key content for the ceremony without ruining the set design. One of our Clearview screens was even used to bring Hollywood legend Bob Hope back to life for one night only, in the form of a holographic projection of his speech in the first ever televised Oscars in 1953.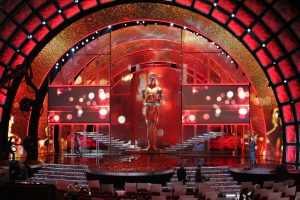 Our Clearview technology even performs in well lit environments like the Oscars and also at the MTV EMA's, where our holographic rear projection technology was used during Halsey's live performance, outputting bright, high contrast images even in the presence of competing stage lighting. We've also seen our holographic rear projection screens used in the Hollywood blockbusters 'Guardians of the Galaxy Vol. 2" and "Trancendence" as a more realistic alternative to CGI technology.
As well as our upgraded Clearview XL and Pro Diffusion XL Rear Projection Screens, we also offer these technologies in a film solution that can be retrofit to existing glass or acrylic surfaces. These films are commonly used with windows and glass partitions with specialist products including holographic effect and sun readable film options and can also be manufactured with touch capabilities, with our range of interactive projection foils being popular in retail window displays.