Posted March 18th, 2021 by Emily Burkinshaw & filed under , General, How To's, Technology.
You've probably heard of front projection before—in other words, when a projector is placed in front of the screen. But have you ever considered the potential benefits of rear projection? 
In this article, we're going to explore how rear projection works, the benefits that it brings, and what to consider before purchasing a rear projector.
How it works
The principles are pretty basic—you simply place your projector behind the screen, shooting towards the audience, set it to rear projection mode, and you're all done. Rear projection used to be all the rage in the film industry: cast your mind back to car chases in old James Bond movies.
But why was it so popular? Well, the theory is that by putting the projector behind the screen and in its own room (where you have complete control over the surrounding lighting), you can achieve the best image possible—and avoid the effects of any ambient lighting that may be hitting the front of the screen. Plus, if you were to use front projection, any actors and props in the scene would cast shadows on the screen—thereby ruining the effect of the projection.
What are the advantages of rear projection? 
Front projection is now undoubtedly the more popular option, but that's not to say that rear projection doesn't have its advantages. In fact, when it comes to commercial use, rear projection may actually be the wiser option.
As mentioned previously, movie sets are a huge champion of using rear projection to bring their stories to life, with our rear projection screens featuring in many of Hollywood's notable films including Guardians of the Galaxy Vol. 2 and most recently, Wonder Woman 1984. It's not just Hollywood that use rear projectors to their advantage, stage set designers and event organisers opt for this solution due to the freedom it can offer, due to being unaffected by obstructions.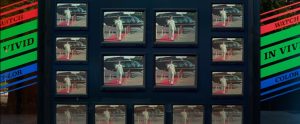 Another benefit of using rear projection is the flexibility it offers with lighting, usually in a front projection setup the lighting around the screen needs to be heavily controlled, whereas with a rear solution you can still operate in more ambient lighting environments without the image quality being compromised.
In many cases when using rear projection, its usually easier to hide or conceal the projector itself when compared to using front projection. This is an especially useful feature across a wide range of sectors with artists opting to use our rear projection films as a less invasive alternative, allowing them to create uninterrupted environments which are all together more intimate and immersive for visitors.
What to consider before investing in a rear projector screen setup
Rear projection and front projection both have certain benefits and pitfalls. When considering whether to invest in a rear projector, consider the following:
Whereabouts would you ideally place the screen? Using a standard projector, you will usually need around one and a half to two times the width of the screen in space between the projector and the screen itself. With the addition of a short throw lens that distance drops to being roughly the same as the size of the screen, requiring a distance any smaller than this would need an Ultra Short Throw Projector.
Will the room be full of ambient light while projecting? If so, consider using a rear projector—rear projection has a higher gain and is usually less effected by ambient light than front projection, for areas affected by high ambient light we offer our Sunscreen Film specifically designed to work in direct sunlight. If rear projection isn't possible and the image is still being affected by daylight, check out our Ambient Light Rejecting (ALR) Front Projection Screen, producing high contrast, rich colours and perfect black levels in all lighting conditions.
The different types of rear projector displays
We offer a wide variety of rear projectors for a range of different use cases. Let's take a quick look at three of our most popular rear projectors and explore the specific advantages of each. 
Our Switchable Rear Projection Film combines the freedom of rear projection with the ability to switch your screen from frosted to clear instantly. We've seen the likes of luxury retail branches like Harrods and Anil Arjandas embracing our smart film, one to create an eye-catching product launch in their infamous windows, the other allowing for advertising outside of store hours. Our Smart Film provides the best of both worlds, no longer forcing you to choose between having a window display or maintaining transparency.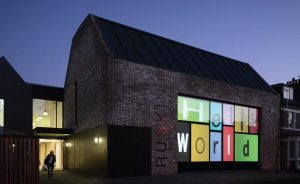 With screens up to 8000 x 3000mm, this is the perfect option if you're looking to fill up a large space (e.g. for museums, banks, shopping centres, or exhibitions). The screen itself is made by coating a special optical diffusion layer down onto either laminate glass or acrylic. The peak gain ranges from 0.65 to 2.5, and it boasts viewing angles from 120 – 160°.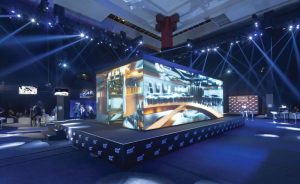 If you're looking for a 'Pepper's Ghost'-style visual effect, our Clearview Holographic Effect Screen is the ideal choice. Their contemporary design has been showcased on some of the world's biggest stages including the 83rd Academy Awards and the MTV EMA's. Manufactured as either a self-adhesive film, acrylic screen, or glass option, Clearview's superior performance and definition makes it an amazing low-cost alternative to competing holographic projection technology.. The screen offers a 140° viewing angle, 82% transmittance, and 16:9, 16:10, and 4:3 aspect ratios.