Posted June 21st, 2022 by Emily Burkinshaw & filed under , Case Study, General, Project Focus.
ISE (Integrated Systems Europe) is the largest AV and systems integration show in the world, an event spanning 4 days hosting exhibitors from all over the world. ISE offers conferences, world class speakers and unmissable technology, a great inspirational opportunity for businesses in any industry. This year ISE hosted its first full-scale show at the Fira Barcelona, with 2020 marking it's last appearance at the RAI Amsterdam.
ISE has always been a key part of our calendar year, from exhibiting regularly over the last 15 years to working with key industry partners to create memorable displays. At the final show in Amsterdam in 2020, we had our most successful show yet despite the COVID pandemic brewing, debuting some of our unique technologies including the Mirror LED Wall and Clearvision Transparent Front Projection Screen.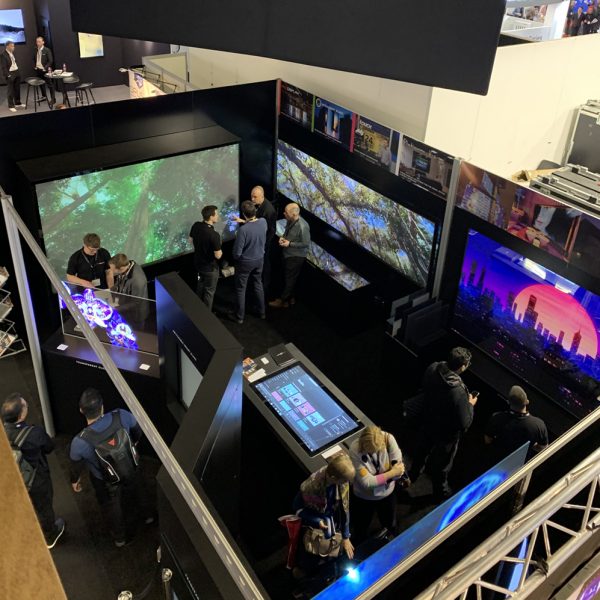 In 2019 we had the pleasure of being one of ISE's partners, alongside AV giants Panasonic, creating a huge projection mapping installation that simply could not be missed. The nHow Amsterdam RAI Hotel was transformed into a giant canvas, with 392 of its windows fitted internally with our Projection Mapping Film and 14 of Panasonic's PT-RZ31K projectors providing the 400,000 lumens needed to create the showstopping display playing throughout the week.
As well as having our own rich history in exhibiting at the event, our technologies are consistently specified by world-leading projection manufacturers, used to showcase their products at their absolute best. At previous ISE shows, Japan-based manufacturer Hitachi have favoured our Ultra Black and Pro Diffusion Rear Projection Screens as well as our Digital Glass screens on their stand, and in 2020, Optoma used our Projection Films to create a virtual bar using their Ultra Short Throw Projectors.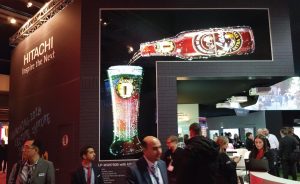 However, our range of projection screens and films need no testimony when the number one projector brand worldwide, Epson, chooses to use our screens to sell their products consistently at exhibitions around the world. We've provided solutions to suit many of Epson's stand designs over the years including front and rear projection screens, specialist UST Digital Glass Screens and rear projection films.
This year was no different with Epson specifying our Pro Diffusion Rear Projection Film for use in the glass walkway overlooking their stand. We supplied an 11 meter roll of our Pro Diffusion Rear Projector Film, a versatile grey diffusion film that offers high contrast & brightness even in high ambient light and daylight. Offering excellent colour reproduction and 4K quality images, our Pro Diffusion film is designed to enhance and improve the quality of even low-end, budget projectors.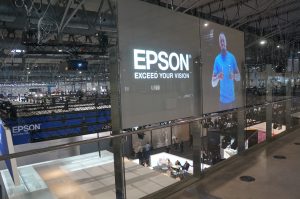 In this install, the projector used was an EB-L20000U Epson Compact Installation Projector, fitted with an ELPLW08 wide throw lens. This WUXGA laser installation projector offers impressive brightness, designed to industry requirements with 20,000-lumen projection, perfect for events, festivals trade shows and shopping centres. Offering backwards lens compatibility and interchangeable interface boards, the versatile EB-L20000U is also designed to slot into existing infrastructure and lets the user project from any angle.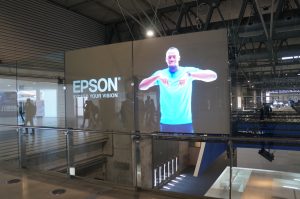 Showcasing content that has a predominantly black background was supported perfectly by our Pro Diffusion Film with its dark grey surface colour. Displaying superior black levels our rear projection film suited the brief, with it's self-adhesive layer making installation to the exiting glass walkway quick and easy. The optical surface of the film made the bright colours even more intense, standing off the black backdrop to create an effective display that can be appreciated from both close up and long distance.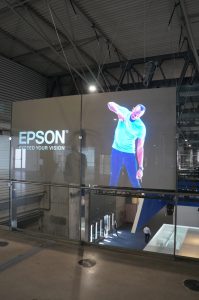 We supplied Epson with a roll of our Pro Diffusion Film, but as well as our range of projection films being available by the meter or in 10 & 30 metre rolls, we also offer our films custom cut in a range of standard screen sizes as well as custom sized and shaped screens up to 1524mm wide. Due to it's self-adhesive nature, our rear projection films can also be joined to create larger displays, ideal for glass partitions or walkways like the one used at ISE.