Posted February 9th, 2018 by & filed under , Case Study, General, Project Focus, Technology.
Pro Display's specialist projection screens showcases the latest in projector technology
This February, ISE 2018 grouped together some of the biggest names in the industry, showcasing the best in AV system technology that the market has to offer. Amongst this showcase of cutting-edge technology, we saw the likes of Epson and Hitachi representing the latest in incredible projector innovation. But as we know all too well, the projector is only one side of the story and when showcasing the very best in projector technology, it is essential that you have the very best screen technology supporting it. So where do these companies turn when looking to display their products in the best possible way? Pro Display, of course.
Epson's recent EB-700U ultra-short throw laser projector was in full show, supported by Pro Display's revolutionary Digital Glass technology. Digital Glass offers high brightness and unsurpassed contrast, even in brightly lit environments. This unique screen is designed specifically for ultra-short throw rear projection, spreading the light evenly into each corner without creating hot spots. Ideal for demonstrating the power and quality of a laser projector, the whopping 130″, 16:10 aspect ratio Digital Glass screen took the front line role in representing both Pro Display's superior display products, as well as Epson's excellent laser projector technology.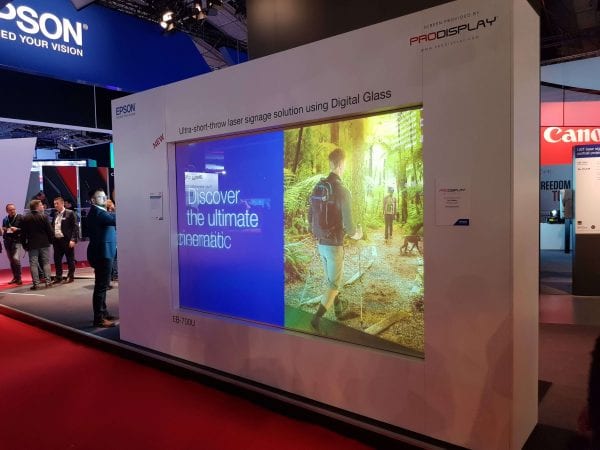 Likewise, Hitachi relied upon 3 of Pro Display's Ultra Black Film to showcase their LP-WU9750B projectors with USL-901 lenses. Ultra Black Film is a unique black tinted rear projection technology providing unsurpassed contrast and resolution. The 3 screens – one of them being 2198mm x 1296mm and the other 2 being 1997mm x 1296mm – work together to create a singular impressive display offering sharp, crystal clear and bright images at all angles, this screen is designed for high end video and advertising. Ultra Black Film provides a cost-effective alternative to other black screen technologies and allowed Hitachi to showcase their LP-WU9750B projectors in a way that portrayed their display superiority and advertising ability.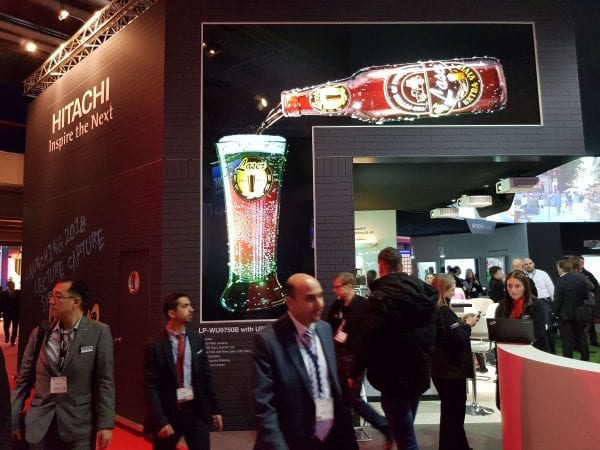 Technology giants like Epson and Hitachi choosing our specialist projection screens to showcase their projectors is a real testament to the superior specifications of our screen technology, especially at such a high-profile industry event.
Chosen by the best, you can rest assured that Pro Display's specialist projection technology is the right choice for most applications.