Posted April 5th, 2013 by Sean Brown & filed under , Case Study, General, Project Focus.
Switchable Glass, also known as smart glass or electric privacy glass, is an incredibly versatile privacy solution suited to both residential and commercial environments. Whilst privacy on demand is still one of the number one uses of our Switchable Glass technology customers are continuously challenging the norms of how it can be used, resulting in one of a kind projects such as switchable glass aquariums for a touring art exhibition and offering a flexible projection solution for 20th Century Fox's "Prometheus" (2012).
Switchable Projection Screens have become incredibly popular in recent years, with Pro Display manufacturing the worlds largest switchable front projection screen for the Cirque du Soleil HQ in Canada as well as providing the canvas for Rolls Royce's Harrods window takeover, for the launch of their new car, the Rolls Royce Dawn.
Pro Display's Switchable Glass Projection Screen recently stole the show during Opera North's production of La Clemenza Di Tito. Utilising our switchable projection screens in a way we've never seen before, the liquid crystal glass technology was used with the Sanyo XF47 Projector to rear project high-resolution images onto the freestanding glass screen. The clever construction of the screen allowed it to rotate 360 degrees, allowing the production to create more dynamic sets with a single piece of equipment. When not in use, the giant 6m x 3m screen was magically switched to clear allowing the production to flow seamlessly without removing the screen completely.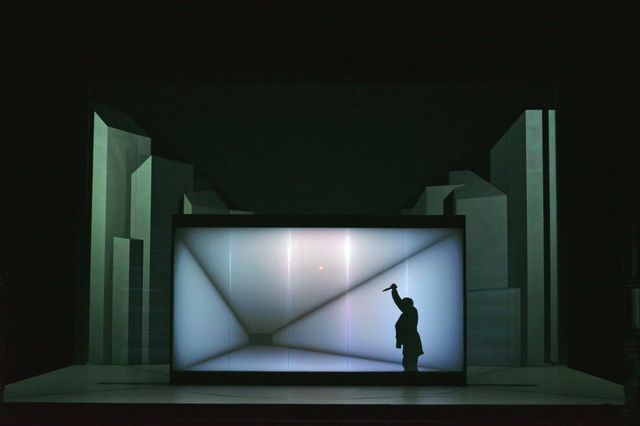 Opting for a single screen like this is a great investment for smaller theatres and productions as it streamlines the amount of pieces needed to create a working stage set. The beauty of these switchable screens is that they can also be changed at a moments notice, through both adapting the content projected on screen or simply switching the glass from frosted to clear. Theatre is all about interpretation and our screens make it easier than ever to signify a change in scene or to the mood of the performance, segmenting the stage quickly and easily minimising the chance of missed cue's and malfunctions.
Laura Turnbull Opera North's Production Coordinator said, "Switchable Glass was the perfect product for the production as it allowed us to instantly change the look of the space with the flick of a switch!"
Switchable Glass technology is available in a range of standard screen sizes from 50" to 130" with custom sizes available on request. We also offer Self-Adhesive Switchable Film, a retrofit alternative to Switchable Glass which can be applied to any existing glass surface and projected onto from the rear to create a 4K/HD projection surface. Our film is ideal for commercial environments that want to adapt existing glass partitions or even for homeowners that are looking for a quick fix solution to enhance their privacy.
For further information on Opera North's La Clemenza Di Tito, please visit https://www.operanorth.co.uk/