Posted October 22nd, 2019 by Emily Burkinshaw & filed under , General, Inspiration, Project Focus, Technology.
Established over 15 years ago, Pro Display has been fortunate enough to work with some of the world's biggest brands on a range of incredible and innovative projects. In this time, we've seen our Projection Mapping Film used to turn a 25 storey hotel into an immersive projection display and our Switchable Film used to launch the brand new Rolls Royce Dawn; these, amongst countless other projects, further inspire us to continue pushing boundaries and change the face of visual display as we know it today.
We love seeing extraordinary, creative ideas turned into reality using Pro Display technology; one of the best examples of this is through our continued relationship with established galleries and artists. Over the years, the artistic community has favoured our technology in a wide range of projects, from using our projection film as a medium to promote their exhibitions, to physically incorporating our products into the artwork itself.
One of the most recent projects we completed was with the new, up and coming public exhibition space NOW Gallery situated in Greenwich Peninsula, the newly evolving cultural hub of London, featuring work from established and emerging artists, designers and other creative practitioners.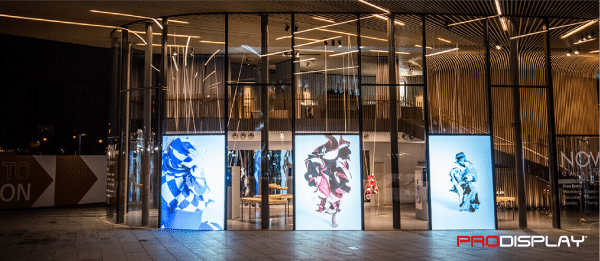 We supplied them with three huge pieces of our High Gain Rear Projection Film which were installed in a portrait format onto their exterior facing glass façade. NOW Gallery used our screens to project images with breath-taking clarity and 4K resolution onto their exterior, extending their exhibitions beyond the confines of the gallery walls.
Not only can we provide Projection Film that can be applied to windows and used 24/7 in all light conditions, we can also offer solutions with 360 viewing abilities, perfect for larger spaces. This concept worked incredibly well in the National Museum of Scotland's Art, Design and Fashion gallery, where we provided two 15 foot high, 360 Dual Image Projection Film suspended screens which could be appreciated from every level of the exhibition.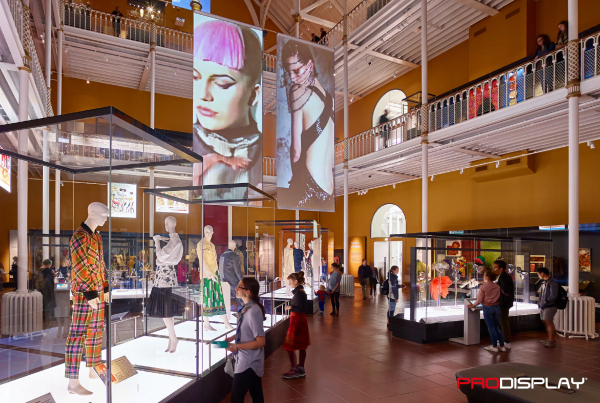 The 360 Degree Screens were suspended over the centre of the exhibition space and displayed high energy fashion films to the sound of an original music score; the perfect accompaniment to the incredible fashion showcased below them. We also provided our Acrylic 360 Dual Image Projection Screens, which were suspended on the balconies of the different levels of the gallery. The dual sided capabilities of our product enabled visitors to view the content from all viewpoints, ensuring that none of the content being showcased would be missed.
In addition to our products supporting the work of the established artists on display, Pro Display technology has also been integrated as a physical element of the artist's work itself. Our Clearview Rear Projection Screen was used as part of an installation at the Anthony Reynolds Gallery. Stunning video content was projected in black and white onto the Clearview Screen, which hung from the ceiling creating a floating effect. This minimalist installation used only our transparent Holographic Effect Rear Projection Screen and a projector, together creating an eye-catching art piece with a great impact.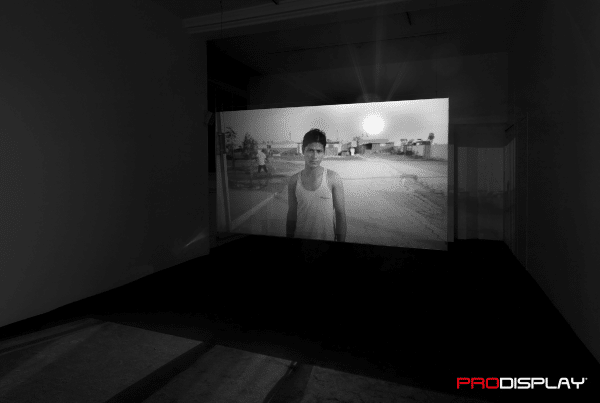 Pro Display also provided a creative solution for artist, Pierre Huyghe, who used our Switchable Glass as part of his Nymphéas Transplant exhibitions to create fully functioning Switchable aquarium installations. Each aquarium was made from four panels of our Switchable Smart Glass and mounted on a huge concrete base. A colour changing light was suspended over the top of each of the 3 aquariums, which contained the ecosystems of the gardens of Giverny; creating a mesmerising display as the glass surfaces switched from opaque to transparent. This installation was made even more striking by our smart glass switching from frosted to clear in a pattern that was defined by the artist himself. This exhibition saw our Switchable Glass travel from Saville Row in London across the world to a rooftop overlooking the New York skyline in the USA.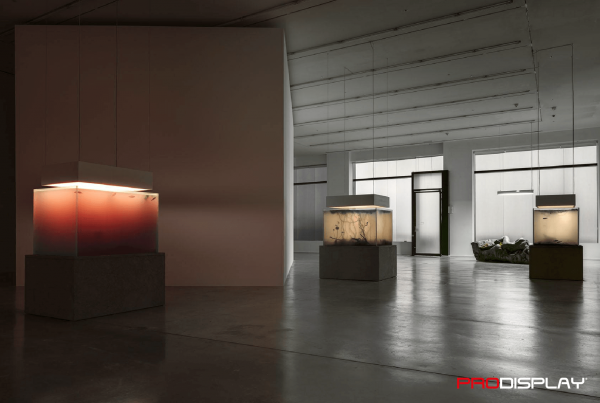 Not only have we worked with well-established galleries and the artists themselves, we have also lent our expertise to an installation for the artists of tomorrow at the illustrious Ruskin School of Art in Oxford. Our Switchable Smart Film was installed on the existing panelled windows of one of the school's workspaces; during the day the film is switched to clear so that natural light can flow into the room where the students are working. As it drops dark, the windows are switched off to their frosted, dormant state and projected onto with creative video content, innovatively put together to further promote the institution to visitors and passers-by.