Posted December 21st, 2017 by & filed under , General.
As team Pro Display winds down for the festive period, their active minds aren't content with an ordinary Christmas office party. Oh no. You see, Pro Display has some of the world's most incredible display technologies hosted at our Screen Gallery and lucky for us, management agreed to a team gathering in this exact location to launch our Christmas party. So what is a team of competitive and restless individuals going to do when confronted with such an opportunity? Perhaps display entrancing visuals and utilise Pro Display's Soundpods to play some classic Christmas party tunes to heighten the mood? Maybe embark on the visual experience of a lifetime and watch an episode of the BBC's recent epic Blue Planet II on a 4K 100″ screen? Or, as we found to be incredibly effective, why not plug in a games console and let the team loose on FIFA?!
We preferred the last option…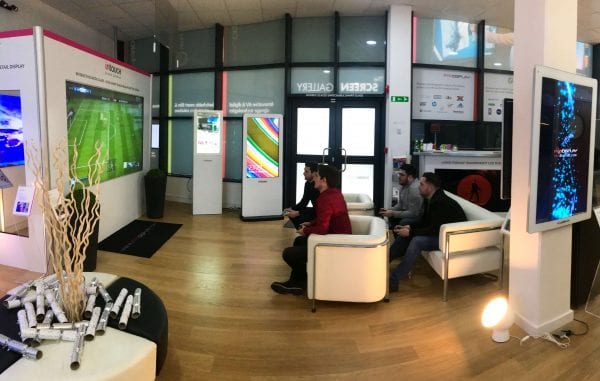 Pro Display's Christmas party ascended into a legendary FIFA 18 tournament, seeing everyone present getting involved with playing the latest in video game technology on a 100″ 4K compatible Digital Glass screen – an opportunity that certainly doesn't come around often. Being the envy of every hardcore gaming fan around the world was an incredible experience and the benefits of using Digital Glass were not lost on us. Thanks to Pro Display, a powerful Epson EH-LS100 ultra short throw (UST) laser projector and the revolutionary optical Digital Glass technology, we were able to play the single most visually stimulating game of our lives – with unsurpassed contrast, colour saturation, high brightness, and of course, a resolution that will see even the hardest to impress stunned.
Culminating in what we can only describe as 'the greatest Christmas office party of all time', Team Pro Display were given an almighty 'kick-off' to their night and their Christmas festivities this year!
The team at Pro Display wishes everyone a very Merry Christmas and a Happy New Year.