Posted July 30th, 2013 by Sean Brown & filed under , Case Study, General, Project Focus.
For over 15 years, Pro Display has supplied projection display technologies to businesses all over the world. Investing time in research and development have led us to supplying one of the first Transparent Front Projection Films on the market as well as manufacturing the middle east's largest Rigid Rear Projection Screen. Over the years we've supplied projection films and screens for a host of high profile projects, from A-list events like the Oscars and MTV EMA's to appearing on the silver screen in blockbusters like Guardians of the Galaxy Vol. 2 and Star Trek Into Darkness (2013).
In this particular install, Pro Diffusion rear projection film was installed by Subvertice to create a 3D cube as part of a project for St. Roque Museum on the Chapel of St. John the Baptist exhibition. The system consisted of 3 x 1.5m Pro Diffusion screens rear projected using 3 Epson Powerlight ultra short throw projectors displaying multiple movies. Due to the room and budget on the project the hardware provided a perfect fit with the projectors hidden away behind the screens.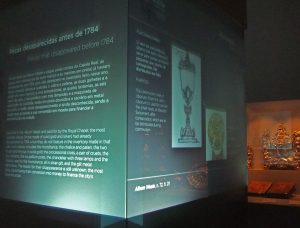 Our Pro Diffusion technology is our most popular projection screen solution, offering unparalleled brightness and superior colour reproduction to competing screen solutions. This versatile neutral grey screen produces a HD/4K image allowing any projector to operate at its full potential, ideal for all video and advertising applications. The perfect balance of brightness and high contrast makes these screens suited to a range of applications and is the only diffusion screen technology that provides true 180 degree visability.
Rear Projection Screens are ideal for applications where there is a heavy footfall, as movement in front of the display wont affect the image on screen unlike alternative front projection technologies. Whilst the same structure could be achieved with LCD screens, this streamlined, edge to edge effect is only possible using projection film. Subvertice provided a full installation service that included interactive multimedia and hardware, following the installation production director Miguel Rosa said: "Pro Diffusion Film met and exceeded our expectations. Very easy to install and has a great contrast/gain balance. We will definitely use it again in other projects!'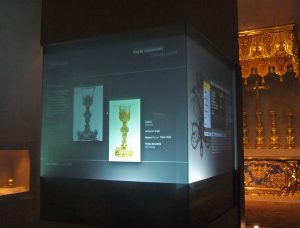 As well as the Pro Diffusion, we offer a range of alternative rear projection technologies that have been specially manufactured to perform in certain environments. This range includes the popular Clearview Transparent Rear Projection Film, a cost effective alternative to competing holographic technologies that produces a 2D holo or peppers ghost effect and our Sunscreen Rear Projection Film, a sun-readable display that offers bright, crystal clear images even in high ambient light or direct sunlight.