Posted September 3rd, 2019 by Sean Brown & filed under , Case Study, General, Project Focus.
A recent project that Pro Display have supplied was for experience design studio, Expology, who specified one of our Digital Glass screens for an interactive museum display in Norway. This screen, measuring in at a whopping 3m x 1.7m is an incredible display that boasts all the benefits of our Digital Glass technology. As a UST projection screen, the museum can save exhibition and floor space with the system's ultra-short throw distance, allowing them to follow a minimalist interior design whilst benefiting from the advantages a high-quality projection system offers. The short throw distance also allows for the housing unit to proficiently hide the system's components so that visitors can only see the screen.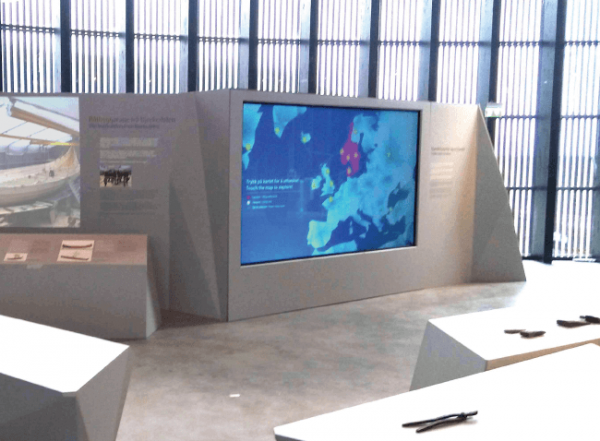 The choice of Digital Glass in this application was truly smart, allowing for a high quality, large format museum display with no bezels. An equivalent sized interactive video wall display, for example, made up with LCD screens, would likely be a lot more expensive, not to mention the running and maintenance costs involved in operating multiple screens. However, by using Digital Glass, the only power demand is the projector, which displays the image on the large screen without any hot spots. Likewise, should one of the screens fail in a video wall, it can be costly to replace and even more costly to replace with the exact same model as the others. With a Digital Glass UST projection system however, the only active component is the projector, which allows for the use of a robust laser projector.
As strong as the visual and display credentials of Digital Glass are, it is how Expology have applied it in this project that makes it special. Using a custom Pro Display infrared Touch Frame, Expology were able to create not only a large format display, but also a very large touch screen display, allowing visitors to interact with the display in ways that were not possible with a passive projection system.
This whole exhibit serves as the culmination of many of the best ways to apply technology in a museum environment; in this application, visitors can select a point on a map and be informed of the historical significance that the Vikings held in that location. Delivering a museum display like this without using Digital Glass wouldn't nearly be as perfect, with some obvious and not so obvious drawbacks of using different technologies, Digital Glass offers the most fitting way to deliver this kind of information in an engaging and informative exhibit.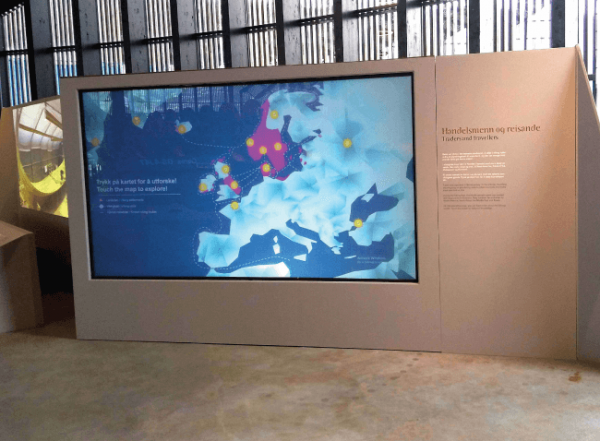 For other museums or digital display applications, Digital Glass offers one of the best solutions available for high-end projection. With a peak gain of 0.65 and viewing angle of 160°, the display is sure to stand out even in busy areas with many exhibits or display competing for attention. A Digital Glass screen is available as standard in either 10mm or 12mm thickness toughened glass with polished edges and custom thicknesses are also available. Just as Expology specified an interactive touch frame for this solution, Digital Glass screens are able to be granted interactivity as well as furnished with anti-glare properties and 3D compatibility using specialist manufacturing techniques and glass coatings.
Learn more about how we can help with museum displays – Museum Display Technology & Visual Effects