Posted January 12th, 2015 by Sean Brown & filed under , Archive, General, Technology.
Introducing Digital Glass
Over the past year we have perfected the manufacturing technique for Digital Glass, Pro Display's next generation rear projection toughened glass screen.
Digital Glass was developed primarily with ultra-short throw projectors in mind. We gave it the challenging dual objectives of delivering large format (up to 6m x 2m) robust digital signage, plus immersive accurate multi-touch interactivity.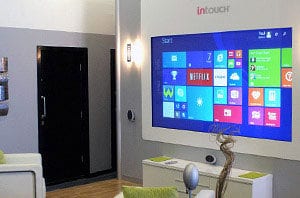 Developing Digital Glass
We have a strong history of developing high-performing optical projection screens, with our Pro Diffusion ST cast acrylic screen having long been a preferred choice for short throw projection.
Digital Glass is created by a (very) secret production process, combining toughened glass with an optical diffusion layer on the rear. And being toughened glass, the front provides an extremely robust surface on which to implement multi-touch interactivity. For this, we use our own infrared touch frame technology from our new intouch division.
The result is seamless large format high-resolution images with responsive, pin-point multi-touch. And with the strength and durability for high-traffic, high-utility applications.
Testing, testing…
Throughout the development of Digital Glass we paid close attention to the kind of projection kit likely to be used by many corporate offices, schools, universities, control rooms and retail outlets.
We used high end combinations such as a Panasonic PT-DZ870 projector combined with the impressive DLE-030 short throw lens, but mainly we wanted to explore more affordable hardware around the £1k price point, namely: the Optoma W307UST; NEC UM330W; Epson EB-585W; and Panasonic PT-TW340.
So, the tests began. Our own very high hopes were already set as we knew that the Pro Diffusion ST technology (albeit different technology) worked so well. All of the projectors performed well: no hotspots, sharp focus, strong and even colour reproduction, and super wide viewing angles. The optical diffusion layer was doing its job perfectly.
And the feel of multi-touch interactivity on the toughened glass beneath our fingers was something special, and drew more than a few smiles. Imagine swiping your hand across a highly responsive, 7 foot wide tablet… that's the kind of impression it made.
So good, we kept one for ourselves!
The photo above shows the 100-inch multi-touch interactive Digital Glass installed at our Screen Gallery in Leeds. The image is rear projected by the mid-level NEC UM330W, positioned 795mm behind the screen. This ultra-short throw projector is available for less than £1,000 at the time of writing.
The results are so impressive we decided to make this partnership a permanent fixture in the Screen Gallery. It proves what stunning images can be achieved from a sub-£1k projector and our new star in the making, Digital Glass.