Posted March 5th, 2018 by & filed under , General, How To's, Inspiration, Press Release, Technology.
LCD Video Walls are conventionally impressive displays of multiple LCD screens that work together acting as a single screen. Video Walls have increased in popularity in recent years as more people understand the power of visual display technology, and whilst they do indeed serve their purpose incredibly effectively, they don't do it all that efficiently – at least compared to other alternatives on the market.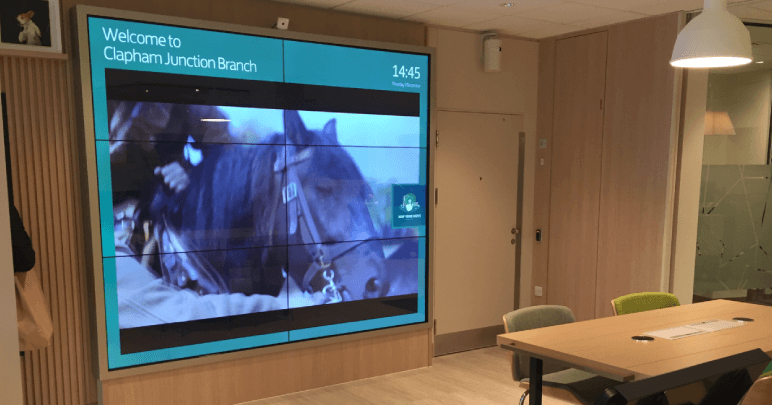 Energy Consumption
One of the biggest drawbacks with LCD Video Walls is their undeniable energy demands. Video Walls contain multiple screens, each one requiring independent power. A projection display system, however, is a passive solution that simply requires power to a single projector that draws an energy consumption not much higher than an average LCD screen. Using a projection system could result in a lot more than 10 times the saving in energy costs, depending on the application.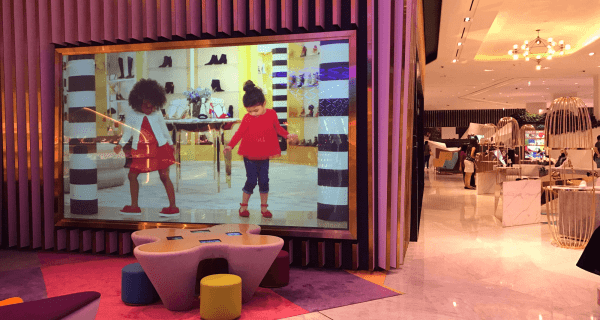 This rather remarkable comparison is made even more impressive when considering the various projector and screen options that vastly increase a projection system's energy credentials. For example, Pro Display's primary alternative to LCD Video Walls is their revolutionary Digital Glass – an extremely robust Ultra Short Throw projection screen made for high-end projection and large format edge blending. Polished edges allow Digital Glass panels to be installed side-by-side, creating enormous seamless screens and serving as a real alternative to LCD Video Walls. Digital Glass is available in standard sizes up to a whopping 185″, with custom sizes up to 8m x 3m – a monumental size that would require a significant number of LCD screens to achieve.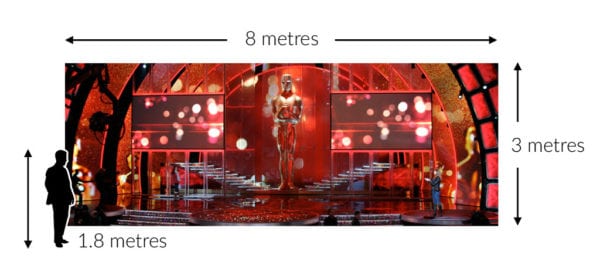 Another screen option that would outperform LCD Video Walls in terms of display and exposure is Pro Display's 360° Dual Image Projection Screen, which can be manufactured up to a huge 132" and displays 2 images – one on each side of the screen, enabling for impressively eye-catching large format displays. These displays can be produced at a fraction of the cost to run when compared to LCD video walls, which would require 2 banks of screens of equivalent size to match the visual impact of a 360° Dual Image Projection Screen display. The range of projection screen and projector technologies that are available can significantly improve energy consumption compared to LCD Video Walls, whilst at the same time, they can also deliver a solution more appropriate for your application than an LCD Video Wall can achieve.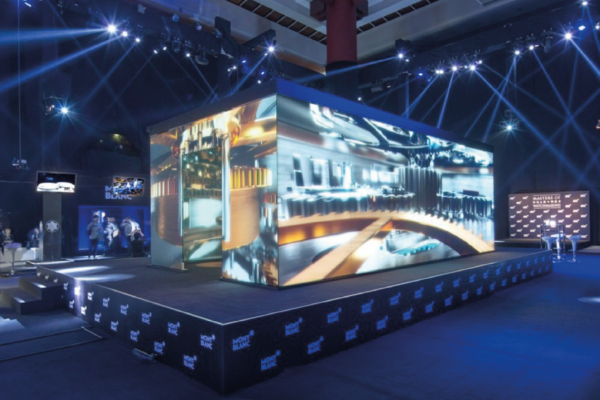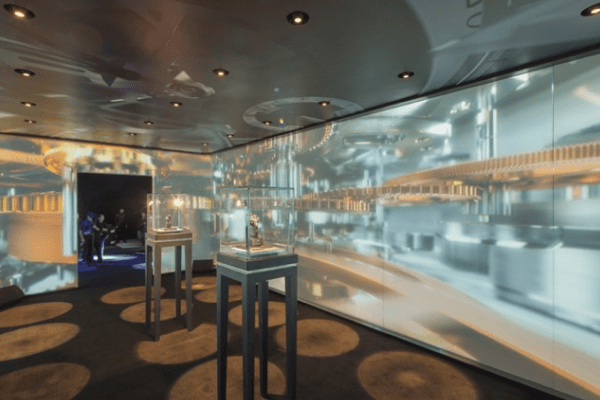 Image Quality
There have been undeniable strides in LCD technology that has seen image quality improve at an incredible rate, with screens now supporting HD and 4K resolutions. However, there have also been huge advancements in projection system technology, as both projector and screen products bring unique innovations to a display system. Many of Pro Display's projection screens are HD and 4K compatible, and as projector technology improves, we have seen a steady increase of HD and 4K projectors hit the market over recent years.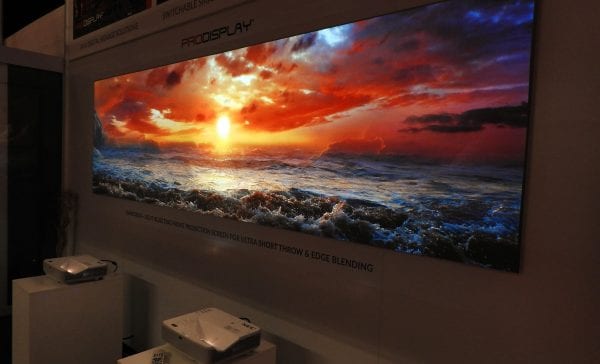 A projection system's duality also allows for far greater customisation when it comes to your display requirements. Through the combination of these system technologies, we are able to provide customers with projection solutions ranging from holographic effect to switchable glass screens – solutions that would be difficult to recreate using standard LCD screens.
Furthermore, one of the biggest advantages of using a projection system over LCD screens is the lack of bezels that are associated with LCD screens. A projection system displays a single image that is not dissected by unsightly bezels, resulting in a perfect picture without being partitioned by multiple screens.
Maintenance
The more electrical components you have in a display system, the higher the chances of something eventually failing. This presents numerous problems, one of which being the sporadic cost of replacements that may not be subject to the same economies of scale that your initial unit cost benefited from. It is also worth considering that there may come a time when the manufacturer of your chosen screen discontinues production, potentially putting an expiry date on your investment. LCD screens are also well known to face degradation over time, especially in 24/7 commercial applications. This degradation may result in picture inconsistencies throughout the Video Wall or even the total failure of one or more of your screens. This higher chance of component failure presents a nuisance particularly when your screens should be productive. When it serves a business purpose such as advertising a new offer in your store, you obviously want to get the most use from your investment, so with a screen failure being a likely outcome in time, LCD Video Walls are proven as not ideal, especially if the failure occurs in a screen that happens to display important information.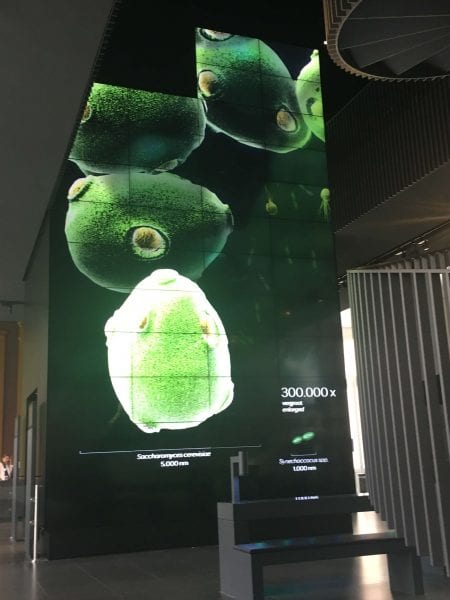 However, a projection system's electronic makeup is usually confined to a single projector, limiting the risk of failure drastically compared to that of an LCD Video Wall. Also, whilst a projection system may require duality to work, most do not require exclusivity between the screen and projector. This makes upgrading much easier, as customers can often upgrade the screen or projector without having to upgrade the other. The independence of projection system components presents an obvious advantage over LCD Video Walls, which are required to all be similar, if not the same models in order to achieve the best consistency possible. Upgrading an LCD Video Wall is most likely going to require a full system upgrade, which could be considerably costly to that of a single projector or projection screen.
Laser projection technology has also allowed for greater efficiency in display systems, even compared to standard bulb-based projectors. With up to a massive 20,000 hours of maintenance-free operation, laser projectors dwarf a standard projector's bulb life span of anything from 1,500 to 5,000 hours operation.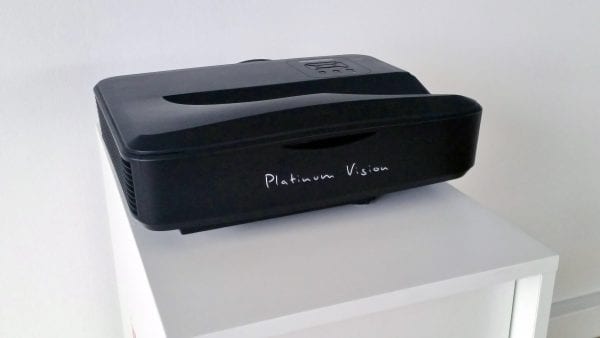 Space
Space is possibly one of the main concerns where LCD Video Walls may offer a superior solution to a projection system in certain applications. However, this entirely depends on the application and indeed, there are many situations where a projection system is still a preferable solution. On face value, the very nature of LCD Video Walls means that they do not have a throwing distance. The image source is native to the screen so the space it takes up to produce the image is limited to the screen. However, a projection system works by 'throwing' the image onto the screen, often requiring a throw distance to achieve optimum image quality. Whilst this may present complications in terms of space, the versatility of a projection system can negate a lot of these complications.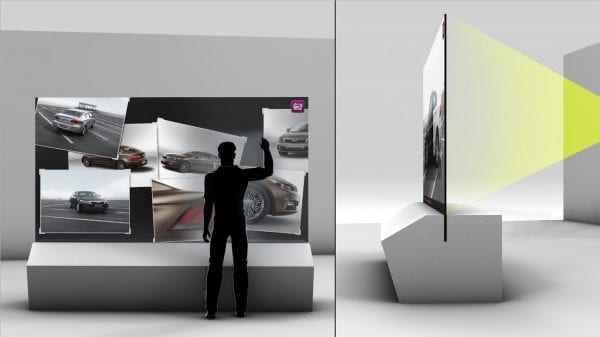 Despite the space required to 'throw' a projected image at a screen, the size of image that can be produced with a small distance is vast. Using Pro Display's Platinum Vision® UST Laser Projector, clients are able to display a 100″ image from only 700mm away, demanding a relatively small distance in order to produce such a large image could be seen by many as a fair compromise on space.
LCD screens are also surprisingly heavy compared to a projection screen, and where they may be required to be mounted using expensive industrial wall mounts, a projector and screen can simply hang from a ceiling without the obtrusive heavy-duty wall mounts required for LCD screens. What's more is that as projection technology improves, throw distance is continuously challenged. Short Throw and Ultra Short Throw projection screen technology has allowed for even shorter throw distances, and as laser projection also improves, the 2 combine to create unparalleled image quality.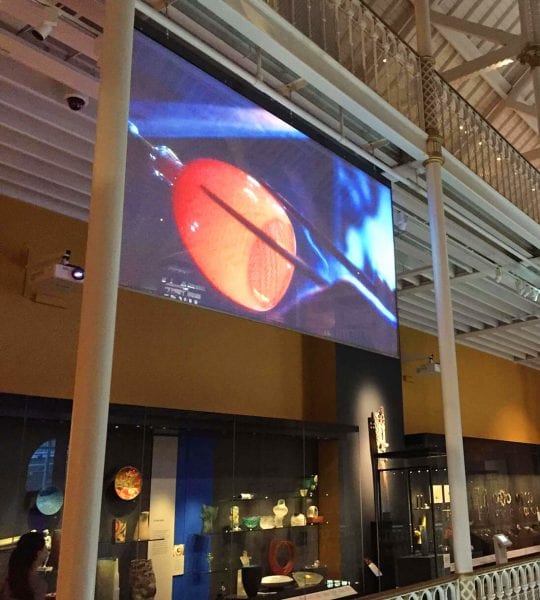 Whilst a projection system takes up a certain amount of space to produce the image, the space a projection screen can adapt to makes it a major asset, especially for environments such as retail. Where an LCD Video Wall is rather large and imposing with limited dimensions and aspect ratios, a projector screen can be cut to exacting requirements, meaning it can take on unconventionally sized areas and shapes that LCD Video Walls would not be able to satisfy.

Functionality
How an LCD Video Wall works limits its functionality to basic display solutions. However, a projection system has the capability to be a lot more versatile. Ultra Short Throw Digital Glass, for example, offers a projection screen up to 8m x 3m with touch capability. Creating an interactive screen this large allows for an enormous range of capabilities that are difficult, if not impossible, to recreate as effectively with an LCD video wall.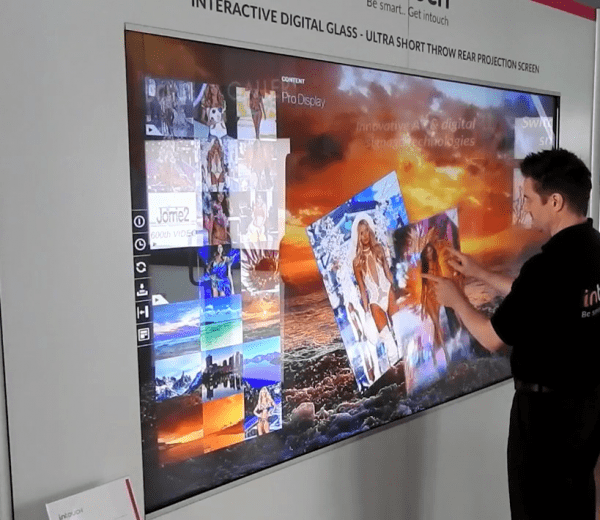 Options such as Surface Sound, Sun Readability and Anti-Glare are either more effective or far cheaper through a single projection screen than they would be with multiple LCD screens. The sheer range of projection technology available makes creative options possible using specialist projection technology such as Transparent Projection Screens, CAVE Projection Screens and Simulation Screens, options that again are impossible or more costly to create with LCD Video Walls.