Posted February 6th, 2020 by Emily Burkinshaw & filed under , General, Technology.

The Pro Display Group are heading back to ISE with our biggest stand yet and with the jam-packed 4 day show just around the corner, we wanted to give you an inside look on some of the most exciting products we're showcasing this year.
There's still time to get your FREE ticket to come and visit us in Hall 1 at Booth 1-N126, click here to register now quoting our exclusive offer code 837895.
1. 130" 4K Multi Touch Digital Glass Rear Projection Screen
This size screen is a first for Pro Display this year at ISE, with our 130" 4K Multi Touch Digital Glass Rear Projection Screen being the biggest screen we've featured on our stand to date.
The projection layer itself is our new optical material, offering high brightness and unsurpassed contrast even in brightly lit environments. This unique technology is designed specifically for ultra short throw rear projection, spreading the light evenly into each corner without creating hot spots.
Digital Glass provides an extremely robust solution for digital signage, high-end projection and large format edge blending. Digital Glass can be manufactured in glass panels up to 5m x 3m and acrylic up to 8m x 3m, creating huge seamless screens; a genuine alternative to LCD video walls and their unavoidable bezels. Digital glass also proves to be more cost effective at face value when compared to a similar sized interactive video wall display made up with LCD screens, not to mention the running and maintenance costs involved in operating multiple screens. By using Digital Glass, the only power demand is the projector, which displays the image on the large screen without any hot spots.
This mammoth screen can also be granted interactivity as well as furnished with anti-glare properties and 3D compatibility using specialist manufacturing techniques.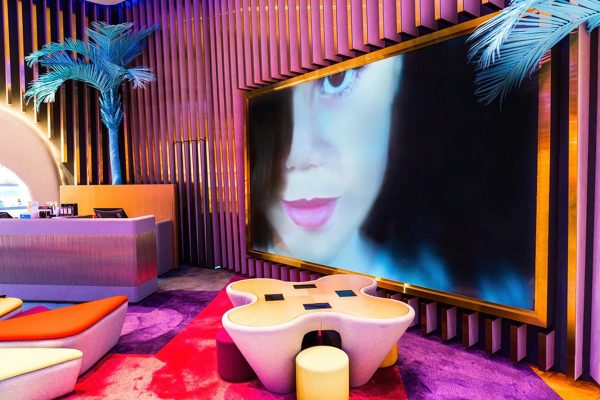 2. Pro Display's Mirrorvision® Range
This year Pro Display are bringing three of their most impressive products from our Mirrorvision® range. The newest of these being our 3.9mm pixel pitch Mirrored LED Screen. This eye-catching display is 2.5m x 1.5m and can be built up to 3.2m x 2m seamlessly with no join lines. The content appears magically on the screen, reverting back to a mirror when no content or black content is displayed.
We are also showcasing our new High Reflective Mirror Screen Display, perfect for applications that require an optimum mirror effect when the display is off, but still produce a 4K image when the screen is turned on. This 43" inch screen with a portrait oversized mirrored fascia is a perfect fit for many applications including retail stores, beauty salons and even residential use. This Mirrorvision® screen can be mounted to a wall, integrated within custom built housing or framed and styled as a freestanding floor length mirror.
Our final Mirrorvision® product we are showcasing at ISE is our Interactive Mirrorvision® Portrait Display. This 70" screen boasts a commercial grade HD / 4K screen, ideal for 24/7 use, meaning your space can still be productive even when you're not there. This product is perfect for retail changing rooms, toilets & restroom mirrors or even car showroom displays.
All of our Mirrorvision® products showcased are created using cutting-edge 'Reflections' technology to transform the Magic Mirror into a TV screen that displays images magically through the mirrored glass.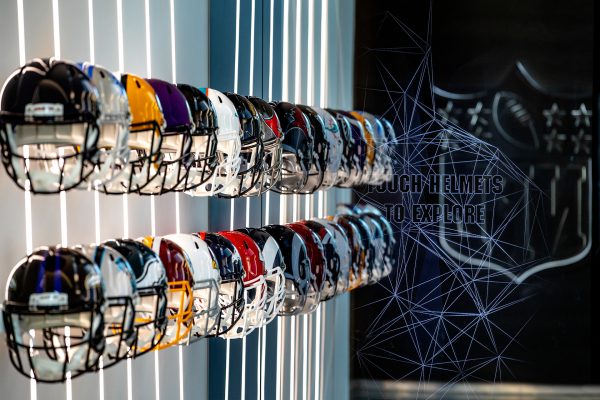 3. 100" Clearvision UST Dual Image Projection Transparent Screen
One of our newest most exciting technologies we're bringing to ISE this year is our 100" Clearvision Front Projection Transparent Screen, a specialist transparent ultra-short throw projection holographic screen which creates a 2D pepper's ghost visual effect displaying an image on both sides of the screen at the same time. Our newest holographic effect display can be manufactured as a self-adhesive film or glass screen (acrylic options are also available).
Clearvision's holographic effect is a popular choice for museums, live events and product launches, offering a semi-transparent projection screen that creates an amazing visual effect.
This Transparent Dual Image Projection Screen also offers a low-cost alternative to competing holographic technologies. With superior performance and definition, these amazing screens still allow visibility through the surface, displaying bright, sharp and vibrant images even in brightly lit environments.
Our Clearvision Screen can be manufactured in standard 16:9 screen sizes up to 120" diagonal. Both the transparent film and rigid screen are available in custom sizes; made to measure for any display, unrestricted by size.

4. Transparent OLED Display
The Transparent OLED Display is a new development in digital signage that allows for a completely transparent screen without any backlight or backbox to contain it. This screen represents the future of digital signage, offering a hi-tech and visually impressive display that will certainly make heads turn.
These displays have incredible visual impact, delivering a stunning FHD picture with a high contrast ratio that is viewing angle free, making them ideal for futuristic or hi-tech environments and even for creating incredible effects for media productions such as for TV or Films. The Transparent OLED screen also lends itself well to a range of premium or luxury environments such as high-end retail stores, producing stunning window and POS displays that create an effect that other technologies simply cannot achieve.
Unlike alternative transparent display solutions, the screen of a Transparent OLED Display is completely see-through, even when switched off. Using these screens in retail, event and exhibition environments offer you the best of both a display screen and a transparent fascia, meaning customers can see through the screen to the products behind it, as well as chosen content that is displayed over the top of it.
When combined with a Pro Display Touch Overlay, these unique screens can be turned into an 'Interactive Transparent OLED Screen', delivering an ultra-hi-tech, engaging experience that leaves customers wowed after interacting with the floating images on the screen.

5. Switchable Rear Projection Screen
Our Switchable Rear Projection Screen is one of the most versatile displays in the Pro Display product range. Our next generation switchable smart technology is the ultimate solution for visual display. The technology works on an electrical principle transforming from frosted glass to clear with a simple press of a button. Our Switchable Projection Screen supports HD/4K rear projection in frosted (high contrast) or creates a holographic effect when clear.
If your glass is already in place there's no need to worry, our switchable smart film offers the perfect solution for retrofit installations. Switchable Smart Film comes complete with a self-adhesive static cling liner meaning the film can be simply installed onto glass.
Switchable smart glass & smart film screens have a very minimal look that integrates well with any architectural or contemporary interior, making them the ideal screen choice for both historical buildings and modern hi-tech environments. Our Switchable Rear Projection Screen can also be linked to a timer so you can program when you want the film to switch between states. This effect can be even more striking when used with multiple panels and projectors, allowing you to create exciting visual content whilst defining your own pattern for the frosted to clear transitions.
Not only do our Switchable screens work perfectly in any window advertising space, they can also double up as privacy glass, protecting the view of the products inside the store outside of working hours. Switchable Film can play an important part as a deterrent by concealing the contents of a store behind its opaque covering.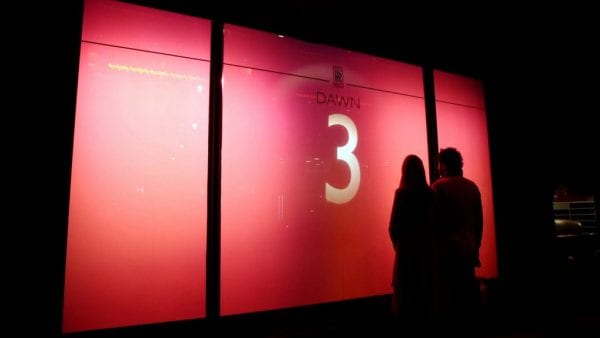 We can't wait to show you what we've got in store for 2020, you can be the first to see our latest products in person at ISE 2020 from the 11th – 14th February.
If you can't make it, keep up with all the action by following us on social media (#ProDisplayISE2020) and sign up to our newsletter to be the first to know about every product launch, project and quarterly price list release!