Posted January 3rd, 2019 by Sean Brown & filed under , General, Project Focus, Technology.
Pro Display enjoys close working relationships with global partners, from leading giants in the AV industry, to highly skilled specialist installers. Our position in the market affords us close networking ties with vendors either side of our supplier chain and when you combine this with our sterling reputation in the industry and the fact that we export internationally, you begin to see why Pro Display is one of the leading optical display manufacturers in the world. But this is only one part of the story and of course, Pro Display's incredible product range offers partners and customers the very best options possible when it comes to their AV investment, easily demonstrated through the applications our products are used for.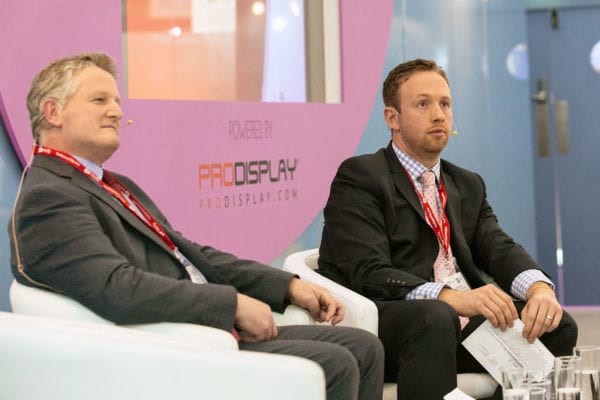 Pro Display's specialist product offering is such that some of the highest profile companies in the industry call on them to assist with display applications. Often, trade shows, industry events, presentations, demonstrations and product launches are highly important events for businesses, especially those who operate within the AV industry. Particularly pertinent to the application, leading projector manufacturers such as Canon often look to Pro Display's specialist projection screens to showcase the very best and very latest technology they have to offer at these high-profile events; a fitting application for high-quality projection screens.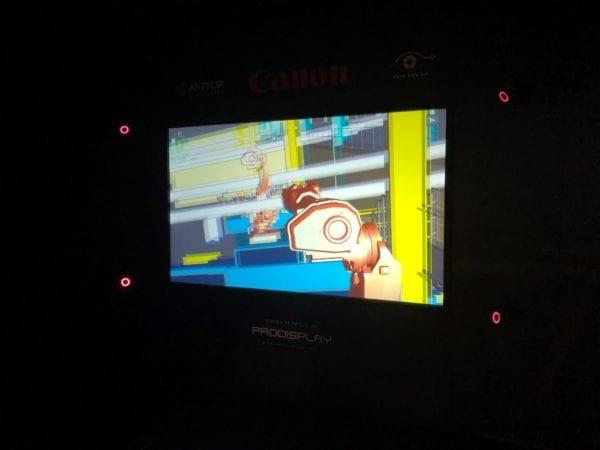 One such example was the revolutionary 100" Digital Glass Rear Projection Screen that Pro Display specifically developed to support 3D content and supplied to Canon for Building Tech Live at UK Construction Week 2018. This remarkable screen brings incredible advantages to a display application, allowing Canon to showcase 2 of their cutting edge XEED 4K501ST projectors which were adapted with Infitec 3D filters. What made this project so revolutionary was the specialist application of 3D optical technology, adopting the use of Infitec 3D filters to allow this 4K projector to project in 3D.  But of course, such a system requires a degree of expertise and quality behind it, seeing Pro Display's 3D Digital Glass screen embraced amongst experts in this field to produce this incredible display.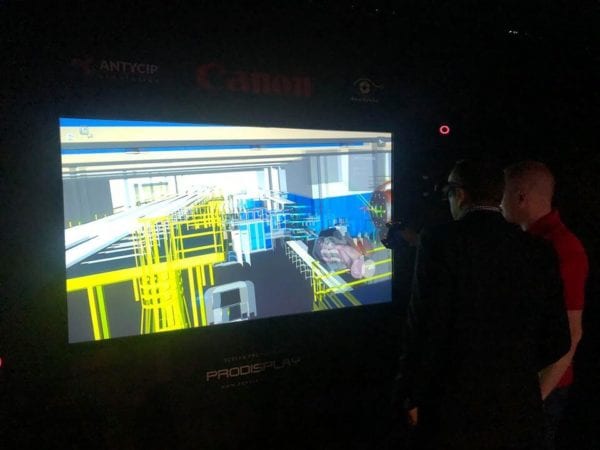 At 2315mm x 1345mm, this rigid glass screen boasts no join lines, making it ideal for a high-quality display project such as this. The flexibility of Digital Glass in this case has allowed for a 3D projection system to be produced using a 3D coating where we would otherwise apply specialist projection film offering high gain, high contrast, wide viewing angles or sun readable options to the glass. Digital Glass's optical specification allows it to support short throw projection as well as edge blending, whilst its toughened glass substrate offers an extremely robust screen, ideal for a wide range of display applications. The manufacturing process of Digital Glass enables enormous individual panels, producing a seamless effect possible with screens up to 8000mm x 3000mm in acrylic and 6000mm x 3000mm in glass. This feature alone marks Digital Glass as a superior solution to LCD Video Walls, which feature inherent screen bezels and energy demands simply not seen with a Digital Glass screen.
However, in this case, whilst other projection options may have been available, few would be considered to be high quality enough to be trusted by a technology giant such as Canon to showcase a public and important optical demonstration. Digital Glass offered Canon the very best display solution possible, with the very best viewing experience available for experts and specialists in the industry.