Posted December 11th, 2019 by Emily Burkinshaw & filed under , Case Study, General, Project Focus.
At Pro Display we pride ourselves on being a British manufacturer; but here, at our Sheffield HQ, we manufacture, assemble and dispatch our products across the globe. Last year, we shipped to over 80 countries worldwide; in the last 5 years, we've shipped to more than 130. With our experience, we understand the rigours and regulations of shipping our products internationally.
This knowledge has enabled us to be a part of some incredible projects in all corners of the world; including our 360 Projection Film and Switchable Glass being featured in Mont Blanc's product launch in Hong Kong or our project with Banesco, shipping our range of digital signage solutions and projection screens all the way to Venezuela. We've even supplied our Clearview screens for the Oscars, one of many examples of the presence of Pro Display in America.
The USA is one of the most frequent locations we ship to; the huge demand for our products sees us shipping everything from Switchable Glass to Transparent Projection Screens out of our factory daily. One of the most inventive projects we've supplied in the US recently was for the new 110,000 square foot state-of-the-art Football Operations Centre in Columbia, South Carolina.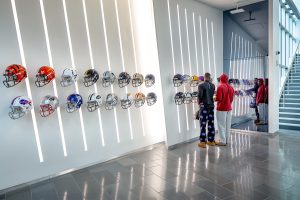 We supplied Advanced Video Group, a South Carolina based audio visual company, with two of our huge 86" Professional Mirror Screens from our Mirrorvision® Range; they used their expert handling and mounting skills to install our technology at the centre as part of an interactive display. The innovative concept for the centre was the brainchild of design agency, Jack Porter Design, created specifically with the visitor in mind. The centre was built to tell the story of Gamecock Football and their achievement, spirit, tradition, and value, with different themed zones throughout to take visitors on an interactive journey through time.
The role of our technology was to showcase the Gamecock team's practice of producing top NFL talent in a hi-tech, sophisticated manner. The area is dedicated to the success stories of their alumni, with a showreel of achievement playing continuously, and a football helmet mounted on the wall for every team a previous student has gone on to play for. Our Mirror Screen was used as a means to connect physical and digital displays, each wall-mounted helmet became a window of opportunity to learn more about Gamecock Football's hall of fame.
Each helmet is touch sensitive; by interacting with the display, related content to that team appears on our mirrored screen showing the names of previous USC students, now turned NFL legends. To create such a sleek display, our Mirrorvision Glass was custom cut into 8 pieces to integrate as seamlessly as possible into the design around the 86" screen.
This amazing interactive display is just another example of how our technology can be used to push boundaries. Combining our digital display technology with physical elements creates a world of opportunity for audio visual applications from education to retail environments.
Our ability to collaborate on projects such as this would not be possible without our extensive export knowledge and logistics teams. Every item we send out is quality checked before being packaged into hand-made bespoke wooden crates, built on site specifically for each individual customer. From crafting custom, A-frame crates for Mirror Glass to shipping our projection film on a tight turnaround, we're able to offer our full product range to customers worldwide with no compromise on our quality of service.
We've worked with businesses in 6 out of 7 continents, both direct and alongside a network of trusted local suppliers to make sure our customers receive the highest level of satisfaction from start to finish, no matter where they are in the world. Our in-house export team work hard to ensure that your products arrive exactly when and where you need them, organising all the correct shipping documentation for you, minimising the hassle of receiving international consignments.
With over 15 years of shipping experience, Pro Display are guaranteed to provide innovative, professional audio-visual solutions to customers worldwide. If you think we can help bring your next project to life, please get in touch using the form below or call us on +44 (0)1226 361 306.