Posted March 14th, 2019 by Sean Brown & filed under , General, Project Focus.
Interior Design Company Turn to Pro Display for 360° Projection Film
360° Projection Film is an incredibly useful solution for specialist display requirements, producing the same HD/4K image on both sides of the screen. The practical aspects of this technology are fairly obvious, allowing designers, merchandisers, and anyone with dual image projection requirements to capitalise on the doubled image effect. This enables 1 screen to offer many of the benefits of 2, which can provide much more when used creatively – as a Bathroom Interior Design company have recently discovered.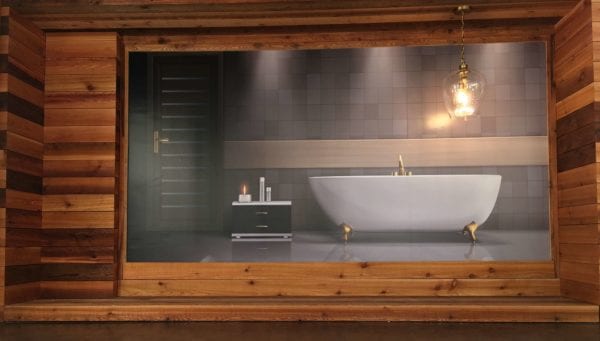 Used in a traditional setting, 360° Projection Film offers an innovative solution to 360° display requirements and is ideal for a very wide range of applications. Excelling in advertising or communicating information, with a 360° Projection Screen, you can be assured that the maximum number of people possible are exposed to the screen's content without alienating anyone through a restrictive viewing angle. This allows the screen to perform successfully in large open areas or ceiling suspension systems where viewing angles may be problematic, or an unattractive screen back may prove to be unsightly. In this regard, 360° Projection Film opens up visual opportunities that may not have been available with traditional projection screens, facilitating an inclusive viewing experience for anyone within visual range to see it in applications such as bars or restaurants, allowing, for example, everyone in the venue to see the screen that could be displaying a popular sports match or main attraction. This reduces the need for the venue to supply other display sources such as alternative screens in different areas that may have been alienated with a traditional screen, helping the venue to save money as well as allowing them to offer their customers a better experience.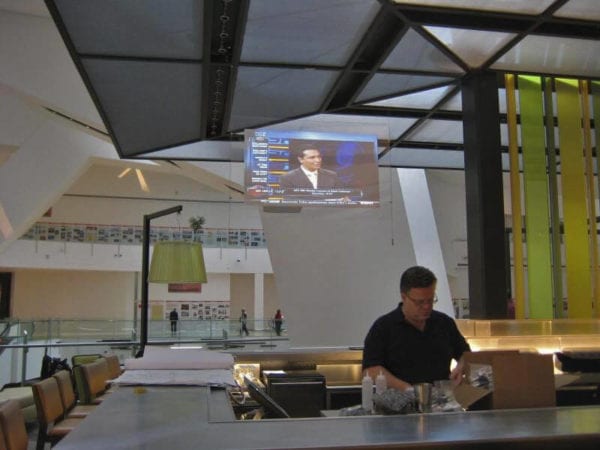 Likewise, for advertising, this same effect is also incredibly helpful. In advertising new products or any other promotion or information, companies can ensure the maximum number of customers in the visual reach of the screen are informed without facing the double investment for 2 different screens. Ideal for retail stores, showrooms or any brick and mortar environment that welcomes customers through the doors, this display solution offers a full 360° range of viewing making sure your most important information receives the visual attention it deserves. Available in custom shapes and sizes with standard 16:9 sizes ranging from 32"-132", 360° Projection Film can be supplied as non-adhesive or self-adhesive film with a roll width of 1650mm, allowing application to glass or any similar smooth surface. Utilising only 1 projector, this incredible display investment boasts UV stability and no shrinkage, ensuring longevity and quality of the display, and when used in creative ways, this projection technology can offer so much more.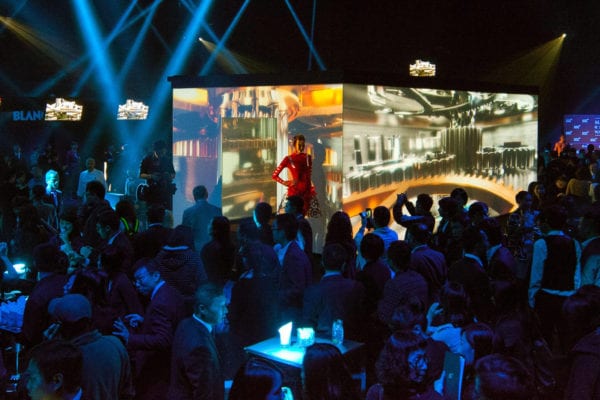 For example, we recently completed a project with a US Bathroom Interior Design company that used 360° Projection Film in a very clever way, capitalising on the dual image functionality to help create 2 separate viewing experiences. Building the screen into a partition in their showroom, this company used the film to help make both environments more productive, advertising their special offers and important information on both sides, to both audiences. Creating an effect of offering 2 separate screens, the company could invest in a larger screen that did the job of 2 than if they had invested in 2 separate ones, increasing value for money. Not only this, but when coupled with clever showroom design, as you would expect from an interior design company, they can host this same screen in 2 entirely different design themed environments simply by using it as part of a partition.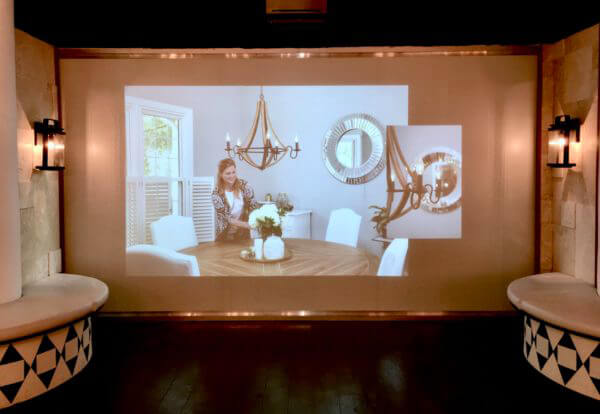 Alternatively, for a more personalised approach in this application, a Dual Sided Front Projection Screen would have offered the ability to tailor the content of the screen for both environments using 2 projectors, allowing the company to display 2 different images on both sides of the screen. In this case, however, the need for such a requirement was not there, with the company requiring the space to advertise the same visual content in both environments. However, in experiential, simulation or any applications that may necessitate a different image on both sides, a Dual Image Projection Screen would be a great solution to help set the tone of the environment. Likewise, for applications that require text on both sides, a Dual Sided Front Projection Screen would be ideal and recommended over 360° Projection Film, allowing the advertiser to display text on both sides without one side producing reversed text. However, in this case, the Interior Design company required a screen to advertise designs, visual imagery and concepts, making the 360° Projection Film a perfect solution.