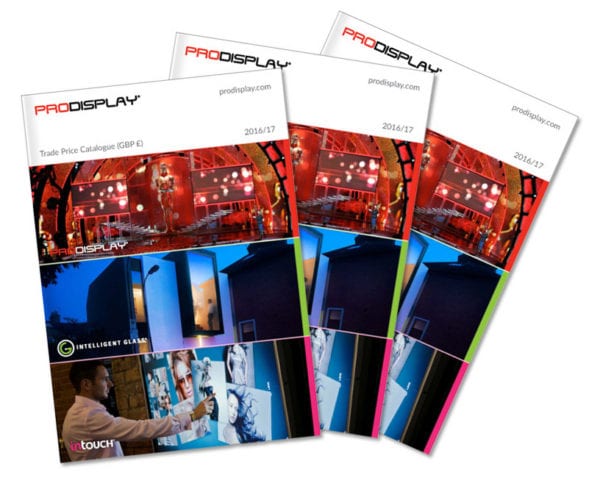 Pro Display's Trade Price Catalogue for 2016/17 is now available
With brand new display technologies added to the range and better trade prices for our resellers worldwide.
If you have not already received your unique link to download the PDF version of the catalogue, you can request your downloadable copy by completing this form.
The catalogue includes our newly expanded range of display technologies such as interactive mirrors, transparent LCD screens, and anti-glare treatments, plus important updates to our ultra-short throw display technologies, Digital Glass and SunScreen. With dedicated sections for Intelligent Glass smart glass solutions and intouch multi-touch technologies, the catalogue contains a wealth of information to inspire your next project. To whet your appetite, here's a quick overview of some of the new and updated products in the range:
Adding multi-touch interactivity to HD and 4K mirrored screens delivers a uniquely engaging display solution. The interactive mirror can be custom made for integration into walls or partitions, or surrounded with a modern or traditional frame to create a stunning focal point for retail and hospitality environments.
Transparent LCD screens offer a whole new world of creative opportunities for promotional display. With a range of sizes available, they make hugely engaging retail windows, interactive booths, display cases, games, vending machines, drinks coolers and more. They can also be teamed with touch foils or infrared frames to add interactivity to the mix:
Anti-glare glass overlays and self-adhesive anti-glare film

Available as a glass overlay or self-adhesive film, Pro Display's anti-glare solution diffuses incident light, softens harsh lights and minimises reflections, without adversely affecting image quality. The robust, hardwearing surface also protects the screen from scratches and significantly enhances touch feel by reducing friction on the glass, giving a super smooth interface:
Our ultra-short throw rear projection screen is now available in single sizes up to 8 metres by 3 metres for extra large format displays. With toughened glass and lightweight acrylic options, Digital Glass offers a robust, cost effective and space-saving screen solution. Digital Glass integrates perfectly with infrared touch frames too, with up to 32-point multi-touch. We showed a 98″ Interactive Digital Glass screen on our stand at ISE 2016:
Our ultra-short throw front projection screen is now proven to deliver outstanding edge blending performance, with super-wide viewing angles and stunning brightness and contrast. We teamed a SunScreen (roughly 1 metre high by 4 metres wide) with two NEC U321H projectors and edge blended them using Scalable Display technology. The results were fantastic, as the pictures below show:
If you have any questions about the Pro Display Trade Price Catalogue, please do get in touch by: