Posted September 1st, 2022 by Emily Burkinshaw & filed under , Case Study, General.
For over 15 years, Smart Glass technology has been one of our most versatile products, from offering residential privacy to creating jaw-dropping displays in luxurious department stores. Switchable Projection screens provide users with the best of both worlds, offering an HD/4K projection screen when turned off and once switched to clear the screen practically disappears.
This versatility has always made smart glass screens a popular choice within places of worship and most commonly, Churches. Many churches in the UK have been around for over 100 years, meaning their intricate internal architecture is of utmost importance to preserve for members of the community to enjoy for many years to come. This is one of the reasons Smart Glass screens are commonly picked for these kinds of venues, as when the display is not in use the glass can be switched to clear at the touch of a button to allow clarity to appreciate the interior surroundings.
Switchable Glass projection screens are also often paired with discreet mounting systems like our teardrop suspension system, allowing the screen to appear as if it's floating in mid-air. By mounting the screens in this way, it also offers greater flexibility in movement within the environment as the projected image is too high up to be affected by passing traffic.
We recently worked on another project of this kind with long-term AV partners, Practical AV, who completed the high-end AV installation at the Holy Trinity Church in Hurstpierpoint, West Sussex. We've provided our smart glass screens countless times for their church installations, with their expertise ensuring the features of the church are preserved and all electrical cables are cleverly hidden.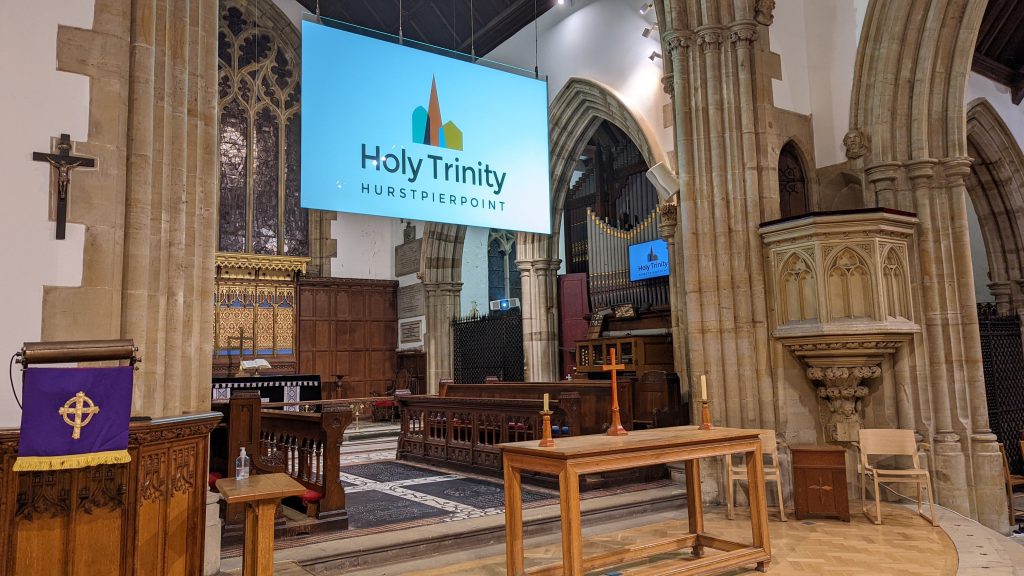 We provided a 2667mm x 1500mm Switchable Smart Glass Rear Projection Screen for installation above the main speaking podium stationed in front of the traditional stained-glass windows. The screen was mounted using 4 cables in a suspension system for minimal disruption to the surroundings. The switchable screen was paired with a 7000-lumen WUXGA Laser Projector positioned to the rear of the screen and carefully concealed off to one side of the display. This level of lumens is ideal for the location of the screen, with the power of the projector helping to preserve the image intensity even with the stained-glass window shining light through behind it.
Alongside the installation of our Switchable Rear Projection Screen, Practical AV also installed multiple monitors to cater to the choir and side isles which could all be controlled from a central Creston Control System. They also input a Zoom-ready system, offering the ability to stream multiple cameras and all audio inputs directly onto the web so that parish members could even enjoy services from the comfort of their homes.
Our Switchable Projection Screens can be controlled via multiple methods, each with its own benefits for different types of applications. The most common solution and the option of choice in the Holy Trinity installation is the use of an RF Remote Control and receiver which can switch the glass from up to 25 meters away, ideal in an area of this size. Alternative options include wall switches, timers like the one used in our famous Harrods X Rolls Royce window display, and even voice automation when paired with smart home assistant products like Amazon's Alexa and Google Assistant.
We also recently worked on another exciting switchable projection project, instead in the old 18th-century chapel of the Bodmin Jail Hotel, which was recently refurbished to become a high-end dining experience. Safety glass was mounted in front of the original glazing where our Switchable Front Projection Film was then applied to create a spectacular projection display in the evenings.