Posted January 11th, 2017 by & filed under , General, Inspiration, Press Release, Technology.
We Offer Innovative Projection Solutions For Churches
The sacred grounds of places of worship are amongst the last environments you would expect a cutting edge technological presence. However, as technology develops, in the projection screen industry especially, there is every reason that churches and other places of worship should benefit from the advantages that these advancements can bring them. However, projection solutions for churches can be a difficult area, often due to limited space, an unsuitable physical environment or even due to styling concerns.
Pro Display specialise in audiovisual / digital signage screens, switchable smart glass and interactive touch products, many of which are versatile and discreet, yet incredibly effective, making them ideal projection solutions for churches.
Our products have been specified on projects for some of the world's leading brands. Countless installations have been as creative as they have been successful, but in a lot cases, they have been installed with merchandising or sales in mind. Our products offer an extremely functional aspect that makes them suitable for a range of applications, particularly as church projection screens.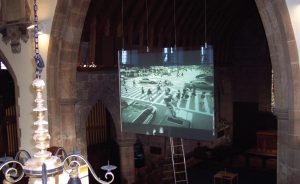 Switchable Smart Glass
As one of our most effective and versatile products, switchable smart glass is the answer for anyone looking for discreet yet powerful projection solutions for churches or other places of worship . Switchable smart glass is a perfect example of how technology can enhance a facility without detracting from or clashing with its traditional styling.  This technology has a switchable opacity, transforming from clear to frosted at the press of a button. It offers superior clarity to even our Clearview screens, making it undeniably more discreet and one of the more versatile projection solutions for churches.
It's the versatility of our switchable smart glass that makes it so special. When opaque, this technology doubles in function as a privacy screen, enabling well placed installations to function as partitions or even a solution for venues which require a private area. With the preservation of traditional styling a top priority, switchable smart glass has the ideal combination of subtle design and versatile functionality, ensuring that your investment is well used.
Project Focus
Christ Church, Guildford
This application of our switchable glass delighted those at Christ Church Guildford. As a replacement for an old hinge down screen, their options were limited since they had nowhere to hide a standard projection screen when it was not being used, ruling out many of the traditional projection solutions for churches. Hazelwood Sound & Vision proposed the unique solution that our switchable glass can be used instead of traditional church projection screens.
The church's project manager and Treasurer, Ian Kenyon was pleased with the results, even 11 months on, saying "It's proven to be reliable, really simple to use and seamlessly switches large high quality images between four different sources. It can even be used by the minister on his own, driven from his iPad".
Ian continued "We've used Blu-Ray DVDs for church cinema nights and our summer Holiday Club.  We've streamed videos from the Internet as well which really makes a topic relevant to both younger and older generations. The high level remote control camera is wonderful for relaying baptisms from the back of the church, and from a unique perspective.  We couldn't manage without it now – we plug in a laptop with one cable and the picture appears on the screen with high quality sound filling the church.  All in all it's really moved our church forward with topical and relevant communications, and we now use it every weekend in services.  If we want to hide the screen we just press a button and it instantly disappears".
St Andrews Church, Leyland
This Grade II listed building has seen a very beneficial makeover from the use of our switchable glass helping to integrate modern church projection screens into a traditional structure sympathetically, all whilst meeting the church's specific display requirements.
As a building that dates back to the 12th century, the structure of St Andrews is beautiful. However, its interior lighting conditions did not provide an adequate environment to appeal to a 21st century audience. A solution was needed that would bring services to life for an audience with a wide variety of needs, meaning many of the traditional church projection screens were not suitable. Vicar David Gibb wanted the atmosphere to reflect his style of service to attract a wider audience, saying "We knew we wanted something different and engaging, but at the same time it had to work with the existing architecture. This is a good example of how cutting-edge technology can work together with the oldest structures, and sensitively bring the two together to update even the most traditional settings."
The switchable projector screen solution enables the church to keep the screen in a prime viewing location, whilst providing an unobstructed view of the beautiful stained glass windows behind it when not in use.
Clearview
Our Clearview holographic effect projection screen is ideal for information display purposes, making it one of our most popular church projection screens. Since it is a transparent screen, this incredible technology boasts the utmost discretion whilst commanding your audience or congregation with an impressively bright, sharp and vibrant display, even in brightly-lit environments. Coupled with a contemporary design, these church projection screens create images that appear to float in mid-air, whilst offering superior performance, definition and no critical angle of projection.
Pro Diffusion
As our biggest selling rear projection screen worldwide, we know how well received Pro Diffusion is by our customers. Providing unparalleled brightness and excellent colour reproduction, this screen is an ideal choice for information display and video applications, making it one of our recommended projection solutions for churches. Pro Diffusion recreates a stunning high definition image with a perfect mix of brightness and contrast, and it is the only diffusion screen technology that provides true horizontal/vertical 180° visibility, making it superior to many traditional church projection screens.
Our Pro Diffusion screen is a perfect example of how well our projection solutions for churches can work, being used to display lyrics to hymns, pertinent sermon videos, reminders for the congregation as well as a variety of daily venue functions.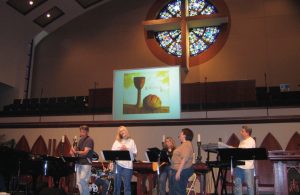 Other Options
Pro Display offers a wide range of products to ensure that you can get the most out of church projection screens. In addition to projection solutions for churches, we offer many products which may be suitable for your place of worship, including but not limited to-
– Our Soundpod Surface Speakers which transform almost any solid resonant surface into an audio speaker
– Our range of touch screen technology which can also grant almost any surface interactive capability
– Or even our Mirror Vision range for versatile functionality and premium styling