Posted May 20th, 2021 by Emily Burkinshaw & filed under , General, Technology.
With over 15 years of experience in developing and distributing projection technology, we've worked on our fair share of unique projects. Whilst projection displays have become incredibly popular in recent years due to the demand for home cinemas, creating more specialist displays still requires some expert input. One of our most popular projection technologies is our light rejecting projection films and screens. People generally assume an effective projector display requires controlled lighting to work but our ALR screens produce a HD/4K image even in direct sunlight, producing the same stunning pictures even in huge 134" and stretched 217" screen sizes!
Whilst these stretched, light rejecting screens are incredibly effective, setting them up is not as simple as just using multiple projectors, which is where edge blending software comes in.
What is edge blending?
Edge blending is basically the projection equivalent of an LCD video wall where instead multiple projectors work together to produce a single image. Each projector displays a portion of the image, with each of the images overlapping slightly in order to create a seamless display. Due to the overlap creating double brightness, the projector needs to adjust its brightness in these specific areas of the screen to remove this hot spot and create a perfectly balanced image. You can get edge blending projectors that have the ability built in, but we prefer to use software and more easily accessible projectors that can work for projects limited by budget.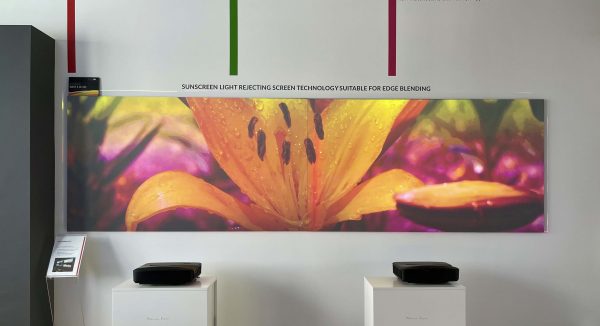 What does edge blending software do?
Edge blending software takes the stress out of setting up these stretched displays, our weapon of choice is ScalableDesktop™, an automatic camera-based warp and blend software. Created by Scalable Display Technologies, this software uses a camera to automatically warp and blend up to 16 projectors from a single PC. Your input is fairly straight forward, turn on the projectors and ensure that the images are overlapping and set up a camera facing the display, ensuring that it can see the entire screen, the rest is all handled by the software.
Your PC will then begin to populate the software with information from the connected projectors and camera, detecting the resolution and formation of the projectors i.e. side by side, stacked on top of one another etc. The ScalableDesktop™ software caters for a number of screen geometries including flat, curved, hemisphere and even abstract control point screens. You can adjust the resolution and image boundaries before completing the calibration and benefiting from a seamless edge blended image that fits perfectly onto your display.
This simple, easy to use software means you don't have to be a specialist to create a professional looking display.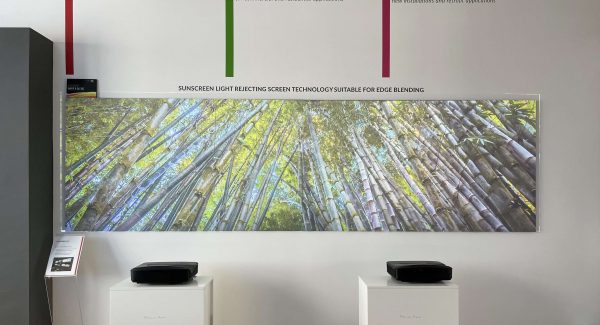 Why does edge blending software work so well with ALR projection screens?
Our Ambient Light Rejecting Front Projection Screen is specifically designed to work with the latest UST projectors (0.4 lens and shorter) and is manufactured with a light rejecting filter that blocks out more than 85% of external light. The louvered micro-optical display filters bright light that hits the screen from above, whilst the highly reflective projection surface captures light from the projector below, producing an image with stunning contrast, colour and reproduction.
Our Edge Blended ALR Displays support HD/4K content, delivering a professional performance in any lighting condition, even when lower end projectors are being used! Our ALR screen even outperforms LCD/LED panels, offering a solution that doesn't produce annoying reflections or glare and outputs crisp 4K images even from up close! We can produce seamless ALR displays like the one we featured at ISE 2020 in sizes up to 5320 x 1500mm (32:9). Alternatively, we can also use single screens in a modular format (we recommend using 72" panels for screens above 120") to create large format projection walls. If you've got a huge display in mind that would require more than 16 projectors, Scalable's Display Manager software can be used with an unlimited number of projectors and calculates the field of view automatically for immersive environments, the ideal software for use with our simulation and CAVE projection screens.
Can edge blending software be used with other projection screens?
Yes, Scalable is also compatible with other front and rear projection screens. Using our Digital Glass technology, we can create seamless, edge blended projection screens in sizes up to 8000mm x 3000mm. Smaller modular screens from our full range of projection technologies can also be used with Scalable's edge blending software to create even bigger displays.