Posted September 18th, 2015 by Sean Brown & filed under , General, Technology.
Ultra-short throw (UST) projection technology is advancing quickly, with classrooms, boardrooms, meeting venues and retail stores driving demand for large format screens without the space-hungry throw distances or shadow-casting problems of standard throw projectors.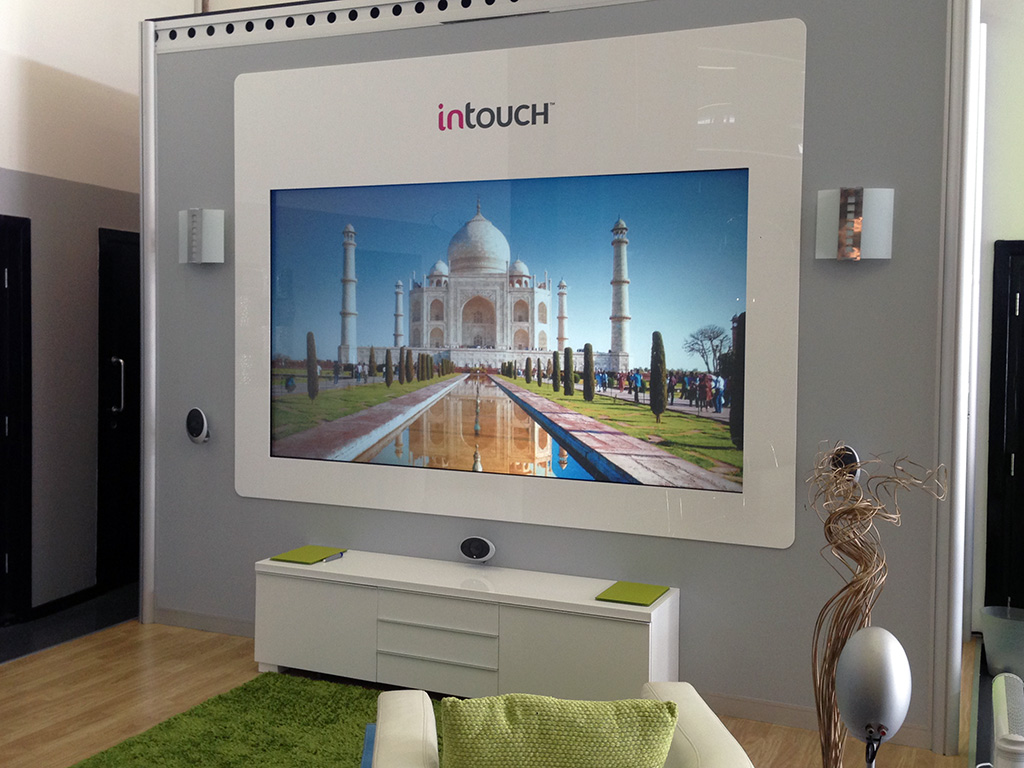 Pro Display has anticipated this growth and developed projection screens and surfaces specifically for ultra-short throw projectors, in both front and rear projection configurations.
In this blog we look at Pro Display's front and rear UST screens and their performance with popular UST projection solutions: a dedicated ultra-short throw projector (the new NEC U321H); and two ultra-short throw lenses for standard projectors (the Panasonic ET-DLE030 and Hitachi FL-900).
The projectors were teamed with Pro Display screens designed specifically for ultra-short throw: UST front projection SunScreen; and UST rear projection Digital Glass.
The screens
Digital Glass – large format UST rear projection screen
Digital Glass puts in an outstanding performance with ultra-short throw projection – not surprisingly because it was designed specifically for that purpose. Digital Glass can be made in single screens up to a huge 6.5m x 2.4m for large format or edge blended installations. This optically coated screen captures and spreads light even at the most oblique angles to reveal a bright, even image with minimal hot spots. We also offer lightweight acrylic and anti-glare coating options too, depending on your requirements.
The test screen is mounted in our Screen Gallery in Leeds (UK), measures 100″ along the diagonal and is made from toughened glass. This particular screen also has our intouch infrared multi-touch frame fitted on the perimeter, which explains the branding.
SunScreen: light-rejecting UST front projection screen
The SunScreen front projection surface is a brand new technology and the most recent addition to the Pro Display family. SunScreen represents a leap forward in light-rejecting projection, combining an advanced light-rejecting filter with a high gain projection surface. Designed specifically for UST projectors, the result is simply stunning and needs to be seen to be appreciated: ultra high contrast and clarity, rich colour saturation, and impressive black levels even in bright ambient light, daylight and sunlight.
 The projectors
NEC U321H ultra-short throw projector
First up in the test is the NEC U321H. This is the latest model in NEC's ultra-short throw projector range, and the first NEC UST projector to deliver native 1920 x 1080 HD resolution.
Compared to its predecessors (the UM351W being the most recent) it also shortens the throw distance by 25% with a tighter lens (0.25:1 versus 0.36:1), whilst delivering much higher contrast levels (10,000:1 versus 4,000:1). The chassis footprint has shrunk too, whilst shedding nearly 2 lbs in weight. Brightness output is 3,200 lumens.
All in all, the improvements are clear and welcome – a full HD resolution projector with a shorter throw and much greater contrast.
Panasonic ET-DLE030 ultra-short throw lens
Second in the test is the Panasonic ET-DLE030 ultra-short throw lens attached to a Panasonic PT-DZ870 projector with 8,500 lumens of brightness. This high end lens makes a regular appearance in professional installations to create a short-throw configuration from a standard projector.
The lens has a throw ratio of 0.38:1, allowing the projector to sit neatly beneath the projection surface, though not as tightly as the dedicated NEC UST projector.
The results were as expected from this established and popular UST lens. A very even, high quality image with excellent colours, contrast and detail.
Hitachi FL-900 ultra-short throw lens
Finally, we look at the recently-launched Hitachi FL-900 ultra-short throw lens, partnered with Hitachi's 8,200 lumens CP-HD9321 projector. It appeared in the UK in April and emphasises the growing importance of short throw installations.
The Hitachi GL-900 has an identical 0.38:1 throw ratio to the Panasonic, and so demands the same space requirements in relation to the projection surface.
Given the positioning of this lens in the same space as the Panasonic, it's not too much of a surprise that the projected image displayed similar qualities. Natural colours, minimal hot spots, and exceptional HD detail – a genuinely outstanding presentation from this new entrant into the UST arena.
Conclusion
NEC's new U321H ultra-short throw projector is a fantastic partner with both SunScreen front projection and Digital Glass rear projection screens. Its brightness of 3200 lumens might not sound huge, however we've discovered real synergy between our screens and this little projector.
For larger installations, both the Panasonic ET-DLE030 and the recent Hitachi FL-900 lenses are excellent performers, projecting a detailed image with the natural colours and smoothness you'd expect at this level. It really is difficult to separate the two, and purchase decisions may well come down to brand preference of the installer.
Ultra-short throw projection is a growing market segment and we're sure to see further developments in UST projector technology. We have worked hard to future-proof our new UST projection screen technologies for this trend.
Both our SunScreen UST front projection and Digital Glass UST rear projection screens will continue to be the first choice for many installations worldwide.