Posted December 5th, 2014 by Sean Brown & filed under , Archive, General, Press Release.
In anticipation of increased future demand from education and business for interactive multi-touch technology, on an ever greater range of screen formats, Pro Display launches its new intouch™ division.
intouch from Pro Display offers new levels of touchscreen performance and flexibility with its range of multi-touch display solutions.
Using both infrared and projected capacitive multi-point touch technologies, the intouch launch range caters for a wide variety of screen formats, and already includes standout products such as:
We also offer more specialist technologies like our 55″ Interactive Transparent OLED Screen available with Infrared or PCAP touch. These screens are transparent when off and on, with on screen images appearing to float in mid air creating stunning POS and window displays that mimic the technology used in sci-fi movies! We have also manufactured the perfect solution for collaborative workplaces and education efforts, the Interactive Touch Table which is available in a range of standard sizes with custom designs, finishes and alternative sizes available on request. These tables are ideal for encouraging teamwork, reducing the need for individual note taking and concentrating all suggestions in a singular place. making it easier to keep the group focus on subject of the meeting or class.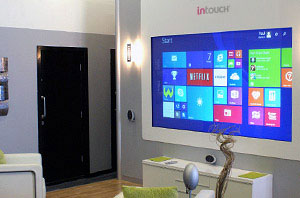 Interest in these new products is high, with early customers including household names such as Sky Sports News, Hugo Boss and the Tower of London.
Ben Kershaw, Sales Manager at Pro Display, says: "With the growth of touchscreen phones and tablets, we all expect to interact more with the images we see. Our new intouch range realises that vision of fully immersive, multi-touch screens, even on large scales."
"The applications for intouch are limited only by creativity, with interest coming from all corners, including education, corporate offices, retail outlets, public attractions, TV production and broadcast, exhibitions and performance events."
intouch products will be on display at London's BETT 2015 show in January (stand B395), and at Amsterdam's ISE 2015 show in February (stand 10-S125).
Calling all global resellers!