Posted August 12th, 2014 by Sean Brown & filed under , Case Study, General, Project Focus.
Technology is constantly changing, with businesses all over the globe adapting to new products and changing the way they work to make their ay to day lives easier. From the increased demand for voice automation software to investing in up to date desktop setups, technology is a staple part in every workplace and TV studios are no different.
Sky Sports relaunched its global news channel in August, offering more content across a more streamlined TV, digital and mobile platform. Launched in line with the new football season, Sky Sports News HQ will be showcasing an upgraded studio along with a new schedule and improved social media coverage and mobile applications. The brand new studio includes a huge 18 square-metre video wall, as well as featuring Pro Display
in
touch screens heavily throughout .
Sky Sports News made particular use of the full screen solution, wanting commercial grade screens with
Capacitive (PCAP) Touch Glass Overlays
. The introduction of this next generation touch technology aims to make the content being presented more digestible to the viewer. The idea was to create interactive presentations that they can use to show a range of informative content such as match results, league tables, transfer details and any other sports related data which would bring valuable content to their audiences.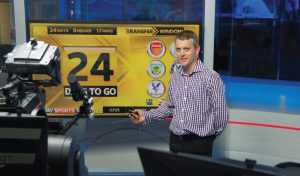 The screens were designed so that when they are being used, the presenter can interact with the content in a way that is responsive to the live nature of news presentation. Not only does this give the presenter total control over what is being shown on the display at that time, it also allows for them to plan for ahead whilst on the spot if they need to. These interactive 'Sky Pads', are cleverly mounted to allow the displays to be moved and adjusted, creating a flexible broadcasting space that can easily adapt to the needs of the channel.
Touchscreen technology is becoming increasingly important to Sky, and is widely used on sports productions, however for Sky Sports News the challenge was to have the thinnest possible bezels around the screens.
To achieve a thin bezel, they decided on Pro Display's intouch Projected Capacitive Touch Technology, which was custom designed for Sky. 32", 55" and 75" Sky Pads were implemented using commercial grade displays designed to work 18 hours a day, 365 days a year. These toughened glass overlays are manufactured with a permanent or removable fix for installation directly to the screen bezel/frame. simply retrofit an Interactive Touch Glass Overlay to convert any existing screens into multi-touch interactive displays.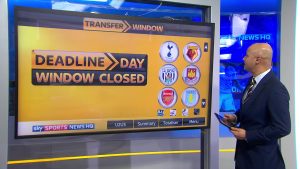 Head of Technology at Sky Sports, Mike Ruddell, said: "Because every part of the newsroom is part of the studio, the screens would be seen from 360º, so infrared technology was not going to be the best choice. They are affected by studio lighting, which is fine if the screen is in a fixed position, but we have three Sky Pads (touch screens) in the newsroom, all being twisted around, and it had to work as a screen from any direction."

Pro Display's intouch division is set to launch in October which features a complete range of next generation touch screen technology designed primarily for corporate, retail and education applications. Our touch technology range offers a solution for any application and includes displays such as our Interactive Mirror Screens, ideal for retail applications and our Interactive Transparent Displays, offering an interactive upgrade to our Transparent LCD and OLED technologies.
Our intouch range also includes technologies designed to create immersive window displays, designed to encourage passing traffic into your store. Our Interactive Touch Foils use through glass touch to create an interactive window display that can be used 24/7 with LED and LCD screens to encourage engagement outside store hours. Our expertise allows us to provide custom interactive solutions, with the ability to create interactive displays up to 10m by 3m, the possibilities are only limited by your imagination.