Posted October 7th, 2021 by Emily Burkinshaw & filed under , Case Study, General, Project Focus.
With so many exciting new technologies gaining momentum in the digital signage industry, it's easy to forget how we can use longer standing technologies to great effect. One of our favourite examples of this is how the tried & tested, trusty LCD display can be used in video walls to create an eye catching large format display. To show just how effective Video Wall technology can be, we're looking back at the award winning design of Lloyds Clapham Junction Branch, who's launch redefined what face to face banking should look like.
This branch was the first pilot in a new style of banking designed by M Worldwide for Lloyds Banking Group, representing the brand proposition 'For Your Next Step' with longer hours and business friendly facilities to appeal to local customers. The foundations of the new branch design was a complete 360 on the conventional banking experience, aiming to increase footfall as well as time spent inside, ultimately offering a spacious and welcoming environment.
With this project being one of the first of it's kind, the facility needed to set the benchmark for future banking developments so pulled out no stops in creating a truly experiential environment. Before even stepping foot into the building, passers by will be able to smell white tea and thyme with the branch using this more alternative method of sensory attraction to increase footfall, with the buildings designer Sarah Harrison saying "It gives that inviting feel, that welcoming feel". The initial reason for these improvements came after inspiration from across the pond with Capital One launching their banking "cafes" that offered a place to create a physical relationship with users of their digital only bank. With this in mind, Jakob Pfaudler, the chief operating officer of Lloyds Bank's retail division said ""There's a bunch of beautiful stores over there, where you really have the human touch, combined with quite heavy digital content. I think that is our mental model".
The design of this pilot store was based mainly on targeting the area's demographic of financially well off, digitally-savvy, young households. The branch really does use technology to it's advantage using fixed screens and portable devices to segment the space, creating smaller more intimate areas to encourage one on one conversations. One of these solutions is an Interactive Video Wall, consisting of six 55" Full HD(1080p) screens with a Large Format Interactive Touch Frame built into a custom designed housing.
The video wall was used as a multi-functional display, firstly providing a warm welcome to branch visitors with quirky features like the weather forecast for the day. However, it's main function is to show visitors the house prices in nearby streets and to get property buying tips, allowing users to interact with the video wall differently to create a completely unique experience for each individual user.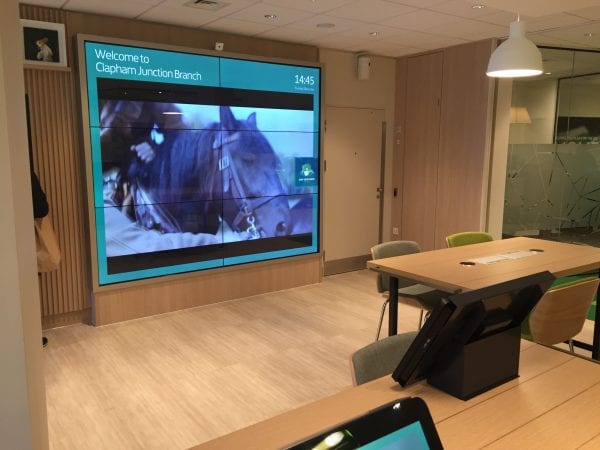 An Interactive Video Wall is a powerful display option that sees your message or information displayed larger than life! As a culmination of several screens, an Interactive Video Wall display offers an effective way to serve your content with serious 'wow' factor on a scale not usually seen by audiences. The most popular format to our video walls includes 55" screens like the ones shown here but we can create video walls modularly in any size and layout, with interactivity grantable in displays up to 10m x 3m in size.
The beauty of Interactive Video Wall technology allows you to offer engaging and effective interactive displays for your audience, especially when compared to a traditional video wall. A touch screen fascia gives your audiences that extra level of control over the content they are being shown, literally putting the control into their hands. This also gives users the benefit of convenience, allowing them to interact with the branches technology on their own terms with the ability to move their digital house finding search from the large format screen to one of the smaller displays for more intimate discussions.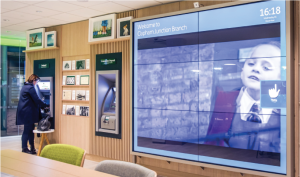 The pilot launch outdid it's expectations with 99% of people surveyed saying the design was better or much better than other shops or banks and over 80% saying their opinion of Lloyds had improved based off their experience in the Clapham branch. As well as public opinion improving, Clapham Junction also saw them achieving +144% higher numbers of agreements in principle, 93% more new customers and 66% more in-branch internet activations of accounts than the control group.
Manager at Lloyds Clapham Junction, Sarah Harrison was thrilled with the launch saying:
"We have now been open in Clapham Junction 8 weeks and attracted over 250 new current account customers as well as many other customers who have transacted in our branch. Customer feedback has been amazing, the customers love the look and feel of the branch and frequently comment on the style of the branch, the relaxed environment, and the scent! Colleagues feel proud of the great environment that we work in and love to come to work every day. They feel empowered to have different types of conversations with our customers and have commented how they would struggle to return to an older style branch."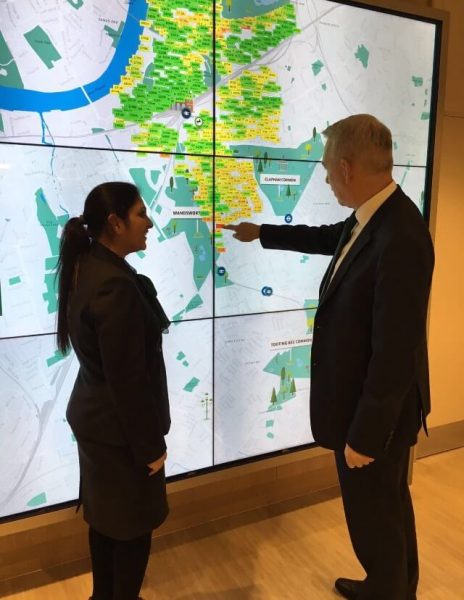 Traditional video walls generally offer a passive experience for the viewer, one that audiences can only interact with visually. With an Interactive Touch Screen Video Wall, however, audiences are drawn to the scale as well as the functionality, making this a very effective display. We can also provide Mirrored versions of both our standard and Interactive Video Walls, as seen in Novotel's Heathrow T1 reception space to offer discreet advertising space that blended in with the luxurious interior.