Posted October 31st, 2013 by Sean Brown & filed under , Case Study, General, Project Focus.
Pro Display is no stranger to completing unique projection displays, from providing the largest rear projection screen in the middle east to our technology gracing the stage at the Oscars. Pro Display Rear Projection Film has even been used on a number of bespoke transport installations cross the world and now it is being used on installations a concepts for the future!
Working with London based AV installers Visual Displays Ltd, we were asked to provide a suitable projection material for use within the Siemens 'Inspiro' concept tube train. This concept, costing £1m per carriage, was put forward after Transport for London had secured government funding to improve the tube system, proposing what could be the new appearance of the popular Picadilly, Bakerloo and Central Lines.
Visual Displays Ltd have supplied a range of projection solutions on a concept for the future of metro travel including in-train projection onto curved surfaces. They created two curved digital signage screens, designed to display HD advertisements and messages that utilized our Pro Diffusion projection material alongside Panasonic PT-RZ470 projectors and Calibre HQView processors. The unique optical surface of our Pro Diffusion Film supports ultra short throw projection, making it ideal for environments with limited space.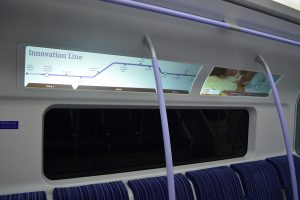 Using projection screens in such bright lighting conditions can often be tricky with the image appearing washed and underwhelming. However, the versatile neutral-grey format of our Pro Diffusion film offers high contrast, brightness and excellent colour reproduction even in daylight and high ambient lighting, making it ideal for the LED lit tube train that's 20% lighter than existing counterparts .
Showcased to mark the 150th anniversary of the London Underground, the Inspiro concept train promises a carriage that's 30% more energy efficient with a 10% increase in passenger capacity, due to the open gangway design. The futuristic design is also based around the idea that the interior would be fully air conditioned, a first for deep level tube trains as well as being driverless, a huge selling point to government decision makers. The trains also feature electronic ticketing and passenger information boards, including replacing the traditional paper map with an electronic version that moves in real time with the trains journey.
Steve Scrimshaw, managing director of Siemens Rail Systems UK, said: 'London, in common with many large cities around the world, faces significant transport challenges as a result of ongoing population growth and increased capacity demands.
'Our exhibition highlights some of the innovations that can be considered by cities to help their metro systems tackle these issues and help passengers benefit from an improved travel experience. We wanted people to have a really personal experience, sitting in the seats of a brand new, futuristic train and interacting with the exhibits on display in a way that not only informs but excites at the same time.'
The anniversary celebrating exhibition opened at The Crystal on the 8th October and will run for three months in partnership with the London Transport Museum and CBS Outdoor UK. Sam Mullins, London Transport Museum director, added:
'Over this last year the London Transport Museum, with Siemens and CBSO, has been exploring the fascinating history of underground train travel, which began 150 years ago in London. 'Underground railways are now a feature of many of the world's major cities, a number of which are now looking to the next generation of underground travel and how the type of technology showcased at Going Underground can play a part in the creation of the metros of the future.'
(Photos courtesy of Lucy Young & Paul Bigland Photography)