Posted May 28th, 2019 by Sean Brown & filed under , General.
Pro Display prides itself on the solid range of custom options offered to customers, being able to build bespoke solutions and combine the very best of certain technologies to create the ideal product that the customer is looking for. However, despite our heavy emphasis on custom solutions, we do offer a wide range of standard products that need no customisation prior to their application or installation. As these products need no additional manufacturing processing from Pro Display, we are able to hold them in stock, relinquishing the usual necessary lead time often placed on orders for custom solutions. Pro Display's production team have worked hard in order to build a stock level of these products to ensure that they are available to customers as soon as possible without keeping them waiting. Amongst these products ranks some of Pro Display's bestselling, flagship ranges as well as some of our specialist products. In this post, we will be taking a look at some of these products and their advantages, bringing you the information you need to get them ordered and in use as soon as possible for your convenience.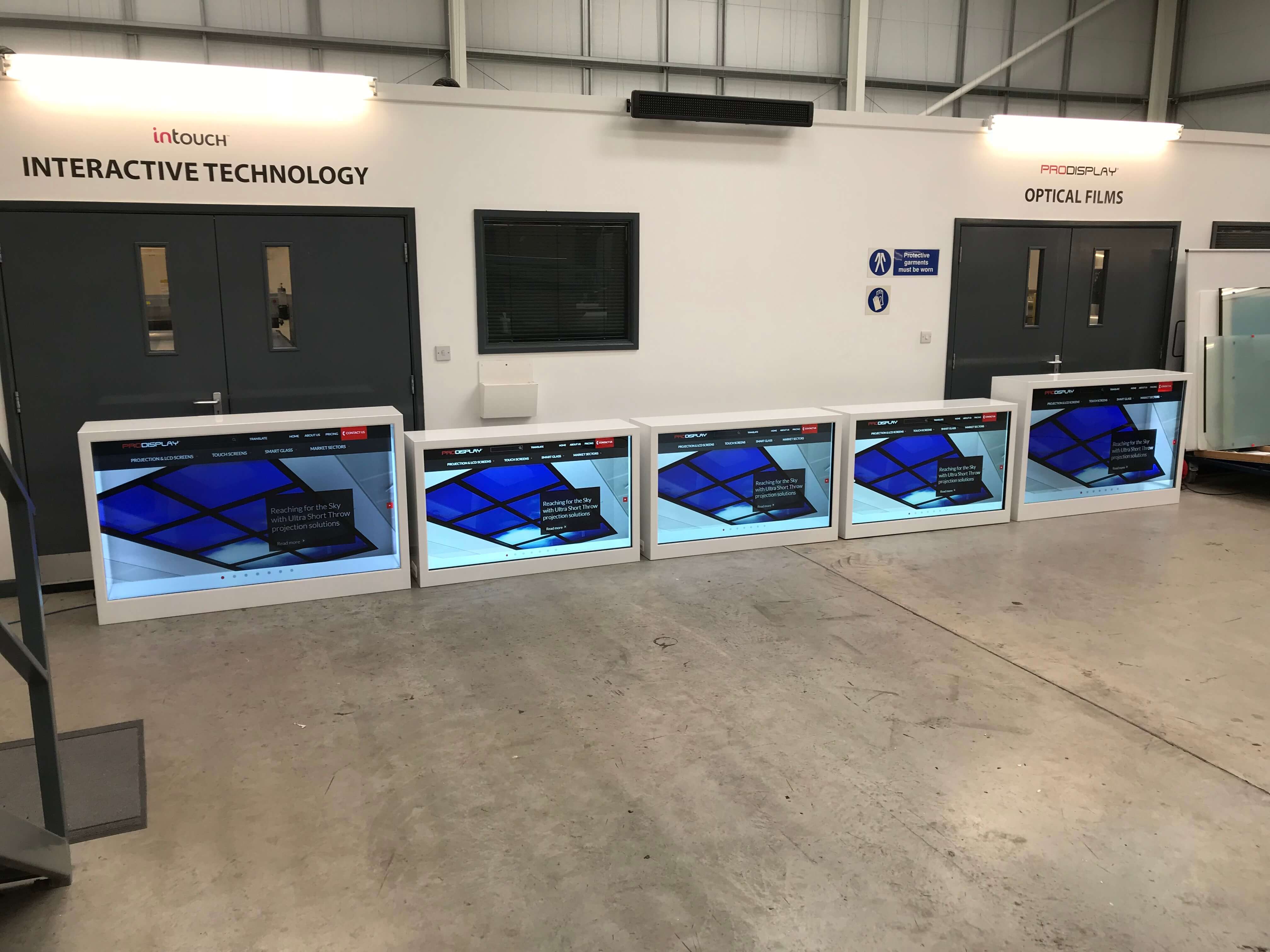 One of the few products that seems to break the mould on this rule of custom vs standard solutions is our Transparent LCD Screens, with a range of standard solutions and custom solutions available depending on the customer's requirements. Whilst we can build a range of custom furniture, display casing and screen housing for these screens, we also have many of these components in stock, meaning these products can be processed for order with an incredible rate of speed compared to many of our custom solutions that need further processing. Transparent LCD Screens are one of our best selling products, being market leaders in the technology and having helped to pioneer it for many years now. Due to the way Transparent LCDs work, they do require a display case or a back-light in order to display the content on the screen. In many instances, it is building these back-lights into an appropriate piece of custom furniture or casing that adds to the lead time necessary for bespoke orders. However, as many of the applications that Transparent LCDs are ideal for tend to be fairly similar, such as for item or product display purposes, Pro Display have built a stock level of Transparent LCD Display Cases that would suit such applications perfectly. As a result, it puts us in a position to be able to offer these products to customers without a significant lead time as a more standardised item rather than a bespoke product. Further processing of these products, however, such as adding interactivity, whilst certainly is possible, is also likely to increase lead time.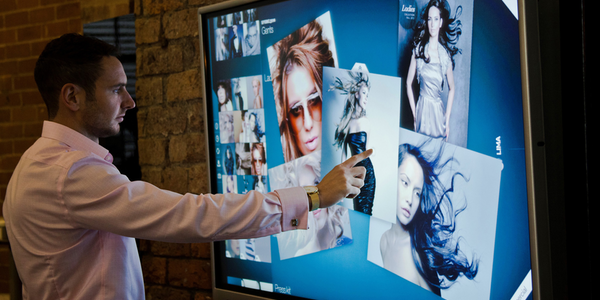 One of the more standardised products Pro Display offers is the incredible 65″ Interactive Monitor, which can be shipped to customers right away without any manufacturing lead time. This screen offers a wealth of benefits that range from its anti-glare, anti-friction surface coating to its infrared 6 point multi-touch display, culminating in the ultimate presentation screen that can be used for business, education, conferences, public information displays or even digital signage. With a solid stock level of finished products ready to go, this is another item that we are able to offer without any further customisation to customers for a speedy lead time. This product is a great example of Pro Display responding to customer's needs, as in many cases, these screens often serve as a replacement for a failed, inferior or out of date presentation hardware such as an old projection system or malfunctioning display technology. Responding to customers who need these products as soon as possible has been an integral part of our continued commitment to our audience's requirements, with many happy customers who have received their 65″ Interactive Touch Screen within plenty of time for the completion of their replacement or refurbishment project.
Another standard product that we currently have in stock is our Through-Glass Interactive Touch Foils, which work in conjunction with LCD and LED monitors using PCAP touch technology. These foils transform any glass or acrylic surface into a touch screen and is manufactured with an electrostatic cling liner that has been laminated to the surface, meaning it is appropriate for permanent and temporary applications. Simply being a retrofit product does reduce the product package complexity, allowing Pro Display to offer it as a standardised item as well as integrating it into various custom solutions. With sizes ranging from 27″ – 82″ as well as single or multi-touch options, these products are suitable for a variety of different applications such as window displays, information points or experimental and creative projects. Pro Display carry a very wide range of Touch Foils both for direct purchase and for integration into custom products, working to ensure that customers are not left wanting on a particular product option they may require.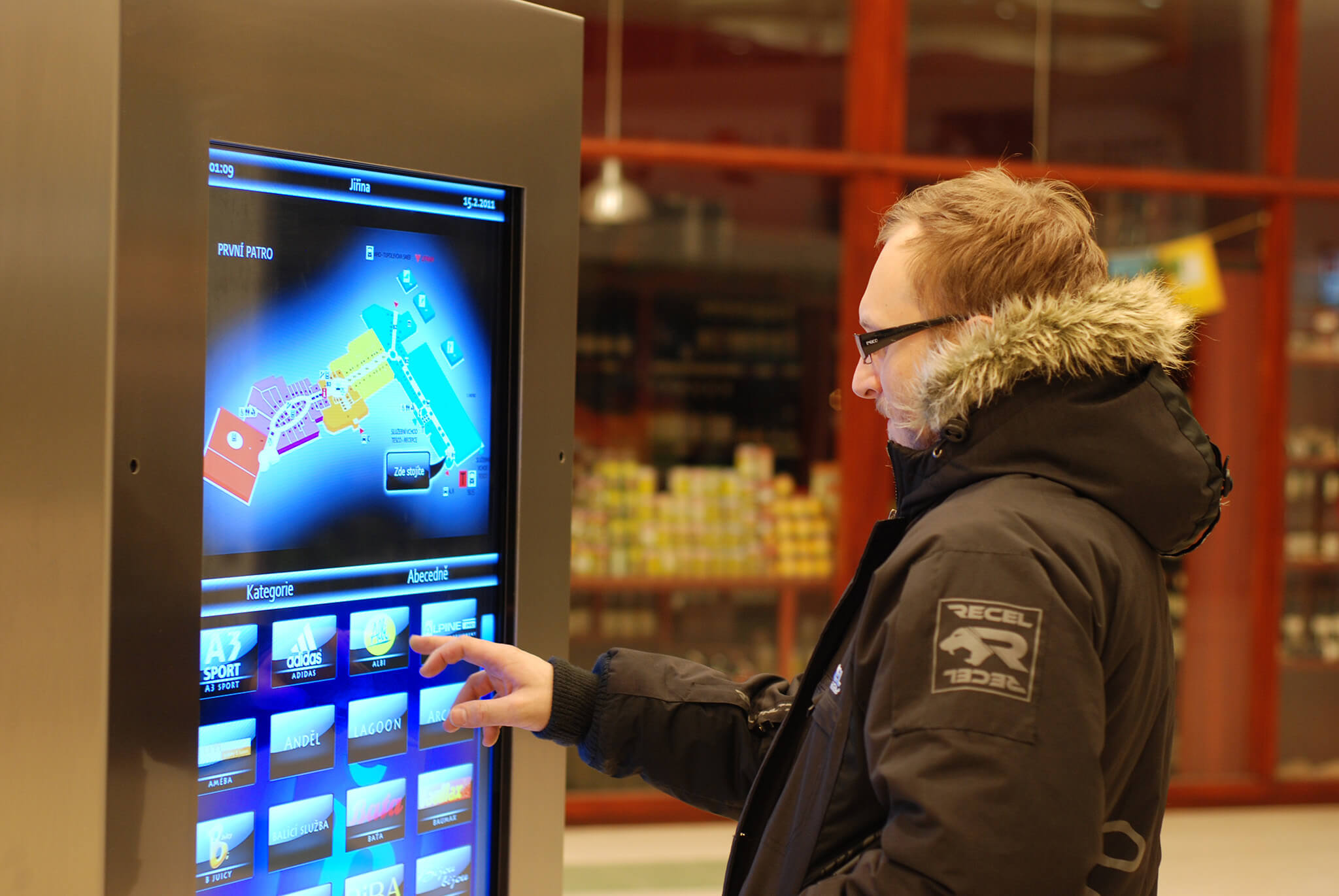 For similar reasons, we also carry a range of Interactive Touch Frames, which can transform any screen or surface into an interactive display, making them ideal for new touch display installations and retrofitting touch capability to an existing screen, video wall, table or other surface. Touch Frames offer an ideal compliment to our range of projection screen technologies, allowing for creative and unique applications of interactive solutions that may help increase footfall, sales or engagement. With a 6 point touch capability, sizes from 31.5″- 98″ and extremely fast response times, Pro Display's Touch Frames can add touch capability to any number of surfaces for so many interactive applications such as retail displays, visitor attractions, or even gaming. Whilst these products are generally standardised to size and touch point requirements, Pro Display can also offer custom touch frames up to an enormous 400″ in size with 6-32 touch points as well as a custom anti-glare protective glass fascia should the customer require it. However, as with any custom solution, such a specification will impact lead time as our production team processes the bespoke product for sale.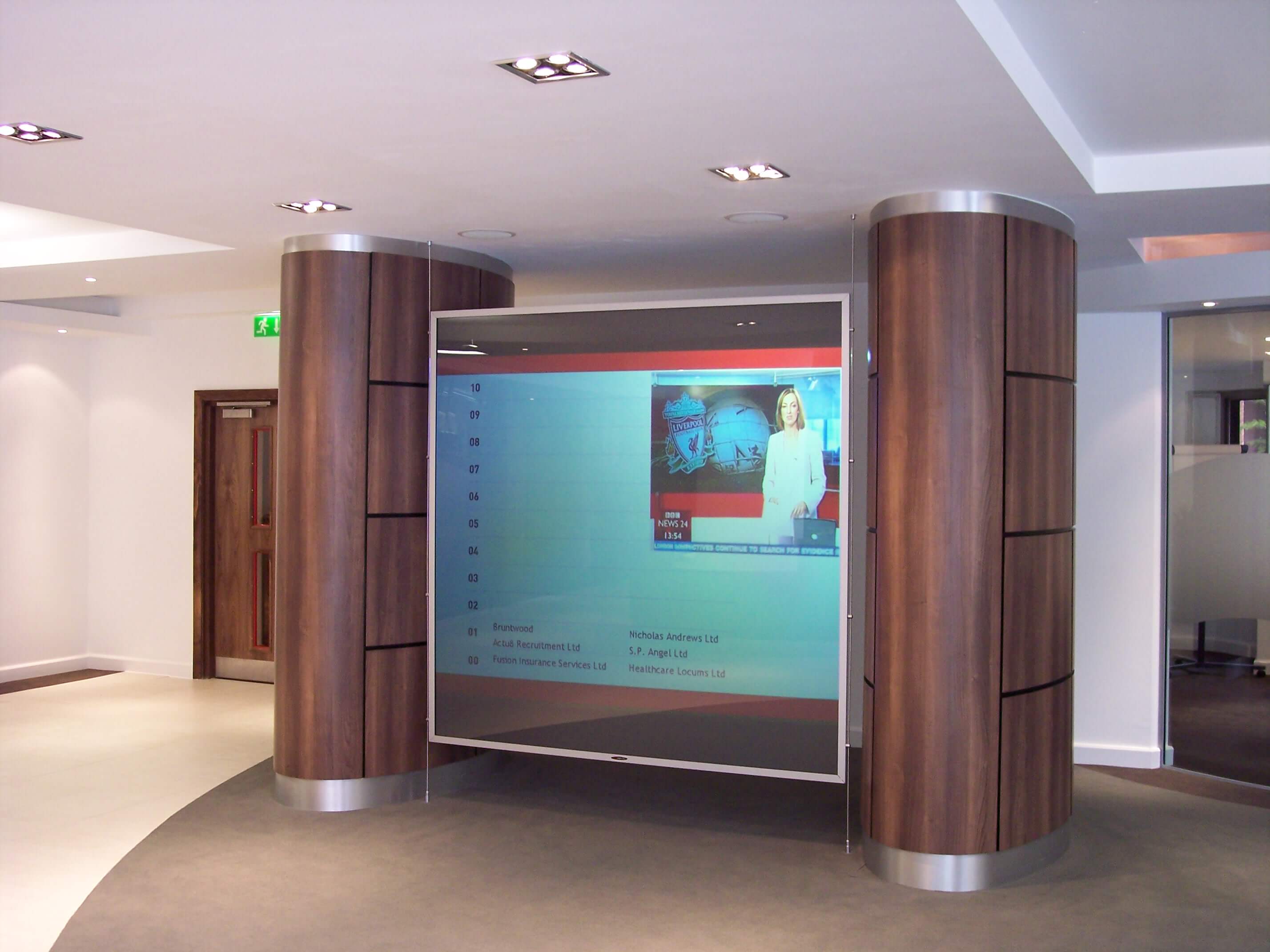 One of our product ranges that is often combined with Interactive Touch Frames is our flagship Front Projection Screen and Rear Projection Screen technologies. As one of Pro Display's main product ranges, these Projection Screens offer customers a world of opportunity when it comes to visual projection effects, and as such it is important that we carry these technologies in stock in order to fulfil our customer's requirements and enforce the strong reputation we have earned as pioneers, developers and manufacturers of these industry leading products. Each one of our projection screen technologies offers customers different visual effects, such as Clearview Holographic projection film producing a Pepper's Ghost-style visual effect, for example, to Ultra Gain, which produces a highly reflective surface for exceptional brightness, contrast and resolution. The various projection technologies do indeed have different size options, however, all offer the core standard sizing of 55″-120″, with some able to be made outside of these as standard. Despite the standard sizing, Pro Display can also offer custom sizes and shapes, allowing these screens to fulfil even more requirements, however, much like every other custom solution, this may increase lead time as the Pro Display production team produce it to the customer's exacting needs.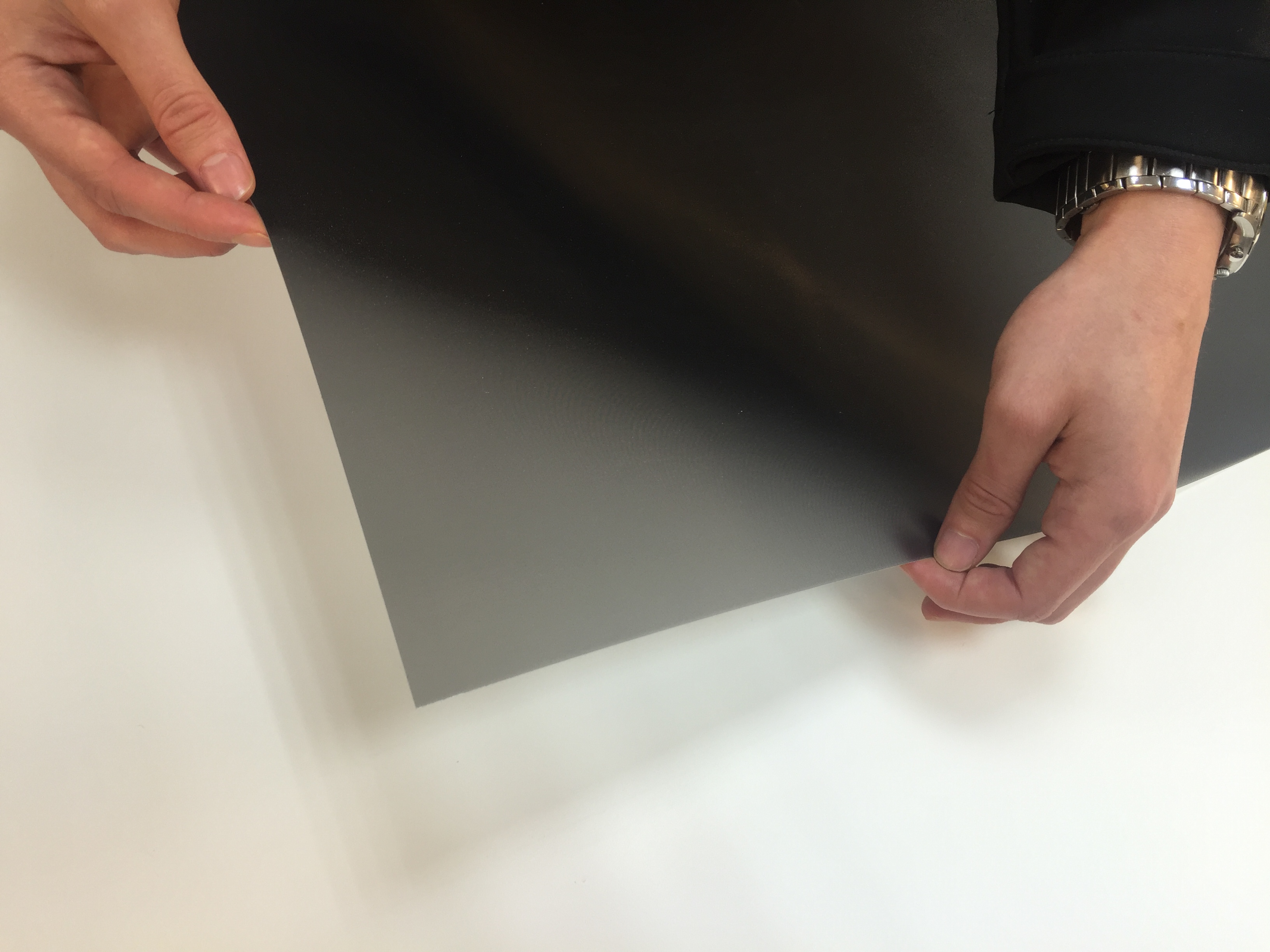 The next step on from our Projection Screen technology is our impressive range of Rear Projection Film and Front Projection Film, which are available in sizes ranging from 32″ – 120″, by the metre or by wholesale roll. Being the manufacturer of these products means that it is important to hold a level of stock that not only contributes to our custom product ranges, but is also ready for direct sale to customers. Offering the same visual technologies as our projection screen range, Pro Display can satisfy a variety of visual requirements that are ideal for installation to glass or any similar smooth surfaces using the film's self-adhesive layer and can be joined together to create large format projection surfaces. This aspect makes this film possibly one of Pro Display's most versatile ranges, offering films that can not only be retrofitted to existing surfaces, cutting down on production time on our end, but also allowing installation managers to create their own projection screens with the make-up of the environment it is being installed in, such as on existing windows or partitions. As with our projection screens, it is of critical importance that Pro Display carries these films in stock to not only help customers, but also to help perpetuate the stellar reputation we have cultivated over the years as industry leading manufacturers of these specific, specialist projection technologies.