Posted May 24th, 2019 by Sean Brown & filed under , General, Inspiration, Technology.
Pro Display take an introspective look at the custom & bespoke display solutions they can offer
As a manufacturer of industry leading display solutions, we are often asked for a wide variety of custom and bespoke solutions for an ever-increasing list of applications. Pro Display is uniquely positioned to be able to offer customers an extensive range custom AV solutions, from custom retail product displays to custom trade show displays – Pro Display offer a product – or even a number of products – that can work together to create the perfect display that fulfils your vision. Over the years, Pro Display has manufactured and supplied custom display solutions to some of the world's biggest brands that draw on the full range of Pro Display technologies, integrating (often specialist) screen technology, interactivity, projection systems and even sound solutions together to create that ideal display. In this post, we will look at some of the innovative custom display solutions Pro Display can offer, as well as some examples of past projects that demonstrate the incredible versatility of Pro Display's custom product range.
Display Branding
A wide range of traditional display products that can be tailored to the customer's bespoke needs, ideal for sponsorship branding, custom retail product displays & corporate branding
Amongst Pro Display's wide range of traditional display technologies is their ability to brand these products in a way that ideally suits the customer. Offering a 'one-stop-shop' for most display branding and customising needs, Pro Display do not simply 'box-shift' their products. Taking each order on it's own requirements, custom display branding can be applied to many screen solutions, ensuring that a company's logo or chosen content is on show along with their new screen.
Adding display branding to a projection screen for advertising or sponsorship, for example, completes the solution, allowing the company to get the most out of the brand exposure the screen brings with it. Not only this, but custom branding can also help a company carve out their brand identity, allowing, for example, a display unit to be stationed in a competitive or saturated area whilst showing customers that this unit belongs to their brand. A great example of how effectively display branding can be used could be the Interactive LCD Kiosks manufactured for Hertz, complete with a custom colour design and branding. These units, whilst used in their Technology Centre, could just as easily be used for self-service applications in public areas with high footfall, such as airports, shopping centres or train stations. Using this kiosk, customers could manage or collect their Hertz rental with ease, targeting customers at the point of need and convenience. With its stark custom branding, Hertz are easily able to identify themselves apart from the competition so customers know unmistakably that they are seeing a Hertz service.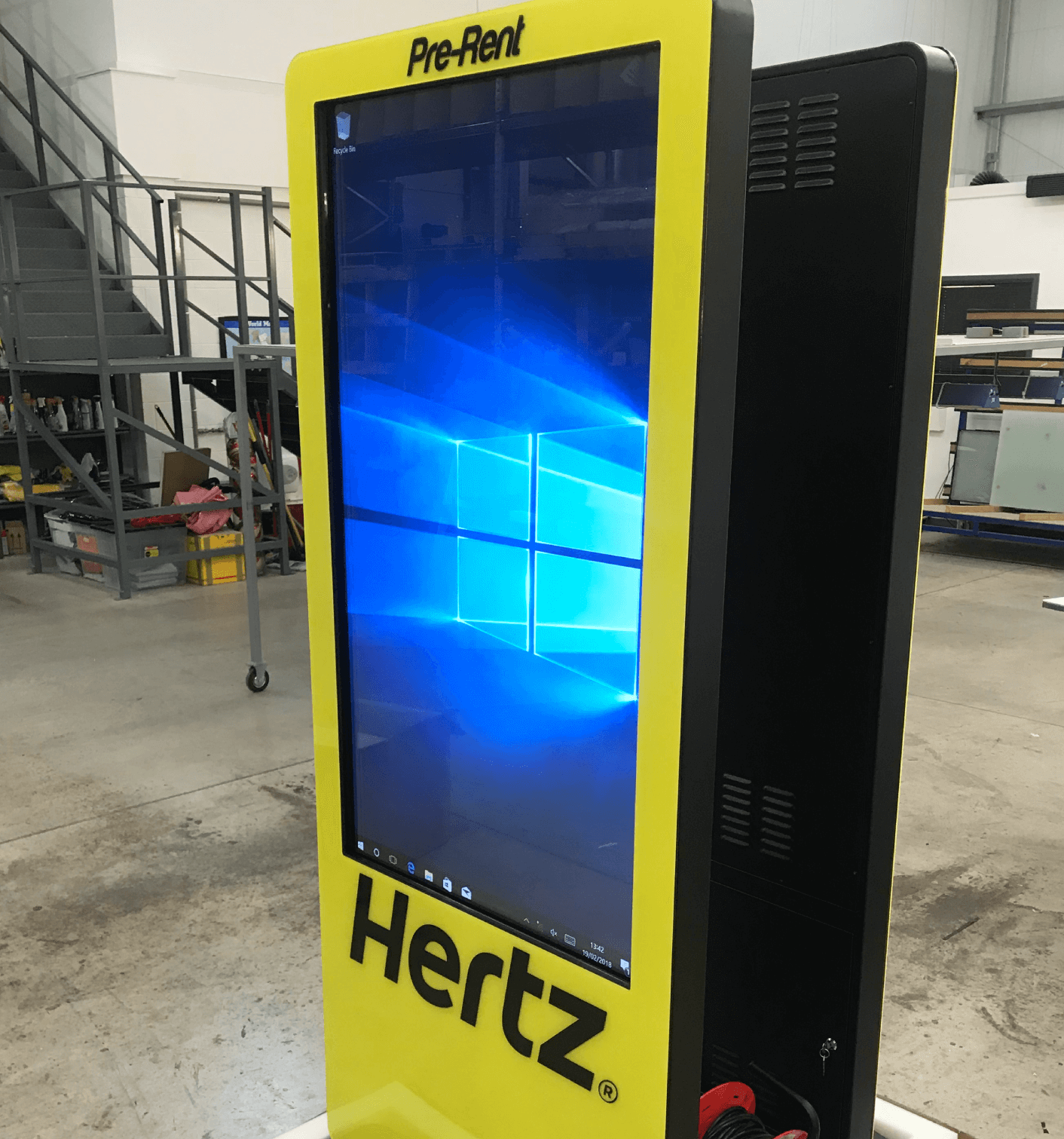 Transparent Displays
Ideal for custom retail product displays, custom trade show & exhibition displays, specialist projection projects & corporate branding of glass facades
It's not just traditional display solutions that benefit from custom branding, and one of the more innovative display solutions that Pro Display offers is the undeniably remarkable Transparent Screen range. Manufacturing transparent screen technologies that include LCD, LED and projection screens, Pro Display can supply full and custom transparent display solutions that meets a variety of needs. As each transparent technology works in a different way, Pro Display can offer customers different options to achieve their desired visual effect. Transparent LCD Screens, for example, render white content as transparent and require a back light to work, making them ideal for display cases with branded content. Applied in innovative ways, a Transparent LCD Screen can be used as custom retail product displays for featured products and special offers or even custom exhibit displays for product launches or demonstrations at trade shows and events.
The Transparent LCD Display can also be integrated with Pro Display's touch screen technology too, granting it engaging interactivity. A great example of this in action is the recent project Pro Display have undertaken for oil and gas giant, Shell, who used a custom built interactive Transparent LCD Display Case to showcase a new range of oil they were launching. Along with the custom plinth, Pro Display also ensured a full solution was delivered by adding the requested custom branding to the plinth and the back of the unit itself, ensuring that Shell's branding was front and centre of this incredible display solution. Transparent LCD Screen can even be integrated into furniture, offering customers even more customisation options.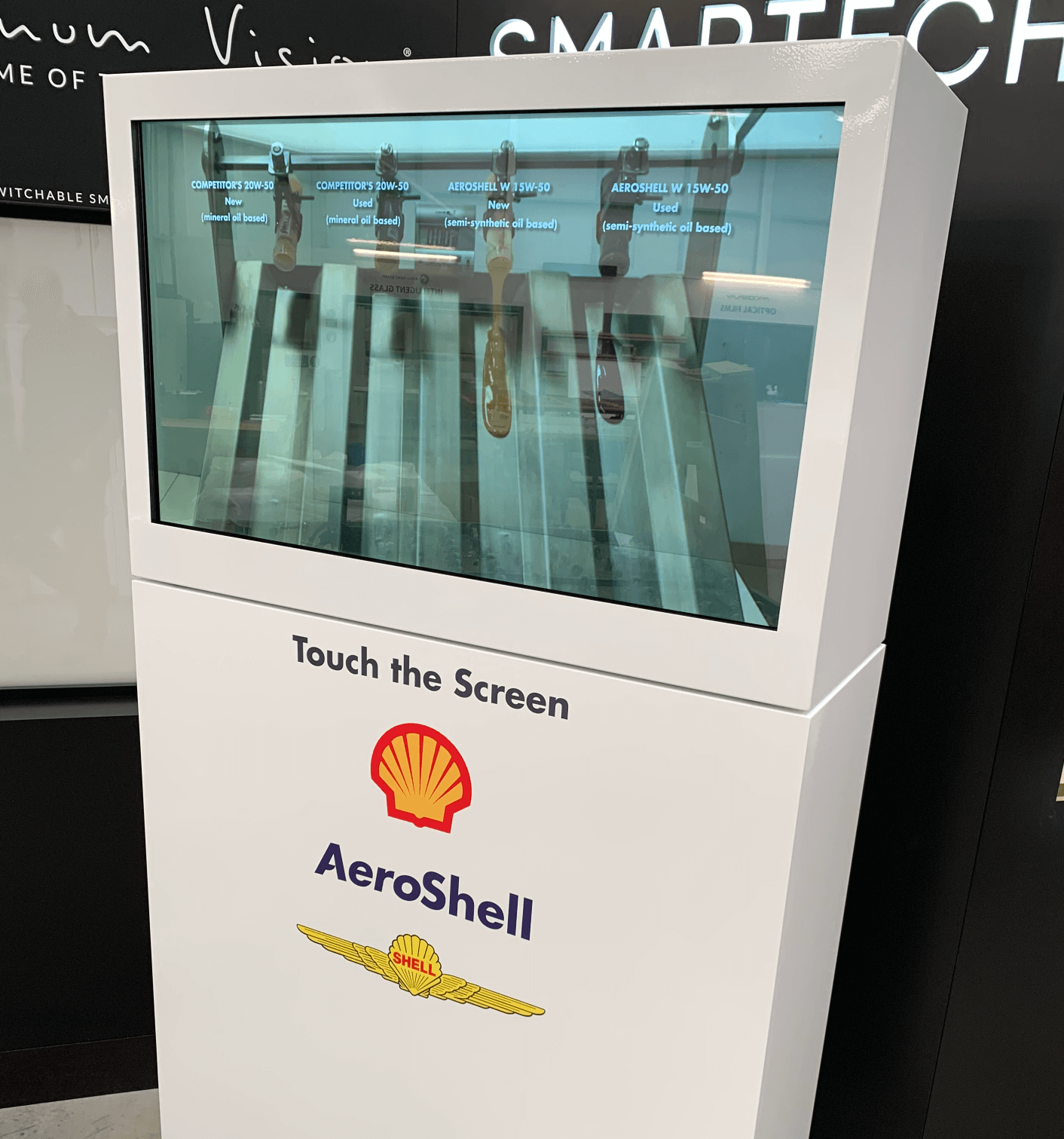 Other Transparent Display technologies include Clearview Holographic Effect Projection Film, which allow for see-through projection screens when installed on custom acrylic displays or custom glass. Transparent LED Screens, on the other hand, render black content as transparent and are ideal for glass facades on corporate buildings. They are also are modular in composition, allowing Pro Display to offer enormous custom sizes and unusual aspect ratios.
Specialist Projection
Projection screens with custom visual effects, shapes and sizes ideal for advertising, custom trade show displays & specialist projection systems
Specialising in projection screens, Pro Display's range extends much farther than the traditionally seen projection screens that many come to expect. Our versatility as manufacturers in this area perfectly compliments custom projection solutions, allowing us to offer a wide variety of visual effects and solutions that would impress most people. A good example of this is our ability to offer solutions such as the amazing custom curved projection screen, which renders a compelling visual effect in bending the projected image across a curved surface. A notable custom installation used on Grafton Street in Dublin (pictured below), Stephen's Green Shopping Centre are able to project high impact advertising content above the entrance to their centre that fits their curved glass facade. This effect, which is not possible with LCD or LED screens on a limited budget, offers the Shopping Centre a premium position for advertising that they can sell to prospective parties without having to deconstruct or refurbish their existing curved glass entrance. Pro Display's popular Pro Diffusion film was used to achieve this striking display, offering a custom curved projection screen solution to this exterior facing application that required multiple projectors.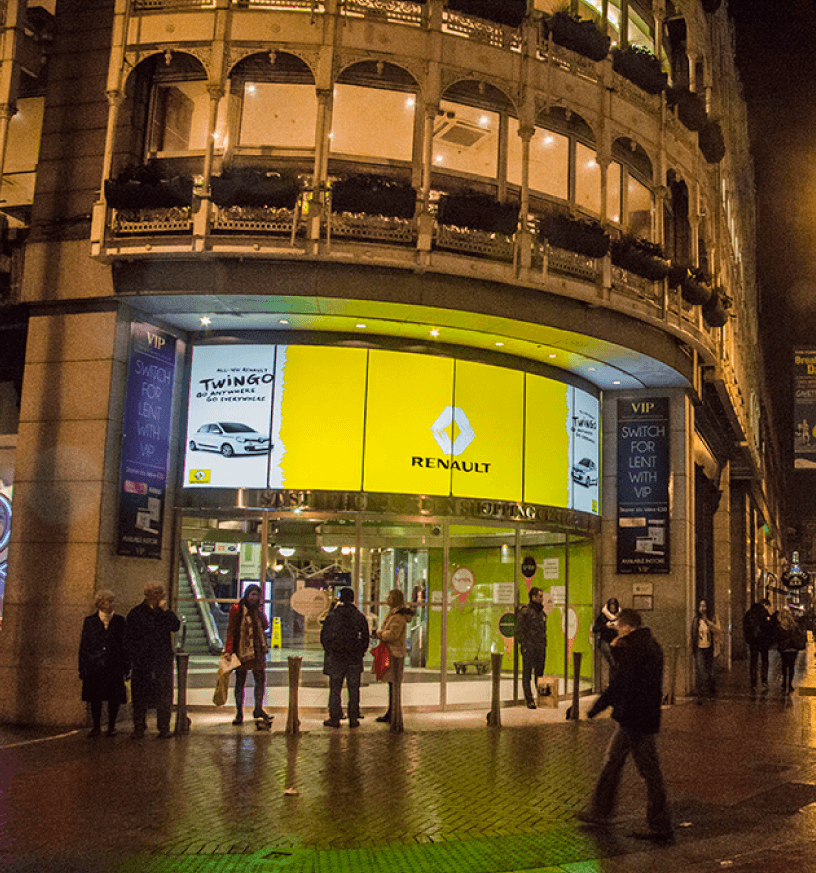 It's not just retail displays that can benefit from custom specialist projection solutions. Custom trade show displays organised by some of the world's biggest players in visual display technology have relied on Pro Display's specialist expertise to deliver a quality visual effect to showcase the latest in projector technology. During UK Construction Week 2018, Pro Display specifically adapted the revolutionary Digital Glass technology to support 3D content and supplied it to industry giants Canon. Using this custom screen, Canon where able to showcase 2 of their cutting edge XEED 4K501ST projectors which were adapted with Infitec 3D filters. With the specialist application of 3D optical technology and adopting the use of Infitec 3D filters to allow the 4K projector to project in 3D, Canon were able to demonstrate their desired visual effect with a custom screen solution direct from the manufacturer. Pro Display have also assisted with custom exhibit displays for the likes of Epson, Hitachi and Digital Projection over the years, supplying specialist projection screens to help showcase the very best of their projector range.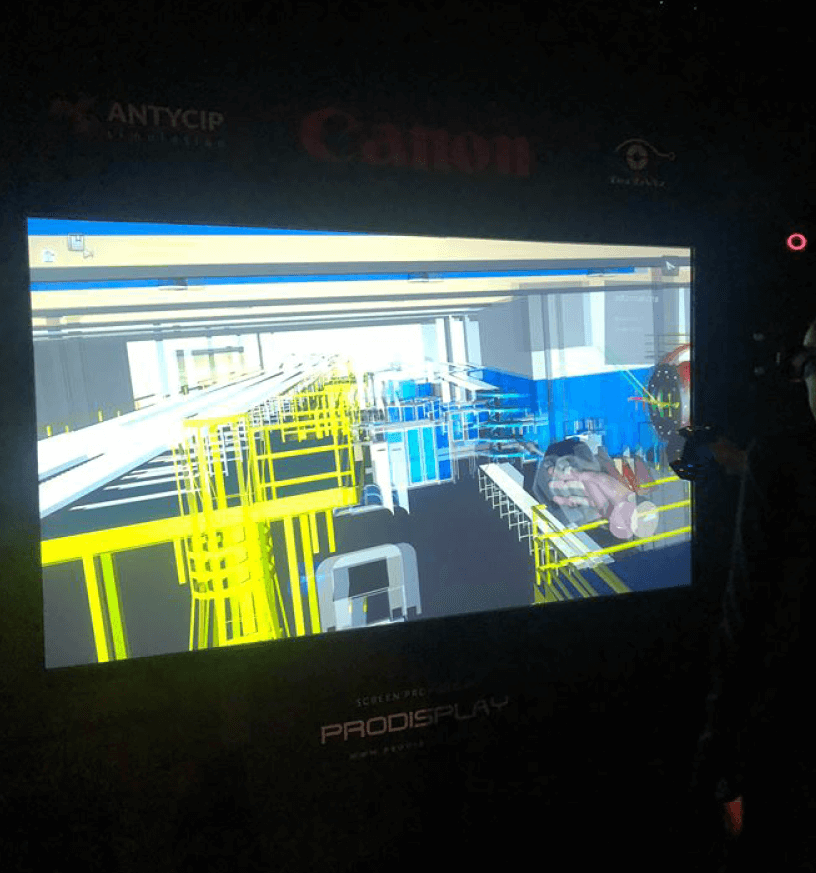 Custom shapes are another aspect of the custom solutions package that many have called on Pro Display to deliver, earning the company prestige in this area. Countless projects with custom shapes have been trusted to Pro Display, working on some of the most amazingly shaped visual displays imaginable. Applied to a wide range of industries, Pro Display's custom shaped projection screens have been used for everything from corporate branding to museum displays, with The Royal Armouries museum offering a great example of how effective they can be. For this project, Pro Display manufactured a custom 4m x 2m oval Dual Image Glass Projection Screen, a visual marvel on its own even without the compelling shape. However, the oval shape of the screen offers a real impact to the overall effect of the display, framing content in a way visitors are likely not used to seeing. Not only this, but Pro Display also supplied the angled suspension system used to pull off this unusual display, fulfilling the full custom solution requirements and allowing the museum to display this suspended screen at a slight angle towards the floor, providing a higher degree of visibility for the audience below.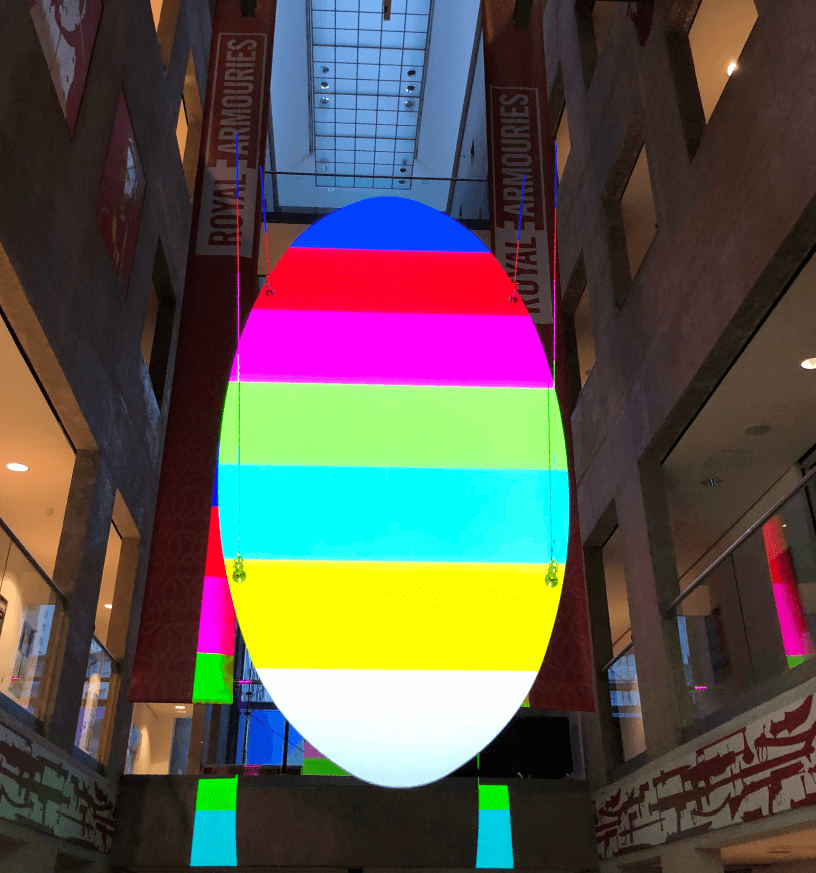 Just as Pro Display can cater to a range of shape requirements, we can also deliver a very wide range of screen sizes. Using the plethora of manufacturing tools and processes at our disposal, we are able to offer custom sizes of our products that can go well above what you are likely to expect. Using Digital Glass, for example, Pro Display are able to offer projection screens up to a whopping 8m x 3m for seamless acrylic screens. The impressive nature of these sizes allow specialist projection systems to compete with traditional display solutions such as video walls. As a solution adopted by Level Shoes in the Dubai Mall, it is widely understood that in a world competing for visual attention, bigger is almost always better, and visual quality is often just as important as size in high footfall areas. However, visual quality is not easy to achieve at scale. The high quality screen currently installed at Level Shoes sits as the Middle East's largest rigid rear projection screen, utilising the Ultra Short Throw (UST) compatibility Digital Glass offers in a space conscious retail environment.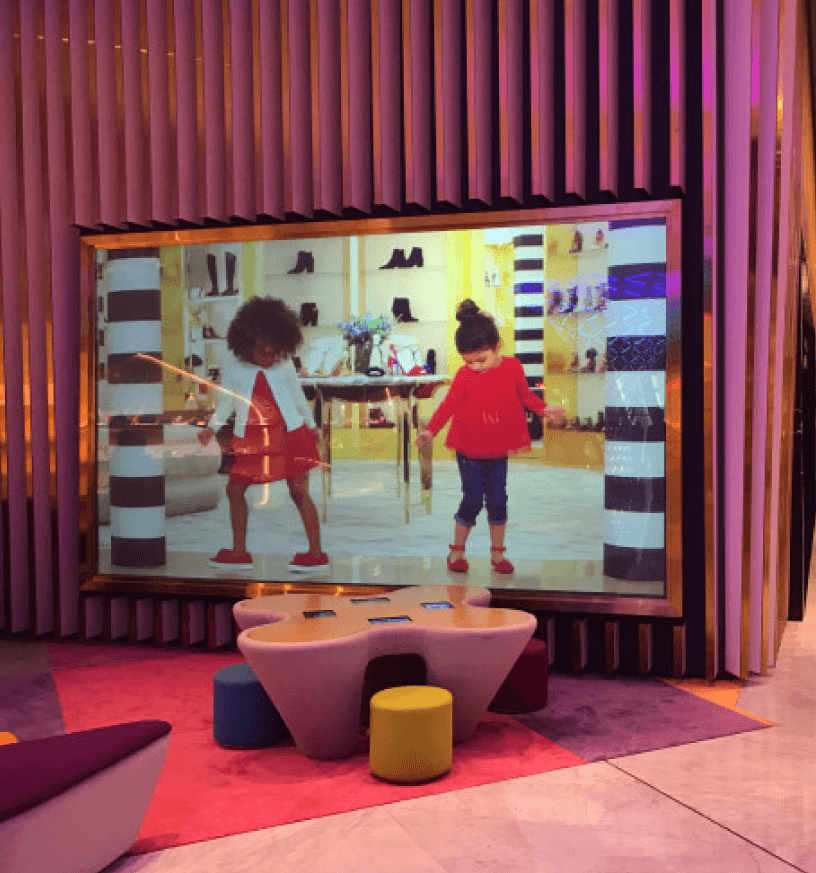 Pro Display also offer other specialist custom projection solutions such as Projection Mapping film, CAVE Projection Screens or Simulation Screens. Most applications for these solutions are unique by design and as such, require custom solutions in order to meet the project requirements. Projects that involve specialist applications such as these usually require the involvement of projection screen experts such as Pro Display.
Mirror Screens
Custom Mirrorvision Technology ideal for luxury display applications
As the pinnacle of premium display technology, mirror screens are often integrated into custom retail product displays, custom trade show displays and sometimes require a degree of elegant display branding. This impressive display technology can achieve a huge reaction from customers and guests, showing them a display method not often seen. Thanks to Pro Display's full technology range, custom solutions can be offered by way of engaging interactivity, a range of sizes and even integration into furniture or the room, such as with our Interactive Mirrored Wall Panels, which are ideal for hospitality applications and designed to fit into a wall aperture. However, custom Interactive Mirror Screens are also highly popular in retail changing rooms, as part of innovate product displays and especially in luxury make-up & beauty tester stations.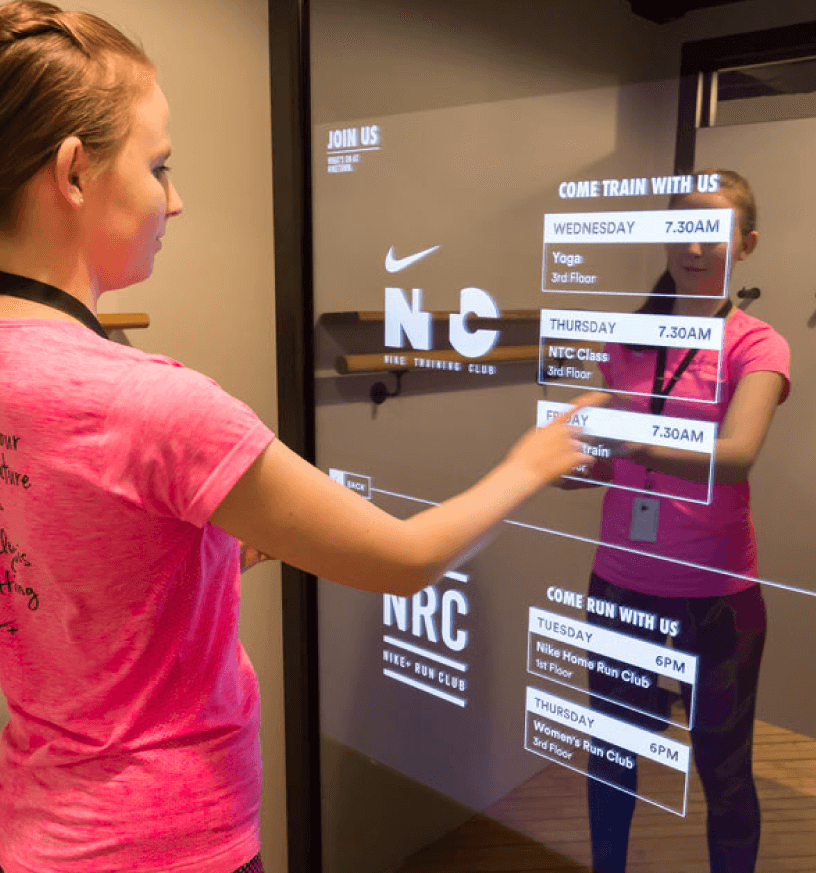 But their usefulness also extends to trade shows, exhibitions and other events. Producing a compelling visual effect, these sought after screens have been used in a range of applications that prioritise visual dominance. A great example of this was seen from Subaru at the 2016 LA Motor Show, which featured a large custom Interactive Touch Mirror built into a custom exhibit display. Able to make the most out of engaging innovations such as Augmented Reality (AR), mirror screens are as versatile as they are impressive, offering a perfect technology to be integrated into custom displays and furniture. This then allows for further integration for different needs, allowing for example, smart room mirror panels for control applications or input based engagement through peripherals such as webcams or speakers. The mirror screen can then feedback visual content based on the input material that also features a reflection of the user, making mirror screen technology ideal for Selfie Mirror or AR applications. Again, due to the sheer versatility of Pro Display's manufacturing methods, mirror screens can be made to meet required custom specifications.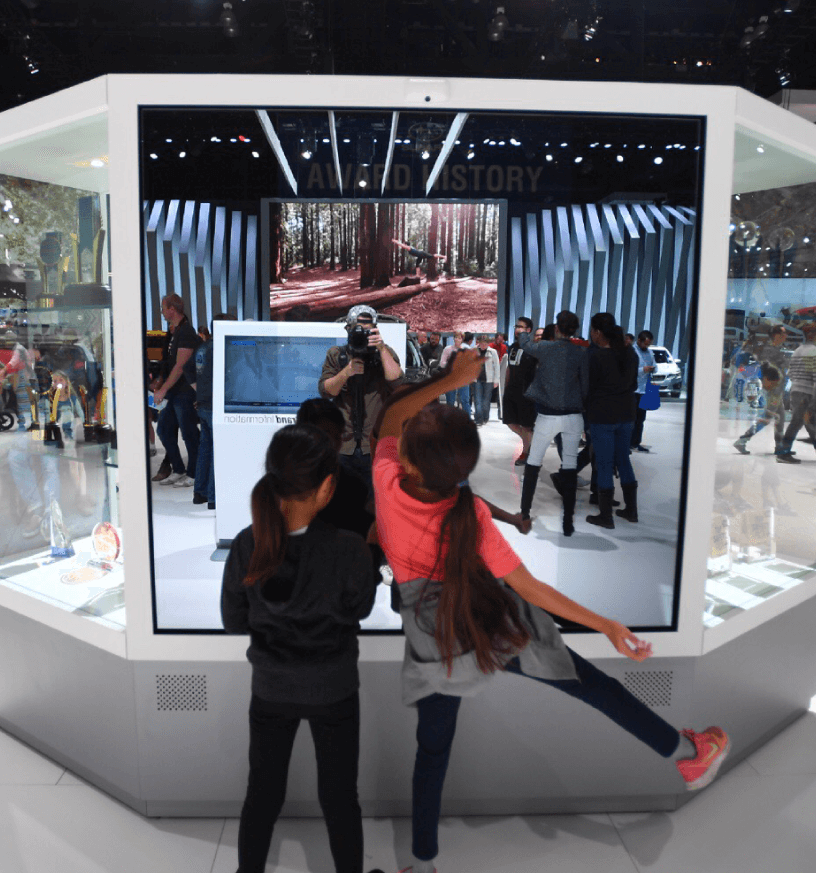 A great example of just how far the visual effect of a mirror screen can go can be found at the Heathrow branch of Novotel, which features a large custom Mirror Video Wall that greets guests in the hotel foyer with Novotel's branding in a visual marvel. This amazing project ranks as one of the more impressive visual displays Pro Display have worked on, delivering a breath taking effect that adds a real 'wow' factor to its environment. Due to the integrative nature of mirror screen technology, many mirror screen projects are inherently custom, making it a potentially highly versatile technology.
Switchable Smart Glass
Custom Smart Glass for privacy, projection and bespoke applications
Due to the visual effect that Switchable Smart Glass delivers, much like Mirror Glass, many if not most projects involving this technology are custom by nature. Often integrated for privacy applications, Smart Glass has found its way into an incredible range of places. Traditionally, Smart Glass has been most popular in offices, boardrooms and in the home, all of which require the privacy solution to fit their exacting needs. Due to the development of Self-Adhesive Switchable Film, we can even offer custom retrofit solutions, which can be applied to the customer's existing glass, including curved glass. But with different glass types, Intelligent Glass can offer all sorts of amazing custom solutions, such as Coloured Switchable Smart Glass or even Curved Switchable Glass, which is a full glass solution curved to the customer's requirements.
Likewise, should the customer require further glass customisation such as low iron or low-e, Pro Display's Smart Glass division, Intelligent Glass can produce this to specific requirements. This technology can even be granted additional functionality using different glass options such as Fire Rated or Sound Insulating glass. Thanks to Pro Display's world class manufacturing facilities, functionality such as projection and/or touch screen capability can be added to the product, making Switchable Smart Glass one of Pro Display's most versatile technologies. This shows rather clearly when considering the sheer range of applications it has been specified for, ranging from a casino roulette wheel to fish tanks.
Even the custom projection applications are breath-taking. Custom Switchable Projection Screens, such as the one used by Ruskin School of Art features a rear projection system specifically built for them. Utilising Pro Display's projection expertise, Intelligent Glass have even achieved the seemingly impossible in producing custom made front projection Switchable Glass screens such as the one in the video below for a corporate office project in Sweden.
Visit the Intelligent Glass website for more information about Switchable Smart Glass Custom Solutions.