Posted February 26th, 2019 by Sean Brown & filed under , Case Study, General, Project Focus.
Digital Projection Showcase Their Best Using Pro Display Screens
Digital Projection, a 'pioneering manufacturer of digital imaging solutions' are widely recognised as world leaders in solid state laser projection and every good projector manufacturer needs an effective screen solution to help showcase the peak of what their projectors are capable of. Experts often turn to Pro Display to provide the screens that will complement cutting-edge projectors during testing, product launches, events and trade shows; and now, through one of our recent projects, Digital Projection joins others in using Pro Display specialist projection screens to showcase their projectors.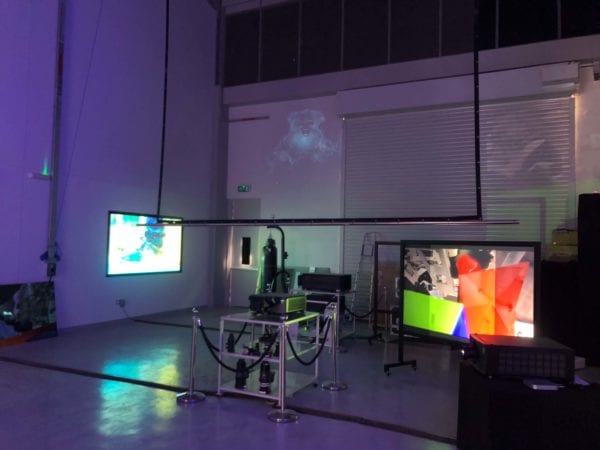 Digital Projection are world renowned for the quality of their projection technology. Specialising in ultra-high performance 3-chip and single-chip DLP® projection systems, their projectors are the reference standard for demanding and high profile applications such as large-venue, live-event staging, education, medical and scientific research, command and control, digital cinema, commercial entertainment, houses of worship and elite home cinema. As a multi-award winning manufacturer, they have been recognised for their achievements in Engineering Development and remain the first and only projector manufacturer to win two Emmy® Awards, holding a very well earned reputation for expertise and commitment to quality manufacturing.
What makes this project special is the way in which Digital Projection have used Pro Display technology. These are not basic projection system demonstrations. Utilising 3x 192cm x 119.5cm very different projection screens, Digital Projection are able to showcase a wide variety of visual effects using their latest projectors at their state of the art 'Experience Centre' situated in Dubai's Silicon Oasis. Digital Projection's Experience Centre is host to numerous high-profile customers and clients, allowing them to show anyone who is interested in investing in their technology just how well it performs. Having screens that showcase a range of visual effects is highly important for projector manufacturers, allowing them to demonstrate specialist projectors and projection systems in action so that customers can visualize how they will use it themselves.
Amongst the 3 screens Digital Projection are using is a Digital Glass Rear Projection Screen. This marvellous proprietary innovation in screen technology offers a wealth of specialist visual benefits that few screens would be able to match. Compatible with Ultra Short Throw (UST) rear projection technology, Digital Glass is a next-generation UST screen that offers high brightness and unsurpassed contrast, even in brightly lit environments, making it ideal for demonstration applications. Using Digital Glass, Digital Projection are able to showcase not only how well their UST projectors can perform, but also how well their projectors can offer high quality, 4K resolution and edge blending solutions, both of which Digital Glass are ideal at displaying.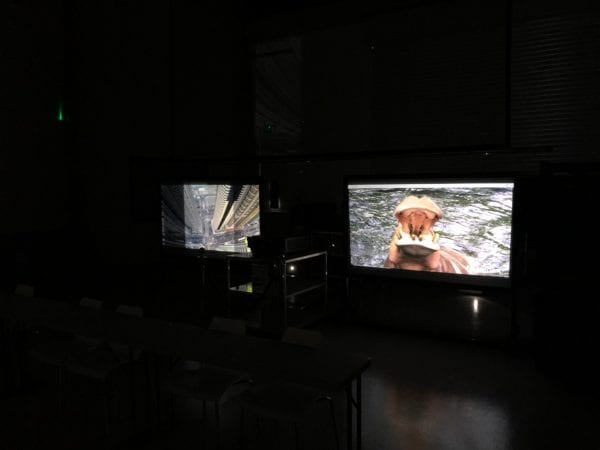 As well as Digital Glass, Digital Projection also turned to Pro Display's specialist projection effect technologies Ultra Black, Pro Diffusion, High Gain and Clearview. Coming direct to us as the manufacturer, Pro Display were able to offer Digital Projection a bespoke screen solution that showed these display technologies on the same screen, which is an ideal way to help demonstrate the differences between them all. Reserved for demonstration purposes only, this is not a solution we would usually recommend, as each display technology brings highly different aspects to the overall image production and would not be appropriate for a standard display.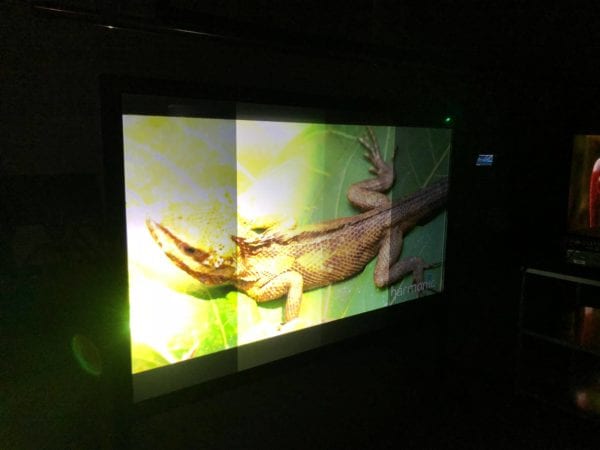 Ultra Black, a black tinted diffusion technology offers superior contrast, resolution and colour reproduction and is the newest addition to our range of specialist projection technology. Due to the high quality image production performance, Ultra Black is idea for high-end applications where image quality is of the utmost importance, making it a true study in picture quality and offering the ideal surface to test Digital Projection's very best image reproducing projectors. High Gain, however, is a unique light grey diffusion film that performs exceptionally well in high brightness applications where low powered projectors are needed. This projection technology offers HD/4K images at a cost-effective price, ideal for use in entry-level projection systems where budget is a top concern, allowing Digital Projection to demonstrate their low powered and economy level projectors on a display surface that will perform in a way that shows them at their best.
Pro Diffusion, on the other hand, offers a more practical solution for a variety of projector demonstrations, serving as a robust 'all-rounder' in projection technology. For this reason, Pro Diffusion is our most popular projection option, offering high contrast and wide viewing angles even in high ambient light. A neutral grey diffusion technology, Pro Diffusion also provides high brightness and excellent colour reproduction for HD/4K images, making it versatile and effective for a variety of mid to high range projector demonstrations.
Clearview, which is the final projection technology featured on this screen, is the perfect example of Pro Display's wider specialist projection range and is a fantastic way of demonstrating the ability of Digital Projection's products to display remarkable holographic effect visual images on transparent screen solutions. Clearview holographic technology presents a seemingly transparent screen that displays an image when projected onto. In contrast to the other technologies on this screen, Clearview is a colour-less transparent section that offers superior performance, definition and no critical angle of projection, allowing visibility on the transparent surface that displays a bright, sharp and vibrant image that appears to 'float'. This projection option is a highly impressive way of demonstrating wider visual projection effects that customers may not expect, allowing Digital Projection to highlight the versatility of their projectors in a more specialist application.
The last screen Digital Projection chose to showcase their technology also turns to wider visual projection effects with the specialist Rear Projection Switchable Smart Glass, an intriguing privacy and projection solution with a switchable mechanism to activate. The screen presents as frosted and possible to be projected onto until the press of a button, making it transform into a clear screen before your eyes. A Switchable Glass Rear Projection Screen offers a highly unique way to demonstrate a projector's versatility, helping customers to imagine alternative solutions, displaying their content in imaginative ways at the same time as showing that their projectors can facilitate them. Combined with a control switch, Digital Projection are able to show customers the full effect of this demonstration, changing the glass from frosted to clear and showing they can still have an HD/4K projection screen whilst utilising its switchable transparency when not in use. This makes it ideal for window displays or applications where the screen is required to be discreet or kept to a minimalist style, opening new avenues for their customers they may not have known were even possible previously.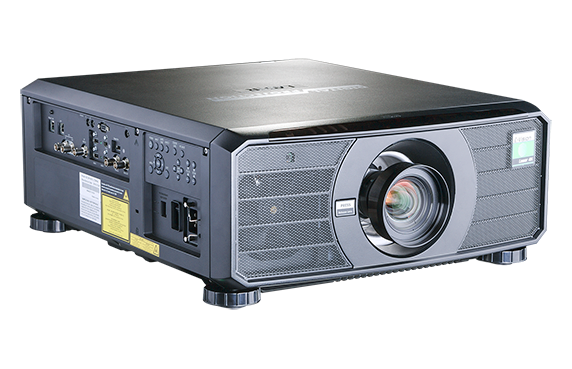 Amongst the variety of projectors and lenses used on these screens, Digital Projection pride the E-Vision Laser 5000 (with standard lens) or E-Vision Laser 4K (with 0.38:1 UST lens). Both of these lenses have a large offset which allows the projected light to direct upwards and away from the viewer's eyes, so this projection system provides a nice demonstration experience.
Matthew Horwood, General Manager of Digital Projection, Middle East comments, "We are delighted with the Pro Display rear projection screens we have in our Experience Centre in Dubai. As a projector manufacturer, we are able to demonstrate to our clients the flexibility you have when projecting onto challenging surfaces such as glass. Showing the quality of the Pro Display glass and glass film, gives our customers confidence that their creative ideals can become reality"
Find out more information about Digital Projection's Dubai Experience Centre.