Posted December 16th, 2020 by Emily Burkinshaw & filed under , General, Inspiration, Technology.
Visual advertising is nothing new to consumers. Whether it's a swanky new billboard or a brand new window display, eye-catching signage is a tried-and-tested means of attracting new customers off the streets.
However, amidst an increasingly competitive global market and due to the rise of online shopping, it's more challenging than ever before to capture the attention of prospective customers—let alone draw them into your retail space.
So how can brick-and-mortar businesses offer a unique retail experience in the digital age? With the help of digital signage. Not only will it capture the attention of any passer-by, but it'll give your brand a fresh and modern appeal fit for the new age of retail. These are some of the key benefits to using digital signage in your retail space.
Engaging customers from the get-go
Digital signage offers an exceptionally unique advantage over traditional static store displays—they can utilise motion. This is significant because the human brain evolved specifically to recognise and respond to motion. Movement in your product display offers a unique means of conveying your brand's messaging, much in the way a TV commercial can. An interesting and evocative display can cement itself in the minds of shoppers by capturing their attention and holding it for longer. In fact, recent data indicates that digital signage generates 400% more views from customers than traditional static displays.
Make your store front irresistible by enhancing your window displays with our Rear Projection Film or create an eye-catching POS display using one of our Transparent LCD Display Cases to showcase your products in style. You can even combine in store and online shopping using our Interactive Professional Mirror Displays, perfect for installation in fitting rooms giving you the opportunity to upsell items less invasively and providing customers with the opportunity to interact like never before. By choosing digital signage you can transform your signage and displays into a competitive advantage and draw in more customers than ever before.

Providing customers with the option of self-service
Self-service functionality is rapidly becoming the primary means by which consumers engage customer services. In fact, 73% of consumers state that they would rather self-service as opposed to speaking to a member of staff.
By utilising digital signage with self-service capabilities, brick-and-mortar retail businesses have a fantastic opportunity. Not only is self-service cost-effective, but it's also the least labour-intensive method of providing customer service functionality at scale.
For example, our LCD Touch Kiosk—a 1080p commercial grade portrait multi-touch kiosk—allows businesses to combine eye-catching signage with next-level self-service functionality. What's more, each kiosk comes with HDMI/VGA connections, which allows you to easily connect it up to any PC or Laptop, with the option for plug and play compatibility so you can update content instantly using a USB.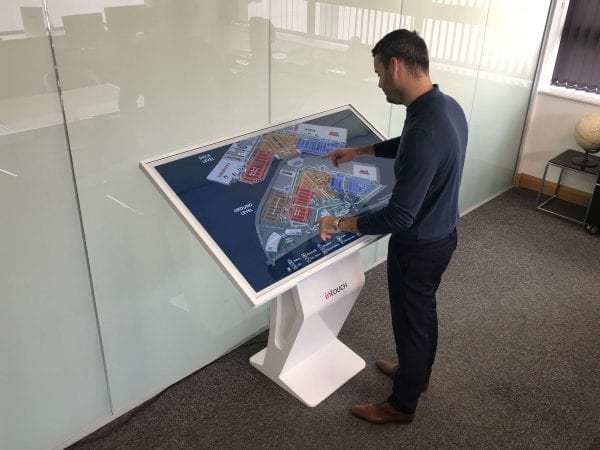 Ensuring brand consistency across multiple stores
Maintaining brand consistency across multiple locations can be both difficult to coordinate and costly. New graphics, catalogues, and product campaigns can lose consistency in their messaging as they spread across multiple points of communication. In fact, without consistent messaging, your brand's image becomes increasingly blurry.
That's where digital signage comes in. By combining one of our many digital screen solutions with a network media player you can update your displays all at once remotely, saving you a significant amount of time, money, and hassle. No more coordinating lengthy display implementations and no impact on business as usual.
Securing instant analytics to better understand your customers
Digital signage with self-service capabilities can provide companies with essential real-time analytics. For example, when you give your customers the ability to check a store's inventory the moment they interact with the display, you can also unearth instant insights regarding the products and services that your customers search for the most. This in turn will assist your organisation discover valuable customer insights that'll help you connect with your prospective client base.
This insight gained from using technology like Interactive Kiosks or Interactive Mirror Displays could be used to shape the format of the store itself, by taking into account browsing habits and popular items you can build the visual merchandising of the store around this data to become more appealing to the customer and drive sales.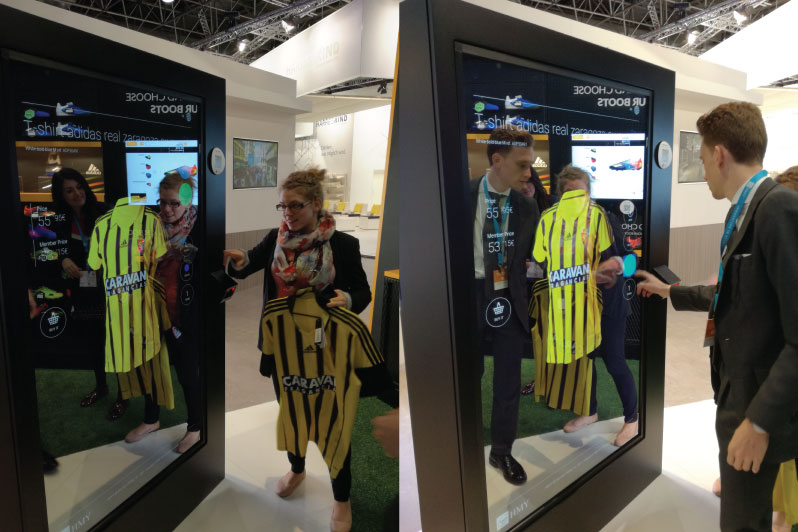 Digital signage is an essential technology when it comes to retailoring retail
The traditional retail shopping experience has been turned on its head. Physically engaging customers has proven to be more difficult in 2020 than any other year, and companies have had to adapt to our new global circumstances just to stay above water. The use of digital signage in your retail environment can not only ensure your customers remain engaged with your business, but they actually step foot through the door. By creating an eye-catching and inviting entrance, you also create a comfortable, innovative, retail environment for the shoppers, granting them the freedom to shop at their own pace and experience the future of retail.
While maintaining complete control over your brand's image and messaging—no matter the number or location of your outlets—you can secure unparalleled insights into the mechanics of your business by utilising this technology. Speak to one of our digital signage experts today and prepare your business to meet the future head-on.