Posted August 4th, 2022 by Emily Burkinshaw & filed under , Case Study, General.
BAE Systems are a UK-based manufacturer, providing some of the world's most advanced, technology-led defence, aerospace and security solutions.  Working with customers and local partners they develop, engineer, manufacture, and support products and systems to deliver military capability, protect national security and people, and keep critical information and infrastructure secure.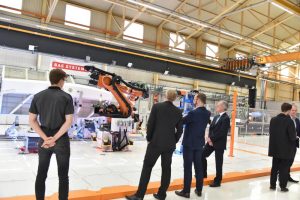 Being at the forefront of their industry, BAE Systems wanted to create a place where the latest in digital technology is used to improve productivity, starting the blueprint for their own smart factory. The result is BAE's 'Factory of the Future' a place where "revolutionary technologies meet their adaptable and digitally minded engineering workforce to create incredible solutions to the problems of tomorrow". Bringing their vision to life required contribution from a range of bright minds, from their strategic university research network to specialists in data, robotics, connectivity and 3D printing technology. This collaborative effort from their team as well as over 40 blue chip, SME companies and academic institutions, is a testament to UK innovation, creating a first-of-its-kind, fully connected, digital factory in Warton, Northwest England.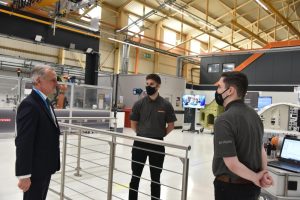 The Factory of the Future is designed to demonstrate how military aircraft could be built in the future, equipped with state-of-the-art technology to enable the brightest and boldest engineers to research, invest and test new technologies, build new capabilities and harness transformative ways of working. The factory has everything from robot-assisted assembly to a human-augmented intelligent workstation, designed with flexibility in mind to facilitate the manufacturing of different products in the same area.
We were lucky enough to be approached by British Aerospace to supply one of our innovative screens to display real-time data for working robotic machinery. We supplied our 55" Transparent OLED as the 24/7 transparency allowed for a constant field of vision to the other side, showcasing specially created content with a black background to maintain the highest levels of transparency even when the screen is in use. Our Transparent OLED Screen was paired with a Kinect gesture sensor which can recognise the individual worker as well as allowing them to interact with the content on screen without physically touching it.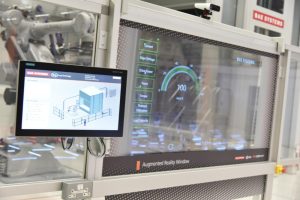 Using Transparent OLED Displays in this kind of application can be incredibly rewarding, with the ability to see the data and the machine itself all in the same field of vision, removing the need to alternate between viewing one screen or the other. This Augmented reality window allows workers to control functions like the drive power, torque and axis position as well as connecting to a vital aspect of the factory, the Internet of Things that connects each asset and system together in real time to monitor, control and analyse performance across the site.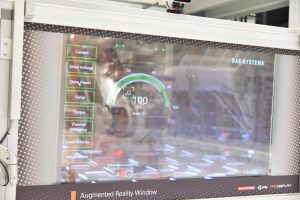 Arguably this kind of content is when the Transparent OLED can be showcased at it's best, taking advantage of black colours appearing as transparent, to make content appear as if it is floating on the screen. Not only does it's transparency make it ideal for operating machinery more efficiently, it is a great way to showcase such intelligent technology and how it works to visitors and investors. The beauty of the Transparent OLED is it's ability to maintain transparency even when switched off, unlike competing transparent screen technologies. TOLED Screens do not require a backlight to produce an image, instead their displays are made up of millions of self-lit pixels that come together to create an image. This gives you greater control over the brightness and lighting of the screen depending on your environment, ideal in the BAE Factory of the future where strong overhead lighting is essential.
Professor Andy Schofield, technology delivery director at BAE Systems' military aircraft facility in Lancashire, said of the project:
"The challenge is to ensure that the UK will have world-class design, engineering and manufacturing capabilities that can deliver military aircraft for the next hundred years. We need to work in areas like digital manufacturing, intelligent automation, additive manufacturing, smart structures such as the use of embedded sensors, and more intelligent infrastructure."
Whilst Transparent OLED screens are only available in 55" screen sizes, we can also manufacture Transparent OLED Video Walls in a range of formats to create larger transparent HD displays. Popular formats include 2 x 1 and 2 x 2, offering a see-through display with no need to worry about shadows or passing traffic ruining the image.