Posted May 21st, 2019 by Emily Burkinshaw & filed under , Case Study, General, Project Focus.
It is well known within the retail industry that the more eye-catching and intriguing the window display, the more likely you are to draw traffic into your store. Research suggests that displays can increase sales by 540%,  a well-planned hotspot can increase sales by 229% and more than half of those surveyed (63%) in a recent report admitted that digital signage catches their attention. You can't deny the power that window displays have on consumers, but what if you don't have 19 windows that are big enough to hold a Rolls Royce like Harrods? What if you don't even have a foot of floor space spare to turn into a display? Pro Display has the perfect solution to create an equally impressive display with only a fraction of the space needed for a typical window feature.
Pro Display's Transparent LED Screens provide an original solution to this common window display issue, showcasing content in style without blocking out light or the view on both sides whilst fitting into the frame to take up as little space as possible. The image on the Transparent LED window display is created by programming LEDs to work together, and by displaying the relevant pixel colour on the mapped LEDs, the lights come together to create an image. This effect is especially powerful when integrated into a glass facade, allowing designers to offer a screen solution for retail buildings without detracting from the overall design.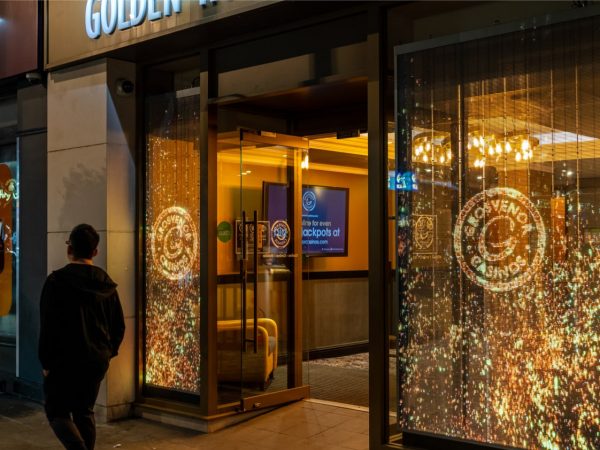 Pro Display were approached to create the perfect Transparent LED window display solution for The Grosvenor Casino London that would capitalise on the potential footfall of the busy Hyde Park area their Golden Horseshoe Casino was located in. We supplied them with two Transparent LED Panels, both over 2.5 metres tall, custom built to fit their existing windows at the front of the casino to create an innovative display. Both screens played the same bespoke content from a single media player, with the gold and black colours used reflecting the brand image whilst catching the eye of passers-by. They chose to use classy, sophisticated content for brand recognition, dazzling audiences and spectators with the creative use of the technology, ensuring that their brand was not only taken notice of, but hard to forget.
The transparency of the LED panels allowed light to pass through, even whilst content was playing, keeping the entrance of the building bright and welcoming to consumers.  This was important to the project as the entrance to the casino is limited on space, making the presence of light essential to keeping the area looking more open, enabled further by the slim line style of the panels.
A Transparent LED display allows the casino the opportunity to change the focus of their display as often as they like with ease and no disruption as new content can easily be loaded on and off the media players used to populate them. Due to this, this kind of display is a much more time and cost efficient alternative to a traditional window display.
These transparent screens offer a more practical outdoor facing option when compared to many display alternatives, especially considering the modular composition of other large format applications. This allows for huge screens that could compete with the likes of LCD video walls in size, but drastically overshadows them in terms of brightness. In an outdoor facing application, brightness is a key aspect in standing out; coupled with a modular composition, these screens offer a highly effective and versatile solution.
Ben Hadfield, Sales Director at Pro Display worked alongside LIS to bring this display to life, saying:
"It's always great working on projects that push our products to the limits and truly test their effectiveness in an application. This project was won by one of our resellers, LIS, who have worked with us for a number of years and as usual, it was a fantastic experience. Seeing the final result in this application was incredibly rewarding for us, especially in an area with such high footfall. Projects such as this are a great way to show the versatility of our technology, and in this case, installing a Transparent LED window display in a casino was a brilliant solution to luxury and innovative branding requirements, especially for those applications where space is limited."
(Images courtesy of Fiora Agency)