Posted March 5th, 2020 by Emily Burkinshaw & filed under , General, Inspiration, Technology.
With the recent release of Transparent OLED Displays and their global popularity, other transparent solutions are quickly being overlooked and are going unnoticed by audiences. Across many market sectors there is a huge demand for technologies that produce a floating / holo-effect image, with the range of products available to achieve this increasing rapidly. Pro Display have over 15 years of industry experience and have always strived to offer the latest in specialist AV technology, namely offering an impressive range of cutting-edge transparent screen technologies.
Amongst the more popular Transparent OLED (TOLED) and Transparent LCD (TLCD) options in our product range, we also offer Transparent LED screens which have significant advantages over more well-known transparent solutions. Transparent LED screens create an image by programming LEDs to work together by displaying the relevant pixel colour on the mapped LEDs, bringing the lights together to output videos and images on the screen.
The main advantage of using Transparent LED's is their incredible space saving ability because of the slim bezel of each module. Our Transparent LED allows natural light to pass through into the room even when displaying content and has a width small enough to allow it to fit perfectly within an existing window frame. This makes the Transparent LED Screen the perfect solution for anyone struggling with creating advertising/display space in a small environment without effecting the size of the floorplan or presence of natural light.
Unlike many other transparent screen solutions, Transparent LED's are manufactured with large format projects in mind. These modular displays can be combined to create huge large format screen systems, offering a more practical outdoor facing display option when compared to competing alternatives. With module sizes including 500mm x 500mm and 1000mm x 500mm, we can create custom sized solutions, from smaller window displays to huge screens that can compete with the likes of LCD video walls in size but completely overshadows them in terms of brightness.
In any outdoor facing application, its brightness is the most important feature and when you compare all the transparent screens on the market, the Transparent LED's 5000 cd/m² is by far the best option. Not only do Transparent LED's completely outweigh the competition in regard to brightness, they also offer a more cost-effective solution as an outdoor facing window display compared to other high brightness alternatives like projection screens which require a very powerful, expensive projector.
Another exciting transparent solution from our product range is our new Clearvision Transparent Front Projection Screen. This specialist ultra-short throw front projection screen is designed to perform well in brightly lit environments, outputting crisp, vibrant images whilst still allowing transparency throughout the surface. Our Transparent Front Projection screen is perfect for creating stunning visual effects and can also act as a dual image screen, displaying a 2D peppers ghost visual effect on both sides at any given time. These screens also act as a low-cost alternative to similar competing holographic technologies currently available on the market.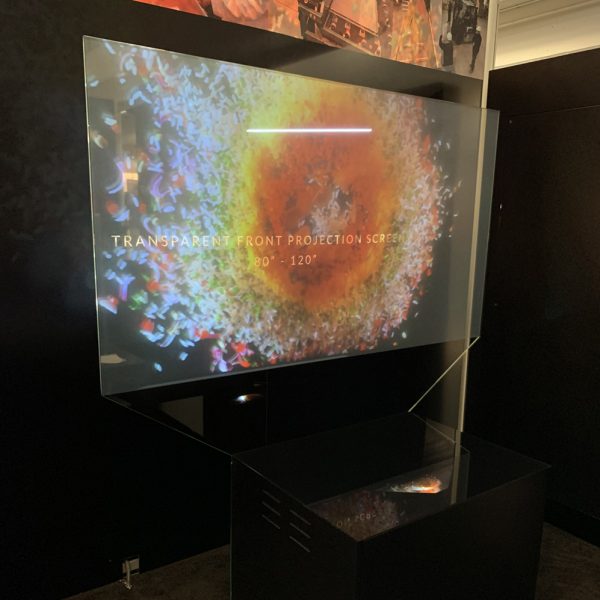 In addition to the Transparent LED Screens and Clearvision Front Projection Screens mentioned above, we also offer a range of other Transparent Screen solutions, including LCD, OLED and projection options. Our newest of these being the Transparent OLED, includes the standard 55" TOLED display as well as interactive multi-touch and bespoke custom housing solutions. Another popular product is our Transparent LCD Screens and display cases, which are available in a range of sizes from 9.7inches to 98inches, with 4K and interactive options available. We are also able to manufacture bespoke housings for our Transparent LCD Screens including display cases, counters, POS displays, exhibition stands, furniture and cabinets.
As well as our newer Clearvision Transparent Front Projection Screen, we also offer our extremely popular Clearview Rear Projection Holographic Screen as seen in Guardians of the Galaxy Vol. 2 (2017) and at the 83rd Annual Academy Awards (OSCARS). This versatile product is available in a range of standard sizes but can also be manufactured to custom shapes and measurements up even creating large scale holographic screens – the only limit is your imagination.