Posted May 21st, 2013 by Sean Brown & filed under , Archive, Case Study, General, Project Focus.
Switchable Glass technology was recently chosen to create a walk in shower in an exclusive apartment located in London City.
Synergy Lifestyle worked closely with Pro Display's Intelligent Glass division to meet the customers requirements to create a large custom size Switchable Smart Glass partition which is integrated and operates as part of a Crestron system.
Using Switchable Glass as a partition between bedrooms and ensuites can be a great way to make smaller bathroom spaces appear much larger. Standard walls completely block out any light, whilst a simple glass partition lacks the necessary privacy of a bathroom, which is why smart glass is the perfect in between solution. Allowing natural light to flood even those hard to reach corners of your space whilst turned on and off, our Switchable Glass is at home in both modern and traditional environments.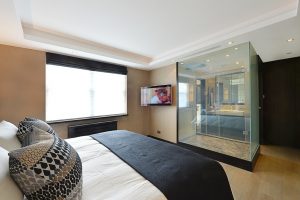 James Moffatt BA, Interior Designer for Synergy Lifestyle commented, "very happy, looks great and no problems with the installation or linking to Crestron." Used here with a Creston system, there are multiple ways our switchable technologies can be operated including via remote, wall switch or through voice automation software, like the popular Google Home and Amazon Alexa.
Switchable Glass partitions have huge potential and are often used to create more versatile spaces in residential and commercial applications. As well as being able to create the illusion of an open plan layout with the added benefit of privacy, our partitions can double up as a HD/4K rear projection screen. This is ideal for circumstances that lack wall space or wish to achieve more of a minimalist space, with the screen simply disappearing when not in use.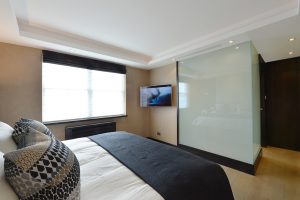 If you want to create even more of a feature using smart glass, why not consider using Coloured Switchable Glass? Available in stunning bright shades as well as our popular Switchable Dark tint, these unique partition systems create an exciting atmosphere in any room.
If you're looking for something that's outside the box but a bit more muted, our Curved Switchable Glass fits virtually any interior design theme or style. Until recently, Curved Switchable Glass was limited to applications that were recommended for Switchable Film, but our research and development advancements have made it possible for us to create laminated curved panels as well as various other glass options. This allows our Curved Switchable Glass to be used in areas such as wet rooms, showers and hospitals, offering a robust solution that also acts as a premium interior design feature.