Posted January 14th, 2015 by Sean Brown & filed under , General, Press Release.
In anticipation of increased future demand from the education sector for interactive multi-touch technology, on an ever greater range of screen formats, Pro Display launches its new intouch division. The intouch product range will be launched publicly at Bett 2015, on stand B395.
intouch from Pro Display offers educators new levels of immersive, interactive learning with its new range of multi-touch display solutions.
Bett 2015 has been chosen as the first exhibition to showcase the new intouch range. Come and see (and touch!) for yourself at stand B395, from 21-24 January 2015, at ExCel in London. Find out more at: http://www.bettshow.com/Exhibitor/Pro-Display
On the Pro Display stand will be a selection of technologies, including an HD multi-touch monitor, a sun-readable front projection screen, and a multi-touch interactive kiosk. These have been designed with education in mind, catering for a wide variety of usage scenarios and budgets.
Here's the intouch technology that you can get up close and personal with on stand B395: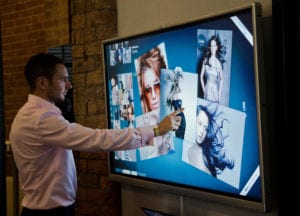 Interest in these new products is high, with early customers including establishments such as Manchester Metropolitan University, the Monterey Museum of Art, and the Tower of London.
Ben Kershaw, Sales Manager at Pro Display, says: "Interactive touch has very much become a part of everyday life, and we all expect to interact more with the images we see, especially as an aid to teaching and learning. Our new intouch range realises that vision of fully immersive, multi-touch screens, even on large scales."
"The applications for intouch are limited only by creativity, with interest coming from all corners, not only in education, but also corporate offices, retail outlets, public attractions, TV production and broadcast, exhibitions and performance events."
intouch products will be on display at London's Bett 2015 show in January (stand B395), and also at Amsterdam's ISE 2015 show in February (stand 10-S125).
About Pro Display
intouch is a division of Pro Display TM Ltd
Pro Display was born to innovate, changing the face of visual display as we know it today. A British manufacturer at the forefront of display technology worldwide, focused on new and exciting ways to advertise, inform and entertain.
Pro Display brings together vision, sound and touch with design flair, technical innovation and expert knowledge to create a truly unique range of display products and solutions.
Pro Display's technology is used around the globe by leading brands including BBC, Sky Sports, ITV, Bloomberg, Microsoft, Google, the Oscars, gsk, P&G, Coca Cola, Jaguar, Rolls Royce and many more.