Posted July 30th, 2012 by Sean Brown & filed under , Archive, General.
Pro Display has used its design flair, development skills and innovative range of technologies to break into home theatre market, by bringing the future of visual display into your home today.
For individuals who have a need to be different and a desire for the very latest and innovative technology, image has now become a way of life. Our designer home interiors range, offers a number of unique screen technologies that can become an integral part of your home. Designer screen solutions from Pro Display provide a whole new concept in visual display.
Platinum Vision
Platinum Vision offers a unique range of lifestyle screen technologies to inspire any home theatre enthusiast. The minimalist look and feel of the technology blends in with today's contemporary interiors. Creating a world where TV / PC screens become an integral part of the décor or their own piece of moving art.
Platinum Vision is our signature brand for the home interiors market and many solutions will be available as part of a 'limited edition' model range, offering individuals the opportunity to purchase custom screen solutions to express their desire to be different.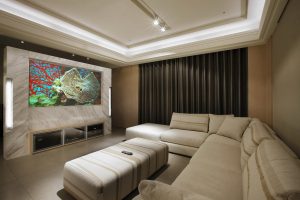 This exclusive range of screen technologies represents home integration with a feeling of style and space, giving individuals, interior designers and property developers the opportunity to express their artistic side and share in our vision.
Designed with the home in mind, our Platinum Vision range also features a range of Mirror Screen technologies, including Full Length Mirrorvision TVs, Mirrored TV Cabinets and our stunning Mirrorvision Cinematic Wall, combining a 75″ 4K Smart TV with a huge 2.5m x 1.75m oversized mirrored fascia.
For avid collectors and homeowners that want a display space with a difference, our Designer Display Cabinets come with an integrated 42″ Interactive Transparent LCD Screen and media player allowing you to simultaneously show off your prized possessions whilst your content plays on screen! Other unique technologies include our Interactive Touch Tables that can be upgraded and customised to suit your bespoke needs. Our touch tables are multi-functional, an investment that will grow with your home, from playing arcade games to getting creative or even for working from your living room with optional extras including a webcam and mouse for those all too frequent zoom meetings!
We've also created a Designer Home Cinema System that brings home cinema quality to any room in your home. This 100″ or 120″ high contrast projector screen is manufactured to perform in high ambient lighting conditions meaning there's no need to turn down the lights. The full HD UST projector is built into the cabinet that also has enough storage space to fit TV boxes and gaming systems as well as remotes, DVD's and other accessories.