Posted February 7th, 2006 by Sean Brown & filed under , Archive, Case Study, General, Project Focus.
With churches in England dating back nearly 2000 years, it may be surprising to learn that religious institutions are staying on top of technological advances. Institutions like Life.Church paving the way for how technology can be used within the church, from creating digital platforms and apps to worship online to putting on Sunday services with live music and impressive stage setups. Whilst institutions like Life.Church take a modern approach to church service and operate from modern buildings, other organisations understandably wish to take a more traditional approach.
A historic listed church in the north of England is the last place you would expect to find what is reckoned to be the world's largest fixed LCD projection display. Yet that is what NEC and Pro Display have installed at St. Andrews Church, a Grade II-listed building in Leyland, Lancashire.
The installation has helped to bring modern technology into a traditional structure sympathetically to meet the church's specific display requirements. The 12th century church is a beautiful structure, but was very dark inside and did not provide the modern features or atmosphere to attract a 21st century demographic.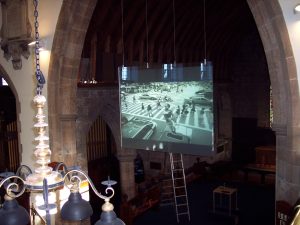 A solution was needed that would bring services to life for an audience with a wide variety of needs. Pro Display provided the large Switchable Glass Projection Screen that now hangs from discreet cables in the church's nave. When a charge is passed through the screen, the display becomes transparent, allowing light to pass through it and offer unobstructed views to the stained-glass window behind. When the screen is required, the charge is switched off, making the screen opaque so that images can be projected onto it from the rear. In another step to make the installation as unobtrusive as possible the NEC MT1075 sits off to the side, hidden on a platform in the nave.
Vicar David Gibb wanted to evolve his style of service to attract a wider audience to the church. "We knew we wanted something different and engaging, but at the same time it had to work with the existing architecture. This is a good example of how cutting-edge technology can work together with the oldest structures, and sensitively bring the two together to update even the most traditional settings.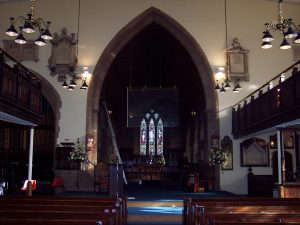 Switchable Glass Projection Screens are a great way to integrate a display into your project without compromising on your interior. The ease of switching between opaque and transparent states lets users maintain the traditional décor of the church when necessary, with the discreet hanging system and powered Switchable Glass appearing almost unnoticeable amongst the architecture.
Whilst alternative technologies like Electric Projection Screens also provide a solution that can 'disappear' at a moments notice, they cannot be used with the same flexibility as switchable glass. Whilst roll down screens have to be fixed to a sturdy ceiling or wall space, switchable projection screens are compatible with a range of suspension systems allowing the screen to hang a considerable distance from where the fixings begin.