Posted November 14th, 2013 by Sean Brown & filed under , Case Study, General, Project Focus.
Intelligent Glass gives award nominated house privacy in the flick of a Switch!
It's no surprise that building a unique home can come with difficulties, from planning permission to conservation area restrictions it can be hard to make your exact vision a reality. It can be difficult to make compromises without feeling like you're sacrificing the original design, which is why we offer a huge range of products to ensure no one feels like they're settling for the next best thing.
With glass facades becoming more popular in residential design, our Switchable Glass products create stunning interior and architectural features that ensure you never have to choose between privacy and style again. Take a look at Matt Architecture's most recent project NUMBER 23 for instance, where our Switchable Film provided the perfect focal point for the property without compromising the privacy of the residents..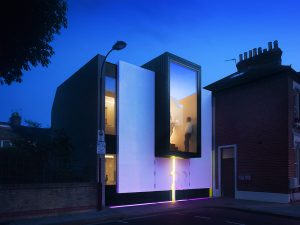 Number 23 is a multi-award winning family home constructed on a vacant end-of-terrace site in West London. The signature 'floating box' window on the front elevation is enhanced through the use of Intelligent Glass Switchable Film, turning from frosted to clear on command. The simple frontage conceals a house that is 30% bigger than its neighbours, despite occupying a 20% smaller plot. Although the design has a distinctly playful tone, its architectural intentions are serious, designed to demanding Code 4 Environmental Standards.
The architect, client and installer worked with our Intelligent Glass division on this unique project. Switchable Smart Film was used to help give light in every room in the house and provide much needed privacy instantly with a touch of button. At night time, with the internal lights on and the switchable film in opaque mode, a warm diffused glow is cast to the street outside. Such generous glazing allows daylight to fill every room in the house including the basement, with our switchable technology complimented by a combination of cleverly placed roof lighting and sun pipes.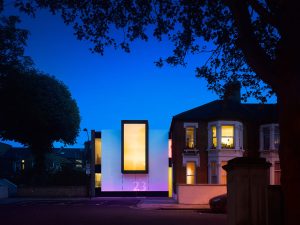 Matt Architecture have created a truly stunning home, using ingenious techniques to create a space that any homeowner  would be jealous of. The house has been nominated for the Home, Building & Renovating Award in the Readers Choice Category. Photo's were taken by Will Pryce. Follow the link to The Times and The Sunday Times to read their article on "Britain's most playful home".
Switchable technology provides an ideal solution to many interior drawbacks. With it becoming more popular for homeowners to renovate rather than move, the brighter, airy living space is fast becoming the next big trend in home design, with our switchable technology make it possible without the need to sacrifice your privacy. Available as both a retrofit and finished solution our switchable technologies can be used in all areas of the home. From Switchable Double Glazing to Curved Switchable Glass walls, 0ur technology lets uninterrupted natural light flow throughout your space making your interiors feel bigger, often providing a generous amount of daylight to areas that would have previously been reliant on artificial lighting.
Our Self-Adhesive Switchable Film can be applied to any existing glass surface offering a more cost effective privacy solution with a minimalist design. Our Switchable Film can instantly transform any space, removing the need for bulky blinds and curtains to allow you to properly appreciate your view. The self adhesive nature of this film makes its application ideal for DIY installations, only requiring minimal wiring assistance from a qualified electrician to complete the application. Our switchable technologies also reduce solar glare by up to 30% giving you a more comfortable place to live without plunging your home into darkness!
Our Intelligent Glass division offers a wide range of options fit for any interior design project. Over the last 15 years, we've seen our technology in some amazing applications around the home from bathrooms to bedrooms and everything in between. One of the most inventive applications was the Switchable Stairs, used in an ambitious barn conversion project as an in-genius way to give natural light access to all areas and help designers to make the most out of the space. For more ideas on how Switchable Glass can be used in interior design within your home, take a look at our post here on our Intelligent Glass website, or give us a call on +44(0) 1226 351 759.