Posted August 16th, 2022 by Emily Burkinshaw & filed under , General, How To's.
Mirror TV's have gained huge popularity over recent years because of their ability to stylishly disguise a regular TV within the décor of a room. Our Mirrorvision range offers flexibility in order to create the perfect solution for you; from choosing a decorative frame to opting for a retrofit solution. But with so many options available, how do you choose the right mirror TV for you? We've created a list with some of the most important factors to consider when choosing a Mirrored Smart TV to make your choice easier.
Main Function
The first thing to think about when choosing your Mirror TV is whether the main function of the screen will be for watching TV or using it as a mirror. The reason behind this is there are a range of mirror tints that cater to different functions with some enhancing the TV image more and others offering higher levels of reflectivity. For applications like living rooms, choosing a darker tint like our standard solution will provide the best on-screen image but offer less reflectivity compared to the other tints on offer.
For more aesthetic applications like bedrooms, dressing rooms and hotels, tints like our high and ultra-high reflective offer greater reflectivity but the image on screen isn't as clear as with a standard tint. For these more beauty-based applications, we can also offer a full-length mirror TV that incorporates a 43" screen into a traditional full-length mirror format, which can be wall mounted or leaned against a wall.
Location
Are you using the mirror TV in your home? If so are you looking to replace an existing TV? If that's the case it might be worth asking if your Smart TV is eligible to upgrade using a Mirror TV Overlay. Our Mirror Overlays are designed to be retrofit to existing smart TV's, offering a more cost-effective solution than replacing the TV completely. All you need is a Smart TV with a flat bezel that's also wide enough to accommodate the space needed to attach the overlay.
If you're looking to use a Mirror TV in a hospitality setting, you might want to consider one of our Magic Mirror Displays that can be paired with an integrated PC or media player. This option allows you to create your own interface where guests can order room service, check out the hotel facilities or browse concierge recommendations for the local area to create a more personalised experience.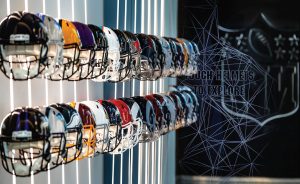 Minimalist or maximalist?
Our standard Mirror TV option offers a sleek frameless mirror TV with the glass manufactured to fit perfectly on your selected screen size. Our frameless TV's are ideal for modern interiors, achieving a slimline look when mounted onto the wall. For a solution that feels more personal, we also offer the choice of a decorative frame from our range of carefully curated mouldings. We have curated a selection that caters to all tastes from bold, gold, baroque designs to understated, shabby chic, and can even source frames hand-picked suit your exact interior.
Made to measure or oversized?
A statement mirror will always be a valued staple in any interior design, whether it be an eye-catching frame or even the size of a full wall. We offer multiple options when it comes to the mirror surface itself, as whilst many choose the perfect made to measure fit, others opt to oversize the mirror for added effect. This is a great way to create a truly personal solution, as whilst a huge TV screen might be overwhelming to watch, a large mirror might be the finishing touch to your space.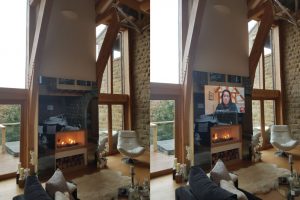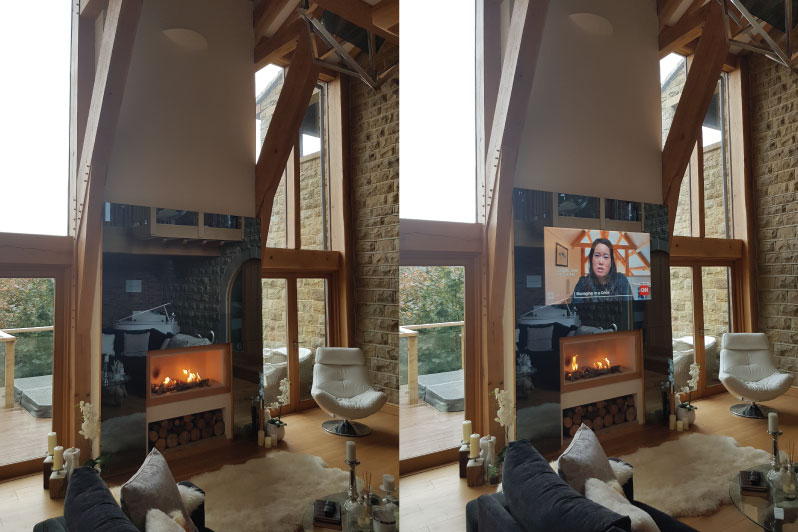 We can oversize the mirror glass and give you the freedom to choose the exact position and screen size of smaller TV, with some previous customers opting for circular and even hexagonal-shaped glass. We can also provide additional pieces of our mirror glass to create entire mirror feature walls where the TV simply 'disappears' when not in use. This type of integration is also great for retail stores and gyms, as the screen is completely protected from traffic whilst offering a multifunctional wall space. We can also combine multiple screens to create Mirror Video Walls as used by Novotel in their reception area to advertise whilst also making the space appear larger.