Posted February 26th, 2021 by Emily Burkinshaw & filed under , General, Inspiration, Technology.
2020 has seen many industries suffer—but perhaps none more so than retail and hospitality. That being said, there's reason to be hopeful. Analysis that followed the effects of the 2008 financial crisis on retail, as well as research studying the effects of the current pandemic, both show a common feature: customer experience leaders were more resilient, rebounded more rapidly, and achieved 3x higher returns in the long-run.
Today's consumers are more empowered than ever before. Social media, online reviews, and the dominance of e-commerce means that brick-and-mortar stores are merely one of many potential options when it comes to buying goods. So how can retailers fight off the competition and welcome consumers back with open arms?
By prioritising their customer experience: providing a seamless, innovative, and even immersive way to shop that drives long-term loyalty. Let's explore how retailers of all shapes and sizes can transform their customer experience.
Embrace 'Retailtainment'
Fun, immersive, and most importantly unique in-store experiences will live long in shoppers' memories. This is where retailtainment—the latest shift in the retail industry—comes in.
Take Nike's House of Innovation, for example. Their eye-catching Transparent LCD Screens blur the line between the physical and the digital. Their touchscreen capabilities allow customers to digitally interact with these unique wayfinding displays, leveraging exciting graphics and clever interior design tools to provide a truly innovative in-store experience across every floor of the 2,400sqm flagship venue.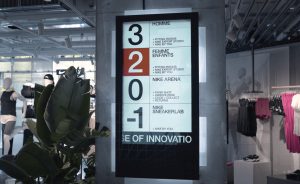 Marvel has also followed suit with their innovative Avengers S.T.A.T.I.O.N., an immersive exhibit to promote their Avengers franchise that never fails to attract huge crowds. Fans are invited to fully immerse themselves in the Avengers universe, completing missions and interacting with their favourite superhero's tools and armour.
Needless to say, this is a little more memorable than a life-sized cardboard cut-out of your favourite superhero.
Augmented reality
Technology, such as Interactive Mirrors, can also be used to make retail and service experiences significantly more memorable. Our Mirror Glass convert existing LCD or LED screens into mirrored screens, while our Interactive Mirror Overlays can be used to provide interactive screens in fitting rooms. Shoppers can benefit from targeted upselling features like 'similar items' or 'styled with' options to make their experience feel more personal and futuristic.
Farfetch, a large player in the luxury e-commerce sector, has adopted augmented retail solutions in its New York store with connected clothing racks, touch-screen-enhanced mirrors, and sign-in stations that generate customer account data that can then be used in-store.
It's what's led them to be named The Retailer of the Future by Bloomberg, and they're a great example for how you can future-proof brick-and-mortar retail spaces.
Tech in hospitality
The hospitality industry, like retail, has also suffered significantly in 2020. Similarly, it can also look to integrate immersive, tech-powered experiences into its services and deliver a world-class customer experience to travellers.
Mirror Video Walls are among the most popular of our offerings for the hospitality and services sector, allowing for full-length mirrored walls that can display vibrant designs and graphics in settings such as lobbies, receptions, or feature rooms.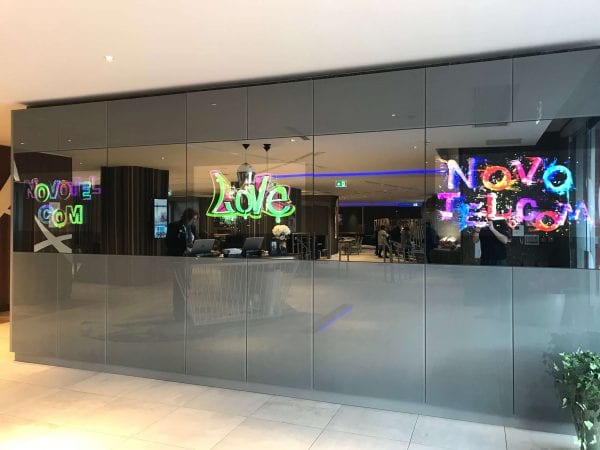 Another favourite of hoteliers is our Switchable Smart Glass technology, which we've seen used in Novotel, Hilton and Best Western chains to name a few. Whilst the obvious choice is to incorporate Smart Glass within meeting rooms and function areas to get the most out of your space, it's becoming increasingly popular to use Switchable Glass within the design of the rooms themselves.
Our Smart Glass technology also known as Switch Glass, adds a high-tech feature to your room, offering the ability to switch the glass between frosted and clear at will, guaranteed to make a lasting impression on each guest. By replacing bathroom or internal walls with our Switchable Smart Glass Partitioning, you can instantly maximise the appearance of the space by allowing natural light into areas that were previously unreachable to create the illusion of a much bigger room.
Elsewhere in the hospitality sector, luxury yachts and cruise liners also implement our solutions to preserve their sleek interiors while providing all the functionality of contemporary accommodation. Pendennis, one of the world's leading yacht-builders, has implemented our Dielectric Mirror TV technology into vanity mirrors—making the most of smaller interior spaces while still providing a full range of amenities in style.

No longer do hotels or other luxury accommodations have to rely on service alone to wow their guests. Now, they have the same technology in their arsenal that powers immersive experiences in museums, galleries, and futuristic retail spaces: attracting guests in droves and giving them an edge over their competition.
It's time to wow your customers
The current climate is hard—especially for the retail and hospitality sectors. However, time and time again, we've seen companies that prioritise customer experience bounce back from setbacks stronger than ever before. By integrating innovative technology into your customer experience, you can create memorable moments that live long with customers—and keep them coming back.
When the retail and services industry had largely rebuilt from the damage of the 2008-09 financial crisis, e-commerce and hospitality start-ups quickly emerged as the next challenge for them to face. This past year has seen them striving to survive once again, making one thing clear to businesses in both industries: the customer really is king.
Focusing on customer experiences through new and emerging technologies can become the most powerful marketing manoeuvre for business, it helps them stay relevant while turning new consumers into loyal, returning customers.
Whether businesses are emerging from uncertain times or being thrust back into them, investing in the experience they provide their customers is investing in customer loyalty and therefore, in long-term returns. If we can help you on your journey in doing so, please get in touch via the form below or call +44(0)1226 361 306.