Posted May 6th, 2021 by Emily Burkinshaw & filed under , Case Study, General, Project Focus.
Churches have existed for a millennia, maintaining age old traditions and preserving listed buildings whilst serving generation after generation of their local community. In 2020 religious institutions all over the world were thrust into the 21st century, with COVID-19 restrictions forcing them to adapt the way in which they operate. Taking their services online was only half the battle, with many Churches struggling to offer the same open door policy for creating genuine relationships with their community without the physicality of the building itself.
Now a year later, with churches slowly working towards operating at full capacity again, online services have simply become the norm, using zoom calls and live streaming to maintain the connection of the community throughout the pandemic. Many institutions are also looking to bring this new era of technology into the church itself like Life.Church where you can expect to use digital apps for online worship or attend high energy services from modern buildings, which include everything from live music to huge screens in professional stage setups. Whilst organisations like Life.Church commit to a completely modern way of teaching the bible, understandably more longer standing institutions wish to maintain a more traditional approach.
We recently worked on a project with long standing AV integration partner, Practical AV to bring a modern display solution to a Grade 2 listed Church. Located in Cheshire, St Thomas' Church was built in 1838 and designed by architect E.G. Paley whose major work was designing new churches as well as rebuilding, restoring, and adding to existing ones. We worked with Practical AV to make some additions of our own, manufacturing and supplying a 3.2 x 1.8m Switchable Glass Rear Projection Screen for the parish.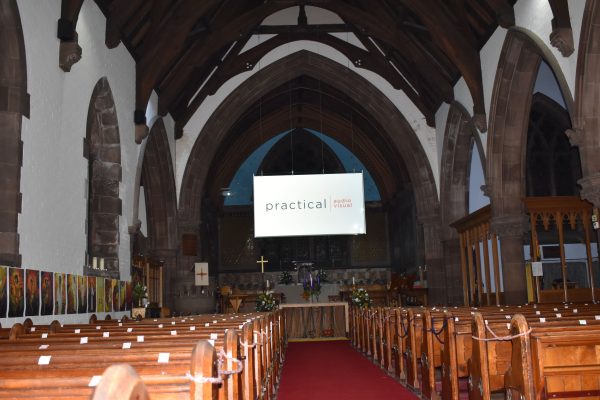 The impressive screen was given pride of place at the front of the church, cleverly suspended with a tensioned hanging system and projected onto with a 6500-lumen HD projector fitted behind the class to create a discreet rear projection solution. The beauty of switchable glass projection screens lies in their flexibility, giving users the option to choose between, frosted, clear or a HD/4K projection screen! The switchable capabilities of the screen give the church a huge visual display that can 'disappear' at the touch of a button.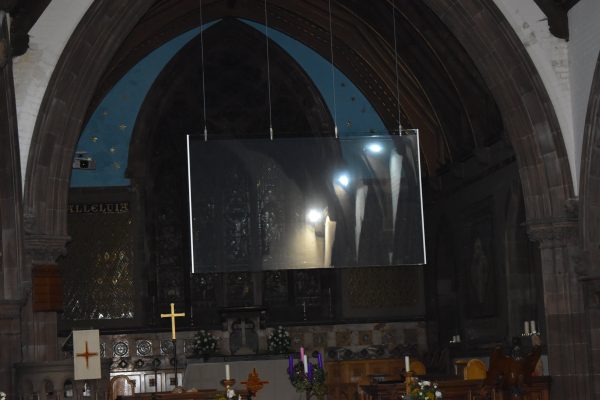 Like St Thomas', many churches are heavily restricted when it comes to display technology due to not wanting to disrupt the architecture that in some cases has been preserved for over a thousand years. With the ability to switch between opaque and clear almost instantly, these Switchable Glass Screens can become almost unnoticeable when not in use so the interior can still be appreciated in all its glory. Using a screen of this scale can also make your institution more appealing as it caters to the potential of a larger congregation, ensuring everyone present can see the content on screen.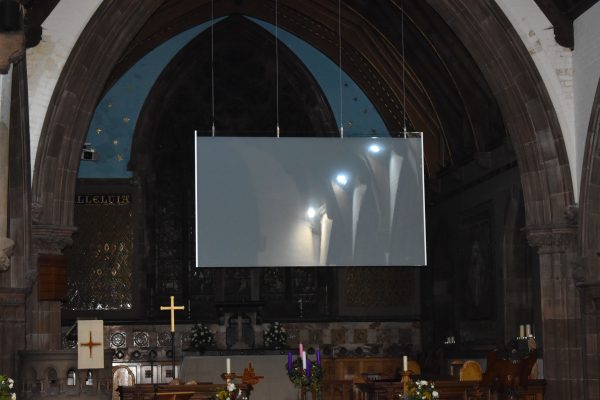 Practical AV went above and beyond to ensure the church was prepared for welcoming its community again by also installing a commercial screen on an articulated arm in the aisle, as well as supplying an online streaming system to provide high quality church services that can be enjoyed from home.
Installing digital display systems, like our Switchable Glass Screen, could also be a more cost effective as well as hygienic solution for a post COVID world. By integrating a small number of strategically placed digital displays around the church, the need for individual copies of literature is eliminated therefore reducing wastage and points of contact for the spread of germs. Displays can also open up a window of opportunity for new events and even more dynamic fundraising opportunities to further engage with the community.
You can see our Switchable Glass Screen as well as Practical AV's streaming system in action over on St Thomas' YouTube channel.