Posted November 29th, 2018 by Emily Burkinshaw & filed under , Case Study, General, Press Release, Project Focus.
Anil Arjandas frosts over with Switchable Glass just in time for Christmas
December is nearly here and with it comes frost bitten mornings, shorter days and busier high streets; all signs of the most wonderful time of the year being upon us. The Christmas period is the perfect opportunity to spend time with family and look back on the year passed, but it's also prime time for mass spending. British families are set to spend nearly £48bn on Christmas 2018, 2% more than last year. However, non-food sales in physical high street shops are expected to suffer this Christmas period compared to food and online sales, so how are retailers trying to combat this? By creating dazzling displays in their windows that shoppers simply can't ignore.
Window displays and visual merchandising are a huge part of the brick and mortar retail experience all year round, but at Christmas the competition between them becomes blindingly apparent as each high street store tries to outshine the next to increase footfall. London based luxury department store giants, like Harrods and Selfridges, are well known for their flamboyant festive displays to the point where they have become a major tourist attraction during the festive period. But an effective window display doesn't necessarily need a giant Christmas dinner or a piano fit for Elton John to entice shoppers through the door. We offer simpler, more refined and more effective solutions that can be just as eye-catching.
One of these solutions, Self-Adhesive Rear Projection Switchable Film, was used as the main feature of the festive store front window display for luxury jewellers, Anil Arjandas in Mayfair, London last Christmas. This project was overseen by Visual Displays who completed the install and chose Pro Display's Switchable Film for the project: the clear choice for the job. Anil Arjandas is a high end jeweller that has aimed to reinterpret the world of luxury jewellery since its establishment in 2000. This luxurious store, settled amongst gourmet restaurants and world renowned hotels in the upscale district of Mayfair, uses switchable technology in an elegant way to provide further advertising outside store hours whilst allowing a traditional window display during the hours of trading.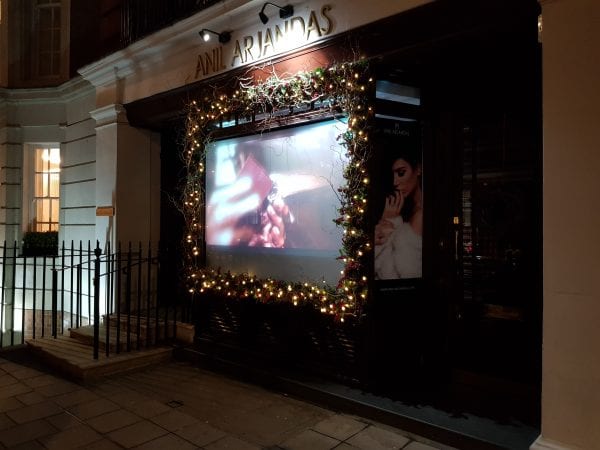 This incredible Switchable Rear Projection Film was applied to the main window at the front of the store and framed with an elegant, festive garland of flowers and branches to emphasise the festive theme. During the day, the switchable film was turned on leaving the window completely clear, allowing passers-by to be drawn inside by the brand's trademark sparkling brown and black diamonds on display. But at night, when the store closed its doors, the film was turned off, frosting over the window to create an opaque surface hiding the lavish jewellery behind it. The window now acted as a blank canvas, which the jewellers opted to use as a rear projection screen where their advert could be displayed on a loop outside of store operating hours.  With their store situated in a London hotspot, this illuminated, eye-catching display was guaranteed to make a lasting impression on an audience of bustling Mayfair nightlife.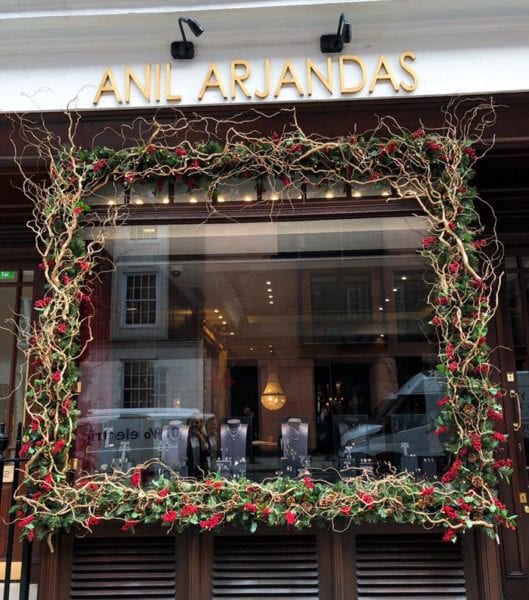 Not only did our Switchable Smart Film work perfectly as an advertising space, this application also doubled up as privacy glass, protecting the view of the luxurious products inside the store outside of working hours. Mayfair houses some of the world's most expensive brands and each store's security is a top priority, with security breaches generally occurring more frequently when a store is closed, Switchable Film can play an important part as a deterrent by concealing the contents of a store behind its opaque covering.
But Anil Arjandas isn't the only luxury store window we've helped transform for the Christmas period. The versatility of our Switchable Film, which can be applied to any existing window surface, allows for endless application possibilities, one of the most effective being for a dramatic product reveal. Pro Display supplied Harrods, one of the most exclusive advertising spaces in the world, with Switchable Rear Projection Film to launch the Rolls Royce Dawn Drophead Coupé during the 2015 festive period. Every three minutes, a captivating countdown was projected onto the film's opaque surface before smoothly defrosting to clear to reveal the gleaming Rolls Royce behind the glass.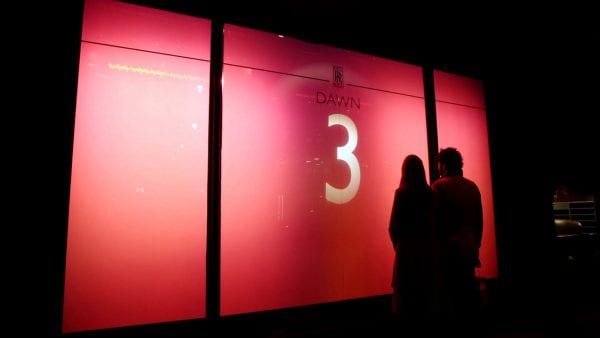 Both of these switchable applications produced an exceptionally high quality image when projected onto and had outstanding switching reliability to keep the film fading from frosted to clear automatically throughout their use.