Posted January 20th, 2022 by Emily Burkinshaw & filed under , Case Study, General, Project Focus.
The COVID pandemic has affected everyone in one way or another, with its presence forcing many into using technology in a range of new and inventive ways. This was the case with Lisa Hunt, the interim director of the Keith and Catherine Stein Luminary at Boise State University, Idaho. The initial vision was to bring in art from around the world to open the minds of the students and young people of Idaho. However, the pandemic forced many businesses like galleries and museums to close indefinitely, leading to a variety of digital alternatives surfacing online with Hunt saying:
"Museums started to release images of their artworks out of their collections with copyright clearance and with high resolution, the timing was perfect to create software that would allow us to take advantage of that data."
The vision of the Stein Luminary says that the exhibit aims to "illuminate perspectives, transform perceptions and spark imagination." To do this Boise University have created an experience that's unlike any kind of cave environment at any university in the world right now, with the aim to transform the way you think and look at art & inspire creativity.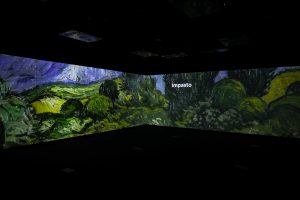 This state-of-the-art facility's centrepiece is the 90 feet of touchscreen, bringing thousands of high-resolution artworks from all over the world including pieces from renowned galleries like The Met and the Louvre to the people of Idaho. These global collections are showcased using content created by Downstream, specialist AV consultants for unique, digitally augmented environments, where users can explore the artwork, view pieces side by side, pan in and zoom around to thoroughly explore the details. In order to bring their vision to life, Downstream partnered with edge blending experts scalable to create a seamless display using this unconventional projection system.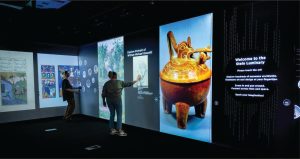 The Stein Luminary integrated eight 26K lumen projectors with 18 glass panel systems that were custom fitted with 360 Degree Dual Image Projection Film and a capacitive touch film to create a seamless 270 degree experience with added 7.1 digital surround sound. To create an effective interactive front projection screen, Downstream opted for using ultra short drill lenses on the projectors to keep image interference to a minimum when the screens are in use. Scalable made it possible to automate much of the projection to create a sustainable and interactive projection solution, where calibration could be scheduled during downtime to eliminate the need for human operation.
The ambition of this project is impressive and is truly a testament to all that brought it to life, but the power of the exhibit and its immersive, interactive and sensory experiences could be under appreciated without the impact of a quality projection screen. We supplied eighteen 2673 x 1487mm pieces of our 360 film for the project. Our 360 Dual image projection film offers excellent contrast and resolution in front projection applications and is compatible with capacitive touch films. Supporting ultra-short throw projection our 360 Projection film is ideal for this kind of up close and personal application, displaying HD/4K images and showing an improvement in quality with even the most powerful projectors.
President of Boise State University, Dr Marlene Tromp said:
"You are not going to want to miss this, you might think, I can take my iPad and pull up all the great artworks of the world," Tromp said. "But imagine being in a space where you can see those images in an unprecedented level of quality."
Our 360 film is manufactured with a self-adhesive layer making it easy to apply to glass or plexiglas, ideal for the 18 custom glass panels that had capacitive touch films applied to the rear. Our 360 projection film can be manufactured in custom shapes and sizes to suit your project requirements like this one. The most exciting feature of our 360 film is its dual image capabilities, producing an image visible on both sides of the screen. This dual image technology offers a great solution for maximising display space at a fraction of the cost, offering the potential for both front and rear projection. Our 360 degree technology is also available in the form of a rigid dual image projection screen with an extremely narrow bezel for sleek and minimalist projection applications.