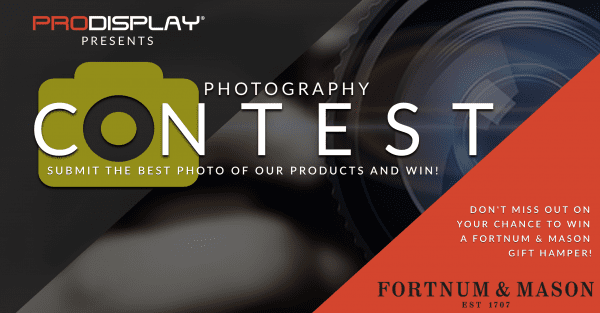 Thank you for your interest in the Pro Display photo competition. Here you will find more information, as well as ways to enter.
This is a quarterly competition which you must enter to be in with a chance to win a Fortnum & Mason gift hamper.
Submit the best photo of our products for your chance to win!
Any one of our products are eligible, but to maximise your chance of winning, try to make the photograph look as professional as possible. The winning entry will be a high impact photo which portrays our products in the best possible way.
We encourage multiple entries.
---
FAQ
Q: My image is too big to email to you! 
A: We accept all entries that meet our criteria sent to marketing@prodisplay.co.uk. This can include via a service such as MailBigFile  or WeTransfer.
Q: I am an Intelligent Glass customer, can I still enter?
A: The Pro Display photo competition is open to all past and present customers of Pro Display and it's subsidiaries- this includes Intelligent Glass.
Q: When is the deadline? 
A: The Pro Display photo competition runs quarterly. The closing date for the current period is April 30th 2017. Don't worry if you have missed this deadline though, you can always enter into the next one.
Q: How do I submit my entry?
A: There are a few ways to submit your entries. You can find them below. If you need us to supply you with a Flash drive, please get in touch.
---
How To Enter The Pro Display Photo Competition
Entries should be submitted via
Email to: marketing@prodisplay.co.uk WITH SUBJECT: 'PHOTO COMPETITION' 
Post (Flash drive) to: PRO DISPLAY TM LTD, Unit 5 Shortwood Business Park, Hoyland, S74 9LH
Entries must be labelled with the entrant's name and company name (if applicable). Image files must be at least 200 dpi and in JPG/PNG format. Entrants should include their own name, email address and telephone number. We regret that we are unable to accept physical photographs. Only digital entries will be considered.
---